Whether the spring is blooming or the winter is chilling, make this buityful Sping Flowers Pin Cushion to cherish the inevitable return of life after the fall. This piece is a counted thread design and is to be made using cross stitch and straight stitch.
The Spring Flowers Project uses a special color of linen known as lambswool, but basically any tan color will do. It also applies five colors of floss to be worked on 18-count linen. Again, the linen color is up to you, but I prefer the lambswool.
I've used bright shades of raspberry and turquoise to make my pin cushion, but feel free to change the colors to suit your own tastes, or to match the flowers blooming in your garden.
Materials Used
DMC 6-strand embroidery floss in the following colors: 3844 Dark Bright Turquoise, 3831 Dark Raspberry 739, Ultra Very Light Tan, 989 Forest Green, and 3820 Dark Straw.
10×10" piece of 18-count linen in tan or lambswool.
Size 24 tapestry needle.
How to Make the Spring Flowers Pin Cushion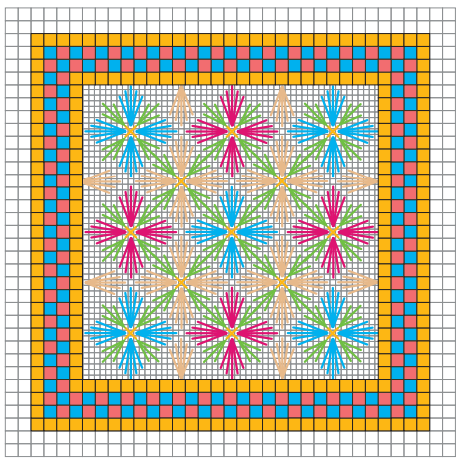 Before you start working the Sping Flowers embroidery on the linen, print the following pattern: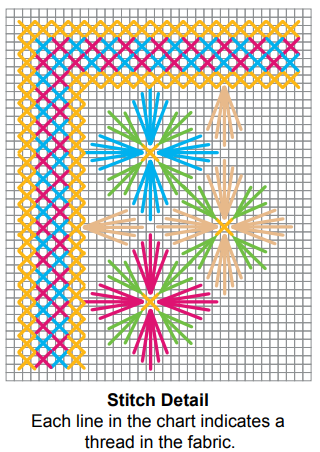 Work the embroidery using 2 strands of floss throughout. The cross stitch border is worked over two threads in the fabric, while the center area is worked following a graphed pattern with each line in the pattern indicating a strand of thread in the fabric. See the Stitch Detail below for further guidance.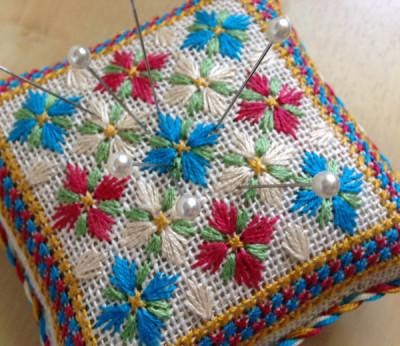 Trim the finished square down to the desired size, add a backing and stuff to make a simple pin cushion, like the one shown here.