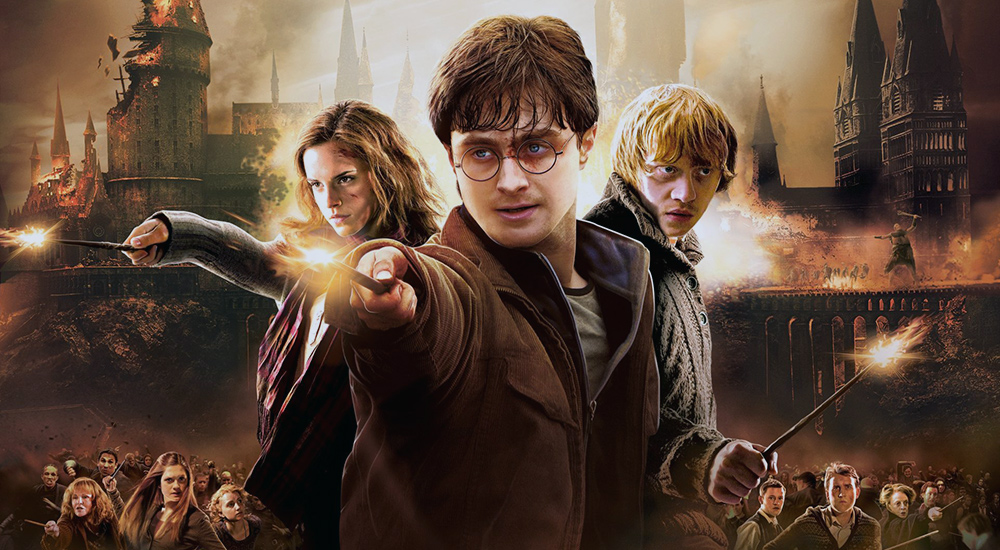 If you are no stranger to the wizarding world, know the difference between Muggles and magical folk, keep a few Defense Against the Dark Arts spells in your vocabulary, and are familiar with the rules of Quidditch, then you must be a fan of Harry Potter. The famous series of J. K. Rowling's fantasy novels has had its footprint far beyond classic literature. It gave young adult (YA) fiction a boost, shored up the geek culture, transformed the cinema industry, and created ripples in – you guessed it – handicraft.
Harry Potter cross stitch kits and patterns are a great way to make your passion for embroidery overlap with an unquenchable interest in the story of a young boy who turned the tide in the battle against evil and prejudice. I have compiled a list of the most delightful designs that bridge the gap. I bet each one will give you aesthetic pleasure and refine your sewing skills. Without further ado, go ahead and immerse yourself in the enigmatic cross stitch universe of wizards, wisdom, mythical creatures, enchantments, and miracles.
"Magical Creatures and Objects"
Set of 5 Cross Stitch Bookmark Kits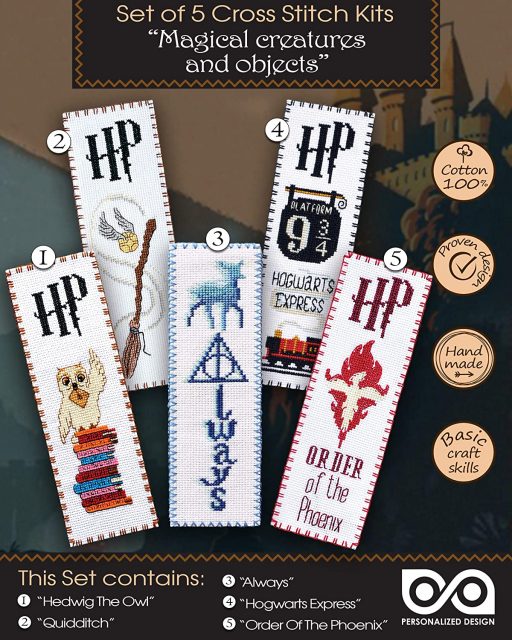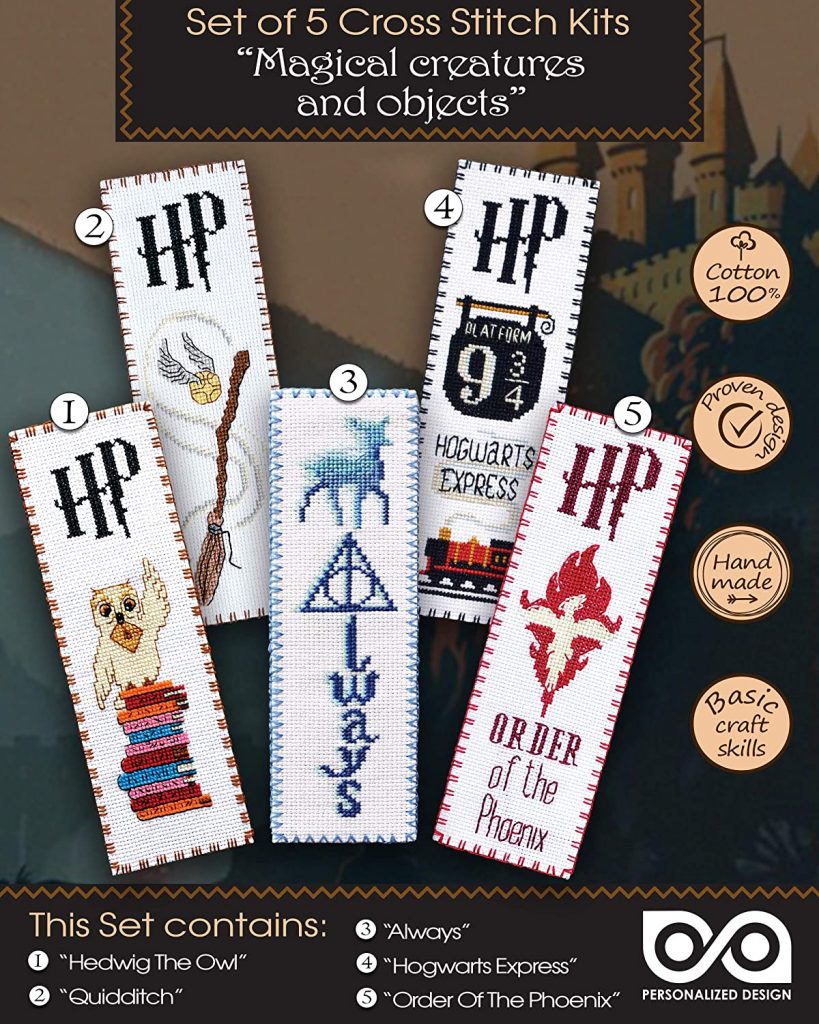 Those of you keen on reading will find this set adorable because it brings your crush on books and all things magic together. With the bundle of five Harry Potter themed cross stitch bookmark kits, you'll meet Hedwig the Owl, have a little Quidditch adventure, reminisce about Professor Snape's secret love, take an enjoyable Hogwarts Express ride, and join the uncompromising clash between the Order of the Phoenix and Lord Voldemort's army of Death Eaters.
Whether you are a beginner or a pro stitcher, this set is a perfect match. Each kit comes with an easy-to-interpret color pattern, comprehensive instructions, 16-count Aida cloth, quality cotton threads, and a metal needle. Sized 2.36″ х 7.70″, the bookmarks are fun to stitch and a pleasure to use when completed.
---
"Harry Potter Starry Night"
Cross Stitch Pattern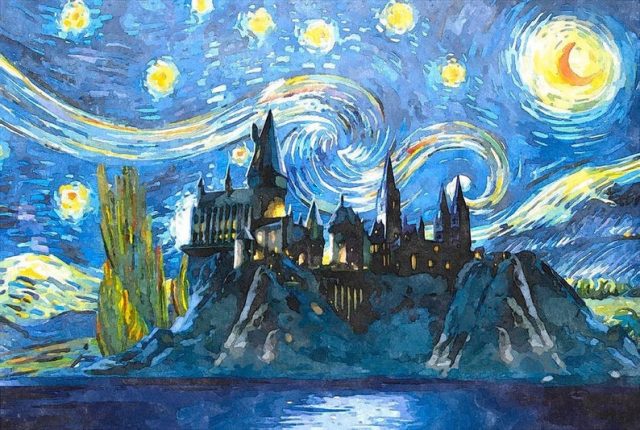 Ever seen Van Gogh's "Starry Night" painting? Google it if you haven't, it's awesome. Now, take a look at the image below. Notice the similarity. And the difference. The "Harry Potter Starry Night" cross stitch pattern showcases the Hogwarts School of Witchcraft and Wizardry in a hugely creative way. It's a trio of downloadable PDF patterns (250×167 stitches each) for different color variants and floss types. Definitely one of my all-time favorites.
---
"Hogwarts, the first meeting" pattern
Cross Stitch Pattern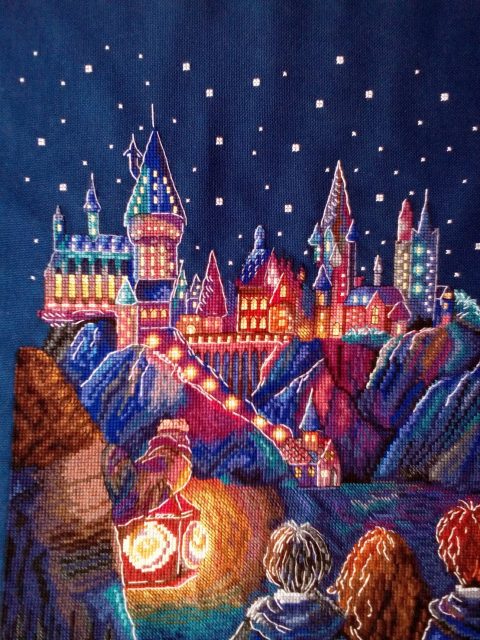 This lovely cross stitch pattern comes in the form of an instant download you can print and follow. It boasts a broad spectrum of DMC colors that will make a piece of 14-count Aida fabric come alive with an enigmatic night view of Hogwarts and the silhouettes of Rubeus Hagrid, Harry Potter, Ron Weasley, and Hermione Granger.
---
"Attributes of the School of Magic"
Cross Stitch Pattern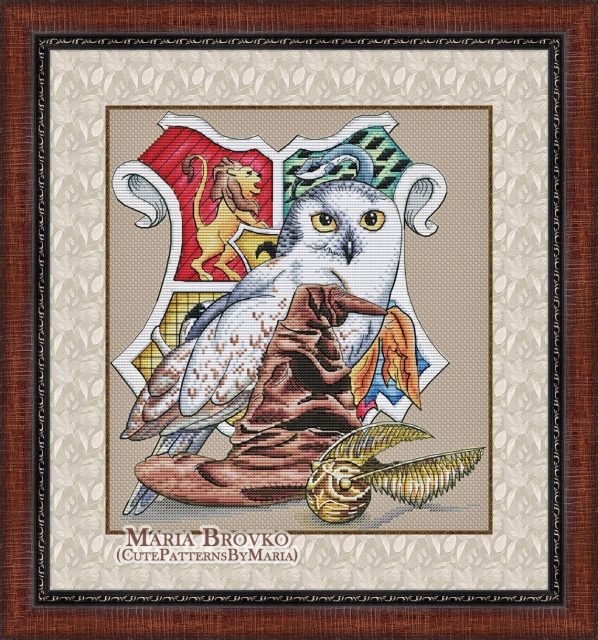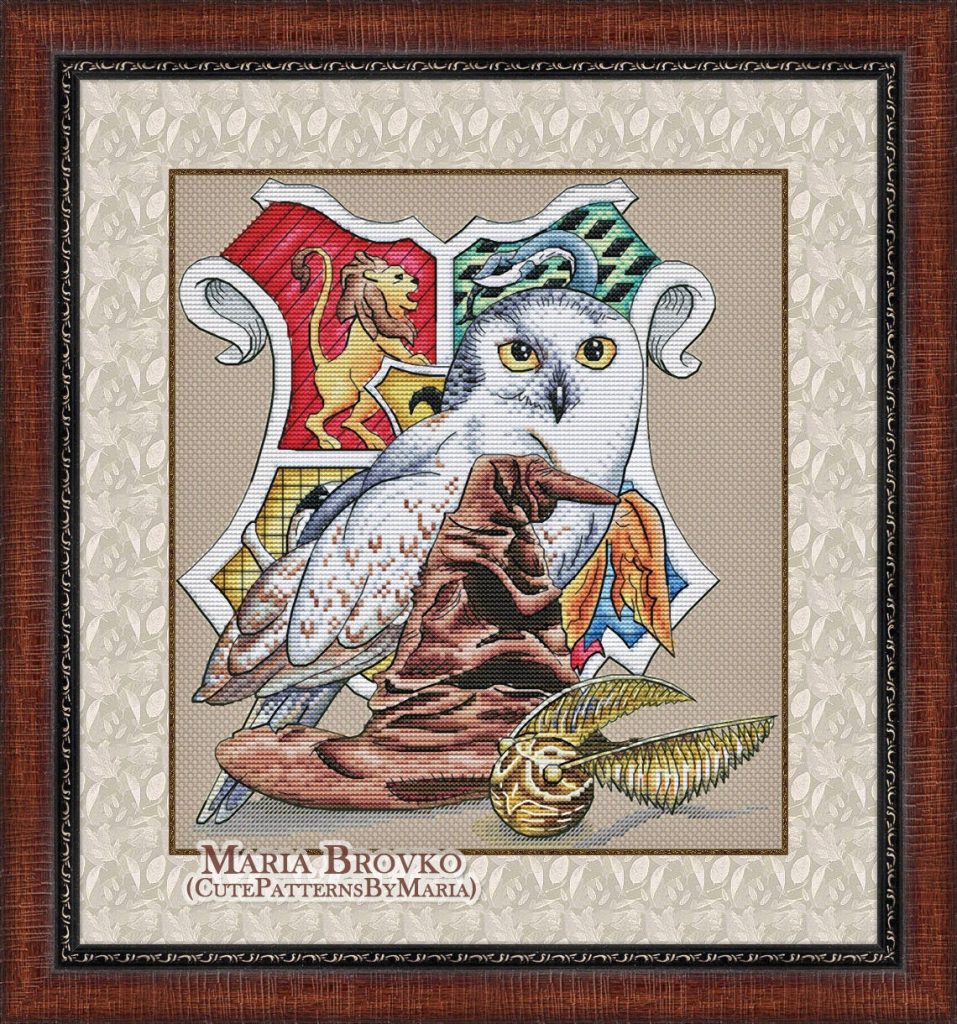 Available in PDF format, this chart will walk you through embroidering a collection of symbols every Harry Potter fan knows. The design combines the shrewd Sorting Hat, Harry's owl Hedwig, the super-fast Golden Snitch, and the emblems of four Hogwarts Houses (Gryffindor, Slytherin, Hufflepuff, and Ravenclaw) in the background. Look at that mix of pastel and bright colors. It's gorgeous, isn't it?
---
Magic Symbols Pattern
Cross Stitch Pattern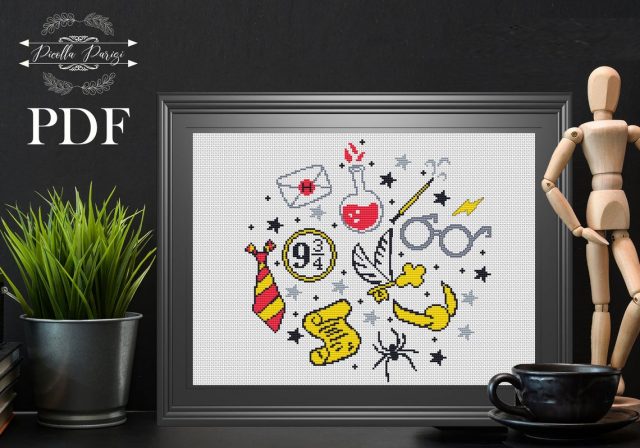 The author of this simple yet meaningful design did a great job combining a handful of wizarding world entities within a single piece. Follow this counted cross stitch pattern to embroider the elusive winged key, Harry's lightning-shaped scar, a "classic" potion bottle, a magic wand, Platform 9¾ that isn't there (unless you're a wizard, of course), and more. The pattern is fine-tuned for on-screen use, by the way.
---
Harry Potter Alphabet Cross Stitch Pattern
(with illustrations)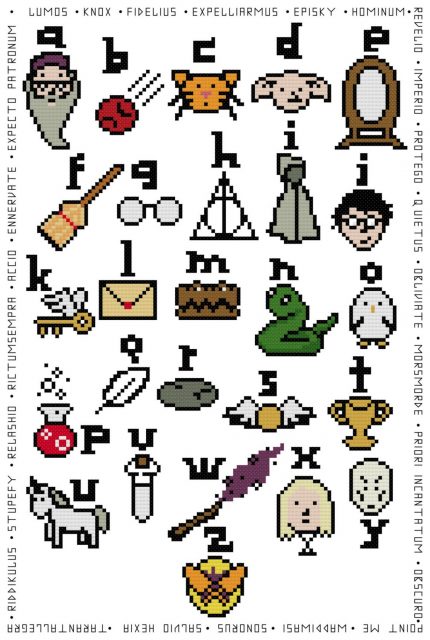 Cross stitch patterns can educate, too. In addition to bringing all the fun of embroidery, this instant PDF download will enlighten you on the names of different magical beings and objects assembled in the ABC order. Plus, the pattern's borders are formed by a few dozen spells from the Harry Potter books. With 20 DMC colors in the palette, it's an eye-catching design that's remarkably easy to stitch.
---
Free Harry Potter Bookmark "Let's Go to Hogwarts"
Free Cross Stitch PDF Pattern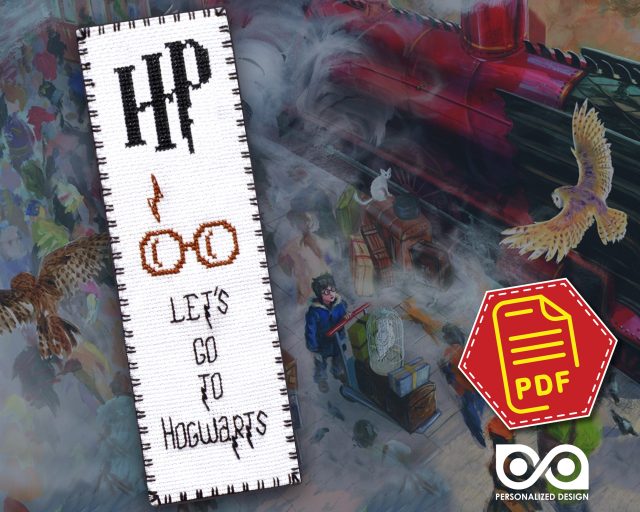 If you want to make an awesome Harry Potter-style bookmark with no strings attached, this free PDF pattern is your best bet. Designed for 16-count Aida, it uses four DMC colors that suffice to reflect the idea: the 11-year-old boy is about to leave for Hogwarts and join the wizarding world. The pattern comes with clear-cut instructions for a frictionless experience. Oh, and notice the lightning symbols here and there in the text. How creative! Definitely worth downloading and trying.
---
Harry Potter Alphabet Cross Stitch Pattern
Cross Stitch Pattern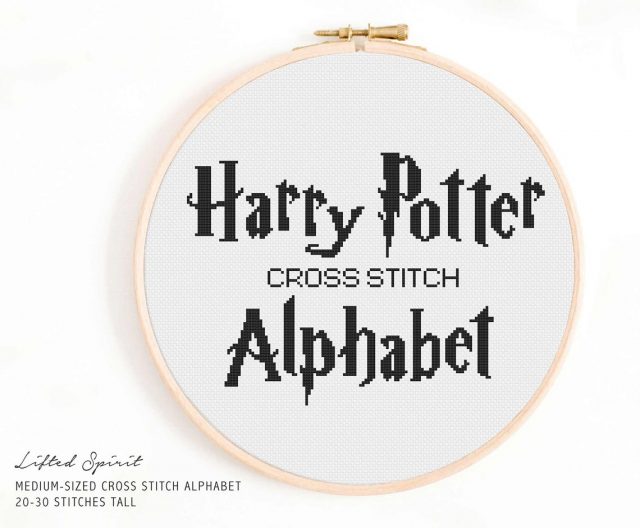 Embroidery isn't an exact science. You always have the freedom to add something personal to cross stitch designs or come up with projects of your own. The instant download alphabet pattern allows you to customize your piece by stitching any words with the Harry Potter font. It includes uppercase and lowercase letters (A to Z) as well as numbers and symbols. You can use different materials, including cloth of any color and any Aida count.
---
Wizard School Cross Stitch Pattern
Cross Stitch Pattern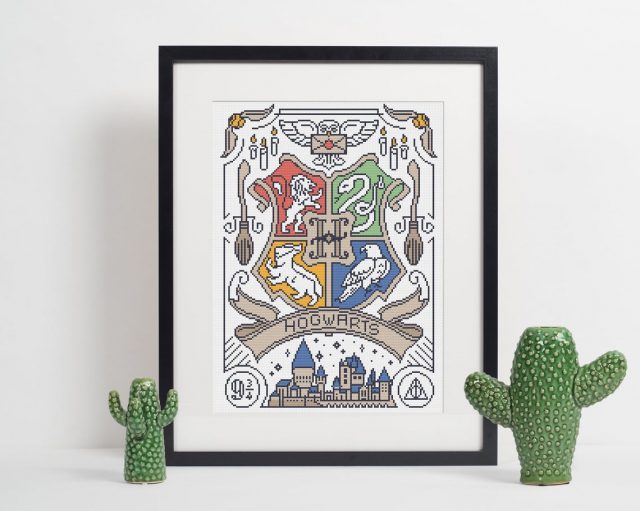 This PDF design combines a bunch of "wicked" things that made Hogwarts famous: broomsticks, Platform 9¾, the emblems of Hogwarts Houses, the Deathly Hallows symbol, the Golden Snitch – you name it. The pattern uses seven DMC colors and doesn't restrict you in terms of the cloth color and thread count. You'll also be surprised how easy-to-follow it is.
---
Golden Snitch Embroidery Pattern
Cross Stitch Pattern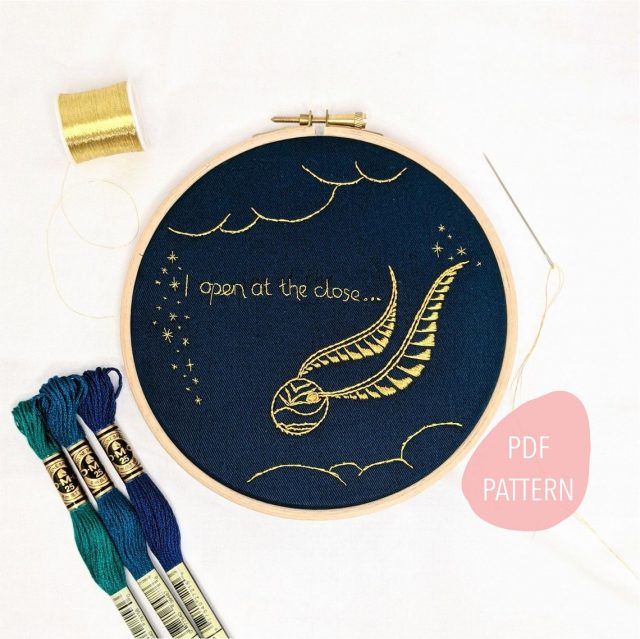 Only a select few can catch the smallest ball in Quidditch. Guess what? You can become one of them in a way. Use the Golden Snitch pattern to bring the mischievous little legend to your fingertips. This instant download design with the philosophical phrase "I open at the close" is both simple and cute. From where I stand, it's an ideal project for kids and beginners.
---
FAQ
What is the difference between cross stitch and counted cross stitch?
Cross stitch is a broad term that denotes a type of embroidery where the design is a combination of multiple X-shaped stitches aligned in a specific order. Based on the shapes and sizes of the stitches, this sewing technique spans about a dozen variants, including spaced, double, long-armed, as well as ethnically flavored Greek, Hungarian, and Italian cross stitch.
Zooming out of the stitch-making principle, there are two types of cross stitch projects: stamped and counted. In stamped cross stitch, the chart is already printed on the fabric, and the handicrafter stitches over this design. Counted cross stitch does not involve any stamping pre-applied on the fabric. The pattern is printed on a separate sheet of paper that includes a legend and symbols indicating the colors and types of threads to be used on the project.
What age should you start cross stitching?
Normally, kids can try their hand at cross stitching at kindergarten age. For these early experiences, it is best to use cross stitch kits with simple patterns and a blunt needle so that the youngsters don't poke their fingers. When it comes to motor coordination, children aged six and up should be mature enough to use a regular needle. It also depends on the kid's diligence and ability to focus on small details. For adults, there is no such thing as too early or too late to start cross stitching. It is a great way to relax, get back on track after a tiresome workday, and nurture mental health at any age.
Why do you start cross stitch in the middle?
Starting cross stitch in the middle is important, and for good reason. First of all, it is the best way to make sure that the design fits well and you don't run out of fabric halfway through your project. Also, centering the design will end you up with proper margins so that you can easily apply framing or another type of decor when the piece is completed.
Is cross stitching good for the brain?
It absolutely is. One of the main benefits of cross stitch for maintaining mental well-being is that it helps "sync" our brain with our body. Not only does this enhance brain function, but it also reduces stress that accumulates during a workday or dull household routine. You take a break, sit down, and forward your energy in a positive, creative direction. This is precious especially if you spend hours every day in front of a computer screen.
Furthermore, cross stitch helps you concentrate on something pleasurable and stay organized. Yet another important thing is that you can overcome a sense of loneliness by joining a huge online community of like-minded hobbyists who willingly share their experiences and can walk you through your projects with hands-on recommendations.
What is the difference between counted cross stitch and needlepoint?
First things first, using these two terms interchangeably is a misconception. Although they have quite a bit in common, these are different styles of embroidery, and here is why. In a counted cross stitch project, every stitch forms a little "X" inside each cell of the fabric. The basic stitch in needlepoint, on the other hand, is half of the classic cross stitch (also known as the tent stitch) completed diagonally from right to left ("/").
In needlepoint, the stitches usually cover the entire surface of the canvas, whereas cross stitch often leaves blank areas untouched. Speaking of which, although both techniques use evenweave fabric, it is typically sturdier in needlepoint, and the threads are thicker than in cross stitch.
Summary
It's hard to think of a more creative expression of your Harry Potter fandom than stitching something wizard-ish. The finished piece can be a fantastic element of your home interior, a unique bookmark, or an unforgettable gift for someone very special. The above designs have truly captured my imagination, and I'm sure some of them can make your day, too.