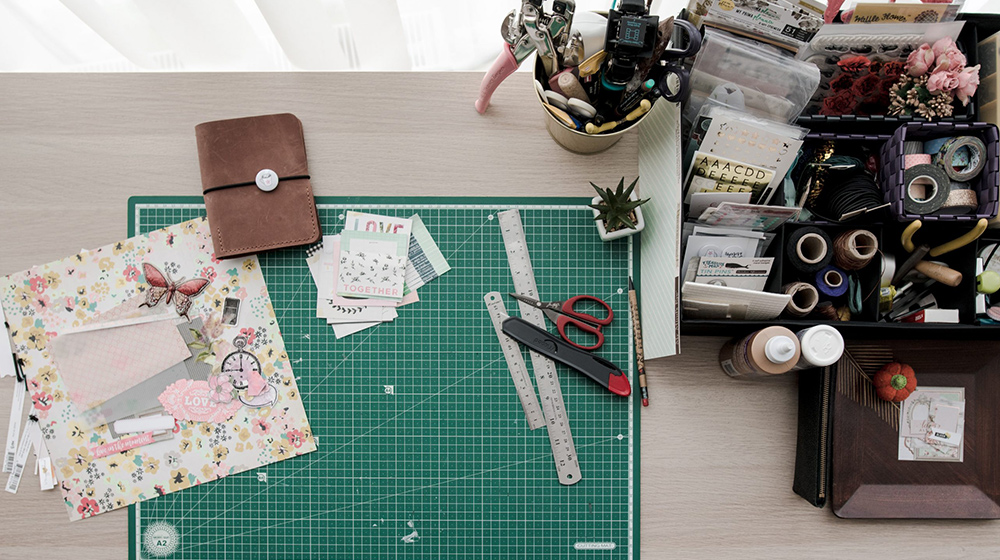 Finding a suitable place for crafting is always a challenge. Whether sewing is your hobby or something you engage in professionally, it requires both great space organization and the right type of work surface.
Fortunately, modern furniture manufacturers provide a whole range of craft desks for arts, crafts, and sewing enthusiasts. But to find the one that suits your own individual approach to crafts can often prove rather difficult. The key, as always, lies in careful research and preparation.
Image and Rating
Name and Features
Price
The majority of craft tables today are equipped with special platforms for sewing machines, foldable leaves—either double or single—and extended storage systems. Which combination of those features to choose for your home relies entirely on your budget, available space, and your sewing needs.
Perhaps a platform desk is not something you need for work, but instead you find yourself lacking a reliable surface for cutting or other forms of crafting. This can also be solved easily since many leading industry brands make tables specifically designed for cutting and art work, most of which can also double as office desks.
Regardless of your main objective, all craft tables fall under the clear distinction of pricing. Manufacturers like Arrow Sewing Cabinets or Studio Designs offer more feature-heavy and expensive models, but they are generally well worth the price.
Top 12 Sewing Desk

Show more images
Arrow 701 Bertha Sewing Cabinet for Sewing, Cutting, Quilting, Crafting, Portable with Wheels, Includes Airlift and Storage, White Finish
Bertha was made to fit today's large and heavy sewing and embroidery machines. Her airlift holds a 60 pound machine and will move your sewing machine up and down effortlessly into 3 positions: free ...
Available:
In stock
Review
Thanks to its adjustable three-position airlift feature, the table is able to set your sewing machine in three positions for maximum flexibility of operation. The airlift mechanism can be engaged with a simple push which moves the platform up or down. There are three main positions: free-arm, flatbed and storage.
The flatbed setting places the sewing bed flush with the surface, while the free-arm setting positions the sewing machine flush with the table top, making it much easier to work on tiny details such as sleeves and cuffs. And finally, the storage setting allows you to keep your sewing machine safely hidden.
Each side of the cabinet is equipped with two side leaves that double as a cover when not in use, so you can neatly drop them and close the doors after your projects are done.
On the back of the cabinet you may find an adjustable quilt leaf supported by a metal rod and two legs. Whenever you need to use the leaf for your projects, simply slide it along the rod and fix in the required position.
In addition, you can freely store plenty of working supplies inside 4 concealed storage trays that are tucked away behind color-matching doors. The sewing machine opening is beveled, and the locking casters ensure stable footing during operation.

Pros
Adjustable platform
Large quilting surface
3-position air lift
Sufficient weight support
Foldable leaves
Large supply storage
Review
As a part of the Sauder line of furniture, this Sauder Craft Cart offers a balanced combination of functionality, reliability, and smooth design proven by years of experience and dedication to quality manufacturing.
The desk comes with a drop leaf, adding extra work surface for all your sewing needs, while the surface itself includes melamine for extra protection. This makes the table top resistant to heat, stains, and scratches, allowing you to use various adhesives and sharp objects like scissors and sewing knives.
Additionally, the desk features a storage section accessible through a roll-open door. Behind the door you may find 2 storage bins and a sturdy shelf designed for concealing your sewing machine when it is not needed.
More storage can be found behind the main door in the form of 2 adjustable shelves, while the durable casters give the unit the desired mobility in case you need to move the station to another room.
Made from engineered wood in adherence with sustainable manufacturing process, this Sauder craft desk is perfect for eco-conscious users that value both green technology and quality.
Though this craft cart requires assembly, the process itself is not complicated: you will only need a screwdriver and a hammer. Completed with a stylish Cinnamon Cherry finish, this model presents a clean yet classy design with elements of tradition and modernity working together to brighten your workspace.
Pros
Reliable and sturdy construction
Stylish premium-appearing finish
Foldable leaf for extra work surface
Durable materials resist damage
Review
The Sew Ready Comet Sewing Table, manufactured by Studio Designs, comes with multiple application options and small space-friendly construction. As a no drawer model with lightweight design, this craft desk suits rooms with limited floor space and crowded home workshops in particular.
By incorporating a folding top into its design, the Sew Ready craft desk creates extra space when needed with its drop leaf feature. It also makes sure to neatly fold down the leaf as to not take up too much space in your room when in idle mode.
The sewing machine platform is constructed in a way that allows you to align the base height of your device with the height of the table top. This means that the fabric you are working on glides freely across the desktop and does not shift or snag.
Adjustable levelling legs adapt the entire unit to any flooring material such as tile, wood, and various carpeting. The added stability eliminates common balance problems, making any crafting process a much more comfortable experience.
The heavy gauge steel construction is made to withstand considerable loads, so you may perform all sorts of craft-related tasks without a single worry. In addition, the lower storage shelf, measuring at 31.5 inches wide and 11.75 inches deep, provides sufficient space for storing sewing supplies and other accessories.
This is a multipurpose model compatible with most rooms as it can be used as a craft desk, a hobby station, and a sewing table. It is suitable for computer and laptop use whenever you need to convert the craft station into a home office desk.
Pros
Space-savvy design
Folding leaf feature
Adjustable platform
Open storage
Modern appearance
Review
The Sew Ready Hobby and Cutting Table is a multipurpose craft desk with space-efficient design and expanded versatility of application.
As a part of the newer series created by Studio Designs, this Sew Ready desk works as a perfect addition to your craft station equipment. Its two sides are foldable for the purposes of space efficiency, transforming the table into a more compact 12.25-inch wide unit when in storage.
When fully extended, however, this table provides an extensive work surface measuring 60 inches in width and 36 inches in depth. This allows you to perform all types of tasks that require large work areas such as die cutting or spreading out unruly fabrics.
The height of the table top is also adjustable, ranging from 30.25 inches to 39.25 inches tall, thus accommodating users of varying heights. Thanks to the addition of 6 easy-rolling casters, the model is much more convenient to move and store when folded.
Powder coated frame increases the durability of this unit, while the reinforced construction of its panelling raises the overall weight limit to 50 pounds on center and bottom panels, and to 25 pounds on side panels.
Extra supply storage can be found inside wire mesh drawers located under the table top as well as on the bottom shelf suitable for keeping your sewing tools.
The table suits a variety of craft-related tasks and supports all types of die cutting, including cloth, rubber, foil, plastics, paperboard, and sheet metal. Aside from its target purpose, the desk can be adapted for various activities such as technical drawing, sketching, board games, and puzzles.
Pros
Adjustable unit height
Sturdy construction
Space-friendly foldable design
Weight capacity of 50 pounds
Neat wire mesh storage
Southern Enterprises Eaton OC9665
Review
The Eaton Rolling Craft Station by Southern Enterprises is a multifunctional sewing table designed for various craft-related tasks as well as other regular work projects. It boasts excellent reliability of service on top of its affordability, making it an ideal choice for those working on a budget.
This model is manufactured with the use of quality materials, including MDF and melamine, both of which reinforce the structure and table top for more heavy duty craft projects.
The sturdy design supports up to 30 pounds on the center top, 20 pounds on the folding top section, and 15 pounds on each side shelf.
The table is also easy to store thanks to its foldable design, so you can safely tuck it in a corner after your work is completed. However, its impressive space-efficiency does not diminish the sizable top surface as it offers plenty of work area for all types of sewing, cutting, and crafting.
If you are often inconvenienced by having to use a lot of sewing supplies and accessories at once, the 4 built-in shelves will help you organize your items and keep them out of your way afterwards.
Mounted on rotating casters, the table is easily maneuverable yet stable thanks to its neat caster locks that prevent the unit from shifting when used. Fitted with classic white finish, the desk is compatible with most settings and interior designs.
Pros
Foldable design
Considerable weight capacity
Space-saving construction
Extended storage
Mobile caster support
Mainstay Sewing Craft Center
Review
The Mainstay Sewing & Craft Center is a foldable model with traditional design and spacious storage.
With its classic looks and sturdy base, this model serves as a perfect work station for all types of crafts involving sewing, cutting, and fabric manipulation. It is also suitable for various art work and sketching projects.
Manufactured from reliable materials that include engineered wood and melamine, the table provides a large work surface while taking up minimum amount of space for a craft unit of this type.
Underneath the table top you will find a large shelf meant for storing your sewing machine, whether for the night or in between projects.
Located on the right side, the storage compartment is perfect for safekeeping your sewing supplies, and its stylish framed door adds to the charm of the whole piece.
In addition, 2 adjustable shelves and 2 bins can be used for storing various craft items such as needles, scissors, and adhesive bottles.
The model is fairly easy to assemble—it would require only a few basic tools—and move around thanks to its lockable casters. In terms of appearance, the table is fitted with a warm amber pine finish designed to adorn any craft room.
Pros
Foldable top with flip-door
Space-efficient design
Classic pine finish
Ample supply storage
Roller caster base
SewingRite SewStation 101
Review
The SewingRite SewStation 101 is a sewing table with portable design and multipurpose surface compatible with drafting and fabric cutting work.
Even though the main function of this table is focused on sewing machine support, its versatility expands your options to most craft-related tasks, namely measuring and cutting of fabric or sketching out designs and copying patterns.
As for SewStation's main function, it is capable of safely holding heavy sewing machines weighing up to 25 pounds and measuring at 17.5 inches wide and 7.4 inches deep.
Moreover, you won't have to worry about any balance issues since the table is mounted on sturdy steel legs able to support even the heaviest machines.
If you tend to engage in all manner of sewing work, the platform for sewing machine support is there to meet all of your needs: the mobile rack is adjustable by height, allowing you to line up the machine's base with the work surface for smoother operation.
The table top itself covers 5.5 square feet, making it ideal for working in large pieces of fabrics and patterns, and the laminate coating protects the top from damage such as scratching or cutting.
Those who have limited floor space at home can breathe a sigh of relief since this model is foldable and can be tucked away from the living area. In its folded form, the table is able to fit in a supply closet or even under your bed
Pros
Easily foldable design
Large work area
Suits sewing and cutting
Manually adjustable platform
Review
The Arrow 611 is a portable sewing table from the Gidget series. This Gidget I model is manufactured by Arrow Sewing Cabinets and designed for various craft projects such as quilting, cutting, and sewing.
This uniquely constructed sewing table is both sturdy when open and compact when folded for tucking away. As it stands, Arrow Sewing Cabinets thoughtfully designed their Gidget I model with a smaller opening size—compared to the bulkier Gidget II—to make it more space-efficient and mobile.
Even taking its portability into account, the table still provides large work area and supports sewing machines with 35-pound net weight.
Manual platform intended for holding your sewing machine is adjustable by height, so you can rest assured it fits a variety of devices up to 17.5 inches wide and 7.4 inches deep.
There are 2 sewing positions available: free-arm and flatbed, where free-arm puts the machine flush with the top and flatbed keeps it even with the surface.
Extra functionality comes in the form of a yardstick ruler decal that offers both inch and centimeter measurements for quick reference whenever you undertake a complex project that involved cutting.
Durable and stain-resistant, the melamine table top is easy to clean and promises a much longer service life as well as reliable scratch-protection. The frame of this model is collapsible, making it easy to fold away and store as it fits even under a bed.
In terms of the overall unit support, Gidget I ensures steady positioning thanks to its sturdy legs and well-balanced construction. In addition, the powerful steel base reduces machine vibration whenever you need to work on straighter stitches.
Pros
Space-efficient design
Sturdy frame and durable surface
Adjustable platform
Anti-vibration construction
Review
The Lifetime 80160 is a commercial grade utility table designed for both indoor and outdoor use. It is both lightweight and durable, combining the best features of portable folding tables and heavy duty craft desks.
This utility model immediately stands out as being of exceptional flexibility, largely thanks to its forms of application. With its 3 height settings, this Lifetime table can be adjusted for specific usage: as a work space for children up to 24 inches tall, as a regular 29-inch table, and as a 36-inch countertop.
It is also safe to assemble in your yard or patio as it comes with locking rings and rounded impact-resistant corners to prevent accidental injury. The 4 steel legs are equipped with protective foot caps which keep your floors safe from scrapes.
The table can seat up to 4 persons when used outdoors for private or commercial purposes, and its 2.1-inch thick table top can withstand all types of weather lashing down on it. This is possible due to the high-density polyethylene used in the top's construction as well an added UV-repellent coating.
Thanks to its rust-resistant powder coated steel frame, the table is able to hold up to 350 pounds of weight and serve you for a number of years, whether it is used for sewing machine work, crafting, or die cutting.
Pros
Large weight capacity
Adjustable overall height
Outdoor and indoor use
Exceeds ANSI/BIFMA Standards
Review
The Costway Adjustable Sewing Craft Table comes in pristine white finish with contrasting black steel legs, offering both a sense of classic style and durability of service. Most notably, this model combines the features of a craft table and computer desk for greater versatility.
One of the key features that might attract you to this Costway table is its adjustable platform designed to support a number of sewing machines of various weights and sizes.
There are 6 main positions, ranging from flush to elevated, thus allowing you to adapt your machine to any sewing project. This feature also makes the platform suitable for computer keyboards in case you need to use the table as a home office desk.
The space-efficient design in no way limits either the storage capacity or surface area of this multipurpose model. For instance, all your craft supplies can be neatly organized with the help of the right-side drawer and 3 bottom shelves of different widths.
The thick table top provides a large area for all types of crafting and office work, while the durable powder coated steel construction ensures the table is always perfectly balanced and vibration-free even at full machine speed.
On top of its structural durability, the table is able to hold up to 135 pounds in weight, whether it is utilized as a craft room unit or a home office desk.
As a whole, this Costway desk is easy to assemble at home and move from room to room should you require it, while the top surface provides smooth and easy-to-clean experience.
Pros
Height adjustable platform
Multipurpose application
Spacious storage
Sturdy materials
Anti-vibration construction
Large weight capacity
Craft & Hobby Essentials 62007
Features
The Craft & Hobby Essentials 62007 Machine Platform Table is designed for organizing craft work and features extended storage such as a wide lower shelf and fabric drawers.
This model, manufactured by Studio Designs, holds one of the top positions for craft tables among customers and experts alike. With its adjustable sewing machine platform and space-efficient foldable construction, this craft desk provides up to 6 height settings while ensuring it takes the least amount of space in the room.
The adjustability of the platform allows you to position your sewing machine in accordance with your current task, from setting it flush with the table top to placing it on the same level as the base height of the machine.
When folded, the table measures at only 50.75 inches wide, but once you flip it open it will offer 60.25 of total width perfect for spreading out and cutting fabrics or working with patterns.
Both sturdy in its frame and durable in service, the craft desk is equipped to support heavy duty action thanks to its powder coated metal frame and scratch-resistant laminated tabletop. The surface is also extremely easy to clean and maintain whenever you need to smooth it out before a new project.
The strong construction of each supporting part boosts the unit's weight limits. As a result, the top panel holds up to 75 pounds, the sewing platform supports 20 pounds, and the folding side shelf fits around 10 pounds.
Storage features are also significantly expanded with the addition of a 32-inch wide lower storage shelf and 3 fabric drawers that come in see-through mesh design which allows you to see your supplies clearly.
As a multipurpose model, it can be used both as a standard sewing machine table and as a computer or laptop desk. The latter option will also come with ease as the desk offers a cord management gap in the tabletop to help you organize multiple wires such as laptop charger cords.
Pros
Increased weight limit
Large storage
Cord management
Height adjustable platform
Multipurpose application
Features
The Giantex Folding Sewing Craft Table is manufactured from sturdy and durable materials supported by space-efficient compact design.
As a caster-supported foldable model, this sewing machine table is a space-efficient and highly flexible choice perfect from small apartments and rooms that can't afford more floor area.
The 5 caster rollers allow for smoother movement, letting you change the table's position within the space of one room or your entire premises. Two of the casters are lockable so that you won't have to worry about the table moving during work.
With 3 hidden bins and a neat adjustable shelf, this table provides a great assistance in organizing all your sewing supplies, craft accessories, and work tools.
The solid food frame and pristine white finish come together to create an appealing modern design that suits all craft rooms and work settings.
Pros
Better storage organization
Space-saving design
Folding panels
Folding panels
Mobile lockable casters
Sturdy materials
In Conclusion
How to use a small desk as a craft table?
Standard small desks can sometimes be adapted for sewing and crafting work. This mainly entails the need to even out the surface and lay a protective matting on top. This layer is meant to smooth out the tabletop imperfections and ensure the desk won't get damaged by scissors and other tools.
It is also important to find the right chair for the fixed height of your small desk. Your posture and the way you operate in your own work space are extremely important, so a matching chair or a swivel stool can either make or break the entire experience.
Another helpful feature to keep in mind is storage. Having your sewing supplies strewn about the place is never conductive of a great work ethic, so consider purchasing small stack-on supply cabinets. They usually come cheap and can be stacked under the table.
What size should a sewing desk be?
Generally, the right size of a craft table depends on its primary purpose. Considering that everyone has their own ideas for the right width or length when it comes to sewing tables, this leaves height as the only universally applicable feature.
Most sewing tables are designed for individuals with the average height of 5'3", putting the table height at around 32.5 inches. This is subject to change depending on your height and the way you prefer to work—seated or standing up.
What is a cutting desk?
Standard cutting desks are designed specifically for working with fabric, paper, or other craft materials. These tables usually feature a spread-out surface area, while some come with a built-in yardstick. You may also find a long centered groove running across the top meant for fitting scissor blades so as not to damage the surface.
How do you cut fabric straight?
This can be easily achieved with the help of a few simple tools. First you would want to get a 90-degree angle ruler, though not for measurement: the ruler is there to provide the needed precision. The other tool would be the scissors and not just any pair. Remember that you should always cut fabric with sharp scissors and avoid those with damaged blades since they lead to snagging and tearing.
First position the ruler on top of the fabric.
Line it up so that one side matches the selvage edge and the other side crosses the fabric at a 90-degree angle.
Press the ruler firmly to the fabric but do not push too hard.
Draw a line with a marker or a piece of chalk. You can also use a piece of old soap.
Remove the ruler and secure the fabric before cutting.
Cut slowly and patiently along the drawn line.
How do you sew on a craft table?
The main difference between a craft table and a regular table lies in its machine-accommodating and fabric-friendly features. The principle remains the same, however the safety and quality of the process changes.
Craft tables allow you to line up the sewing machine appropriately, ensuring the fabric is handled in correct ways. Fabric is also easy to handle, measure, and cut using the unfolded tabletop of a craft desk, not to mention that a built-in yardstick makes the process more reliable. Height can be adjusted to suit your own height which can be of great assistance for the work process, encouraging a better posture and making sewing that much quicker.
All of this and much more means that every moment of difficulty you may have faced when sewing on a regular table becomes successfully eliminated once you start working at a specifically designed craft desk.