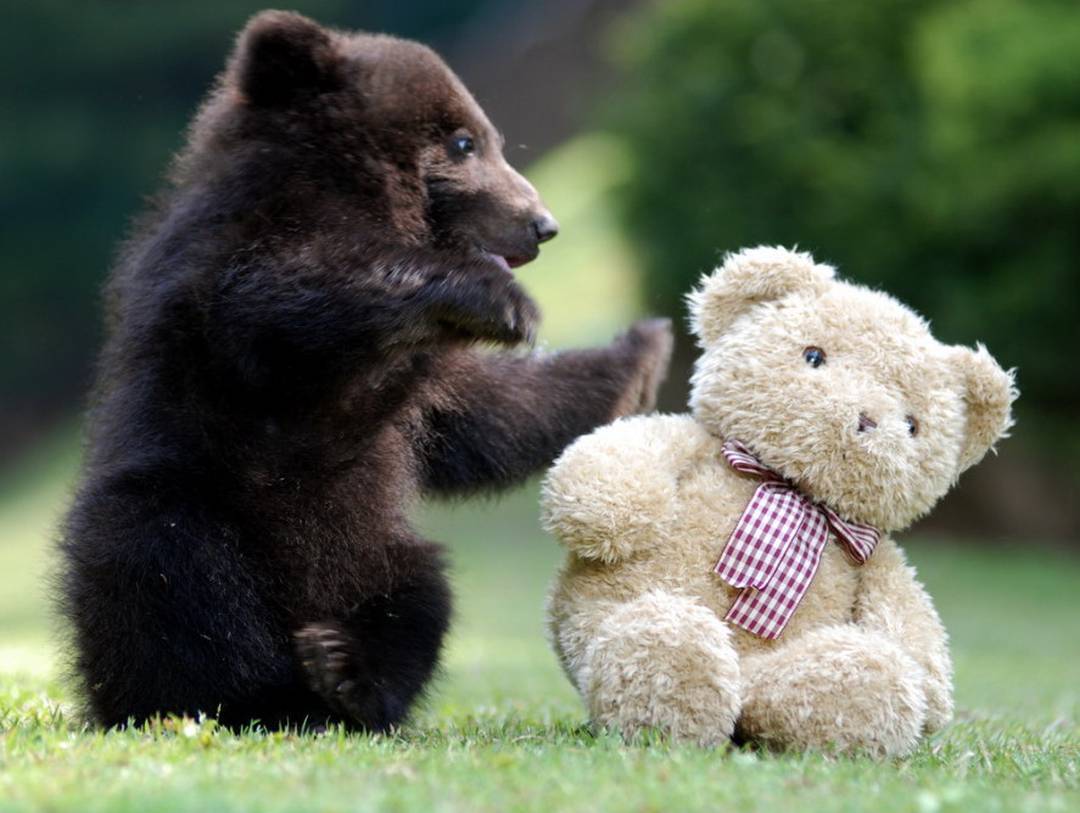 Cross stitching is particularly popular today as are many other forms of embroidery. DIY gifts and pieces of interior decor are always in good taste as well as fun to make. This means that you will find a great variety of pattern options available online, all suitable as a gift or for your own leisure.
If what you want is a gift, especially a baby shower or birthday gift, a cross stitch kit is a great inexpensive but thoughtful pick that shows you care. With such an abundance of choices, though, it could be rather time-consuming to find the right one. But remember, when in doubt, it's never wrong to go with cute furry animals. And what could be cuter than a teddy bear?
What Should I Know About Cross Stitch Kits?
Most kits for beginners (as well as other skill levels) come with the same collection of accessories. What you will find different from kit to kit are the thickness of the canvas (measured in thread counts), the number of needles, and the pattern type.
Cross stitching is done on Aida fabric with the most common types being 14-count and 16-count canvas. Thicker fabric edges well into 18 and over 20 in terms of thread count.
In these kits, a pattern can be stamped or pre-stitched with the image right on the fabric to guide you by color and shape with more ease. Or alternatively, it can be counted, meaning you will need to use a stitching chart that comes with the package.
Top Picks for Bear Cross Stitch Kits
Povitrulya Cross Stitch Kit for Baby Boy "Congratulations!"
Teddy Bear Embroidery Set for Kids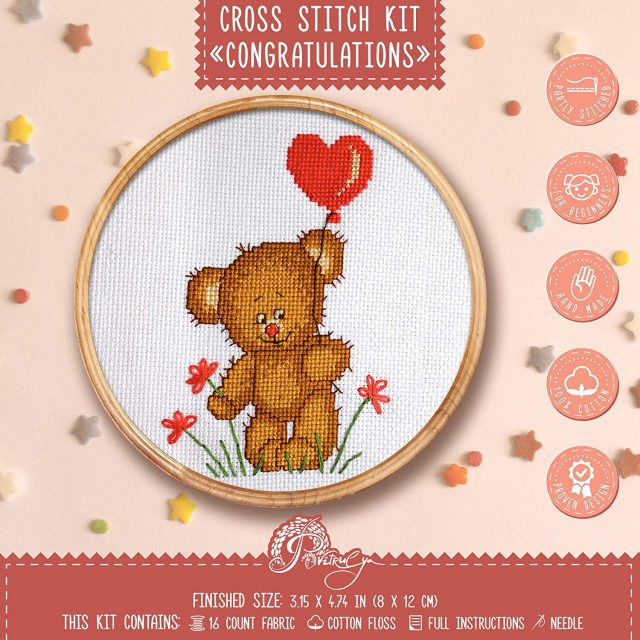 3.15″ х 4.72″ canvas
7 floss colors
white base fabric
This partially stitched teddy bear pattern by Povitrulya is a great choice for needlecraft beginners of any age but especially young children. The pattern is designed to encourage more effortless learning, develop motor skills, and make the process fun and engaging.
In the pattern the teddy bear is depicted with a heart-shaped air balloon and flowers, meaning that there is a certain diversity in the types of cross stitches required for completion, namely full cross stitch, back stitch, and lazy daisy for the flowers.
Apart from the pattern, the kit features natural cotton threads, 16 count Aida canvas in white, a needle, and full instructions. When finished, the pattern will make a cute addition to a nursery or it could be a sweet gift for new parents.
---
Dimensions 70-35357 Disney Winnie The Pooh Cross Stitch Kit
Winnie The Pooh Birth Record Counted Cross Stitch Kit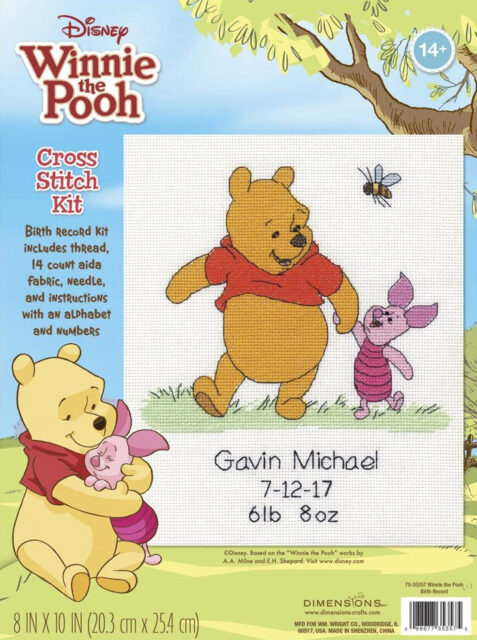 8″ x 10″ canvas
14 count fabric
presorted cotton threads
Once again Dimensions finds a way to make a simple act of cross stitching more meaningful, this time with a personalized baby record kit. This means that the pattern, featuring Winnie the Pooh and Piglet as envisioned by Disney, has a special place at the bottom designed for the name, date, and weight of a newborn.
The kit includes canvas ivory Aida canvas, one needle, guide chart, threads, and the pattern itself. The image depicts Winnie the Pooh and Piglet holding hands while on a walk with a tiny bee added at the top to make the scene that much cuter.
This cross stitch bear kit would work both for you and your baby as well as a gift for a friend or a family member with a newborn.
---
Vervaco Counted Cross Stitch Kit Bear with a Blanket PN-0011901
Bear With Blanket On Aida Counted Cross Stitch Kit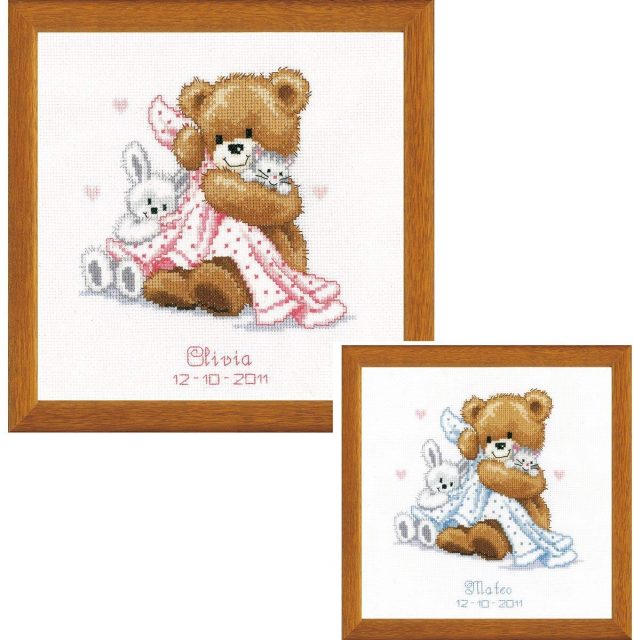 7″ x 6.75″ when completed
14 count canvas
natural cotton threads
This cross stitch kit by Vervaco is a perfect way to show great care for your loved one who has recently become a parent. The kit comes with a simple but lovely pattern that with a teddy bear cuddling a kitten and a bunny under a blanket.
Underneath the bear, there is space to stitch in the name of the baby and some other information if you wish. You can choose the kit with either the pink or blue blanket to fit your style. In this set you will also find Aida canvas, pattern with instructions, DMC scheme threads, and a needle.
---
Janlynn Bear with Bouquet Cross Stitch Supplies
Bear with Bouquet Cross Stitch Kit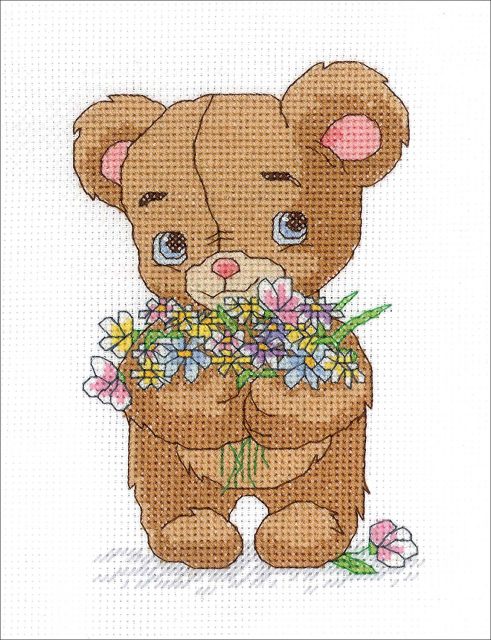 5″ x 7″ fabric size
14 count canvas material
eco-safe stitching threads
In this Janlynn cross stitch kit you will find a small pattern with a loveable teddy bear offering the viewer a bouquet of wildflowers. The bear's cute blue eyes and big ears are so charming that working on this counted pattern will be a pure delight
The kit is manufactured in the United States and includes natural cotton threads, Aida canvas, a needle, and a picture guide with instructions.
---
Janlynn 1143-46 18 Count Mini Counted Cross Stitch Oval Polar Bear
Mini Counted Cross Stitch Kit with Frame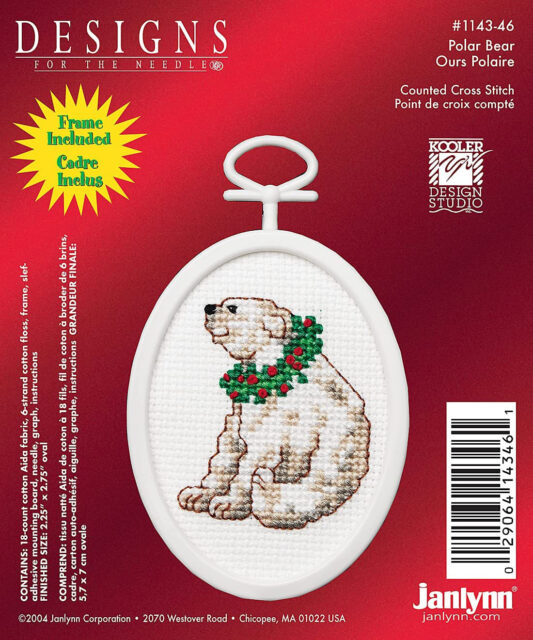 2.5-inch oval frame
18 count Aida canvas in white
presorted cotton threads
In contrast to their previous pattern, this Janlynn kit features a polar bear with a Christmas wreath, making this a suitable gift for winter festivities. It is designed for beginners and works as a good starter kit.
In addition to the small bear pattern, the kit supplies the oval frame measuring 2.5 inches in diameter so either you or the recipient of your gift can display the lovely pattern as soon as it is complete.
---
Tobin Sail Away Stamped for Cross Stitch Baby Quilt Kit
Sail Away Stamped Cross Stitch Baby Quilt Kit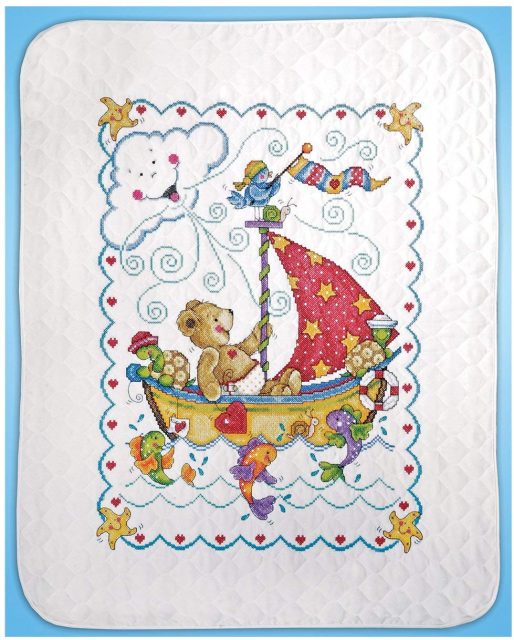 pre-printed quilt
9″ x 12.5″ size
sorted cotton threads
Made by the trusted US-based brand, this Tobin cross stitch kit is packed with all necessary items for your first needlecraft work.
The featured bear pattern is bright and intricately drawn as it is supposed to go on a baby quilt. It shows a baby bear sailing on colorful boat surrounded by rainbow fish and turtles. Each corner of the pattern is decorated with a smiling starfish and tiny hearts, while at the top of the mast you can spot a cute snail and a bird waving a flag.
With its vivid colors and adorable animals, the pattern will look amazing on your baby's small quilt. Alternatively, it works great as a nativity present.
---
Bear Mandala Cross Stitch Kit by Stitchering
Bear Mandala cross stitch kit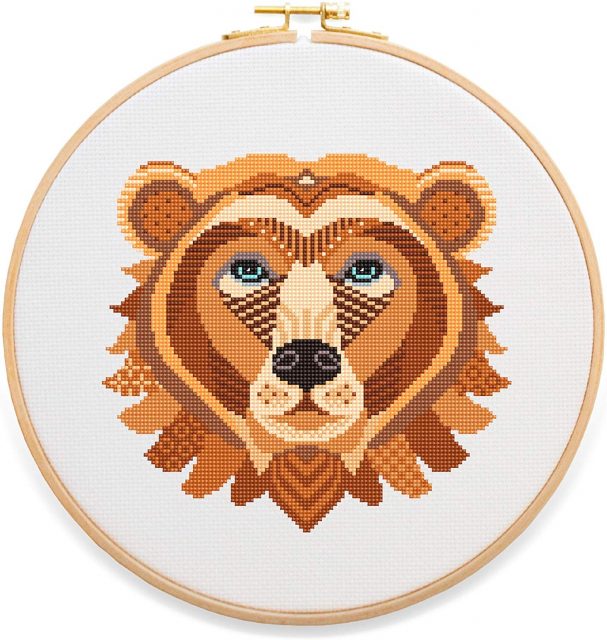 7.8″ x 7.2″ canvas
14 count Aida cloth
DMC stitching floss
Compiled by Stitchering, this bear cross stitch kit is suited for a craft-lover with any level of proficiency. This works as a gift for beginners and intermediate to advanced crafters, including both adults and school-age children.
Though the pattern is done in a more contemporary style with a flat perspective, it adds familiar folk themes in the fur strands around the bear's head to make the finished picture more homey.
The Mandala bear kit supplies excellent Zweigart fabric, presorted threads in 15 DMC colors, a needle, and a full set of instructions. The printed pattern is bright and distinguishable.
---
Permin The Brown Bear Counted Cross Stitch Kit
A Mother Bear and Her Cubs Counted Cross Stitch Kit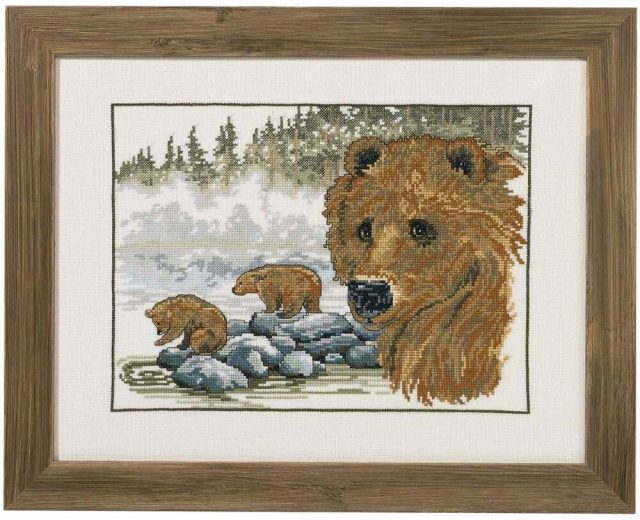 32″ x 16″ canvas
thick 26 count cloth
organized threads
This cross stitch kit by Permin presents a pattern in a more subdued calm palette. The image features the face of a mother bear at the forefront as her cubs play in the background.
The scene takes place by a foggy river next to a pinewood, giving the whole picture a more rustic, lived-in feeling. A pattern of this design suits barnwood walls and those of similar interior designs.
Imported from Europe, this kit has everything you need for finishing the counted pattern, from cotton threads to quality linen canvas.
---
Riolis 10 Count Bear with Cub Counted Cross Stitch Kit
RIOLIS Bear with Cub Counted Cross Stitch Kit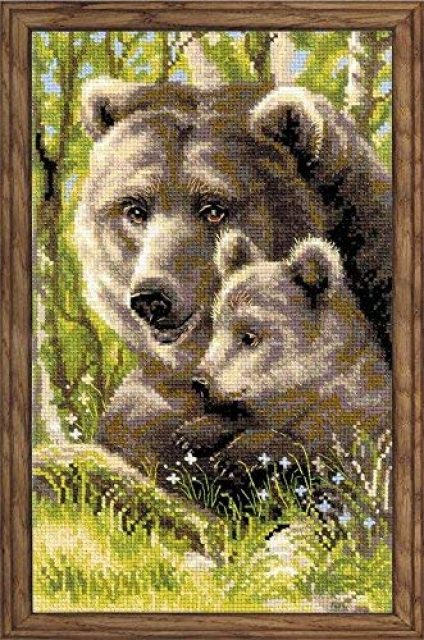 15″ x 8.75″ canvas when complete
presorted floss
imported goods
Another heartwarming mother and child scene comes from this Riolis cross stitch kit for counted stitching technique. Supplied with the kit, the pattern shows a mother bear with a cub resting in a forest among wildflowers. The color scheme of this image is more vibrant than that in the pattern described above, but it suits traditional room designs with a lot of wood elements just as well.
The size of the finished picture is pretty mid-tier, measuring at 15 by 8.75 inches. Dimensions such as these are well-balanced enough to make this into a perfect piece of decor in your living room or study.
---
Teddy Bear Family Advanced Counted Cross Stitch Kit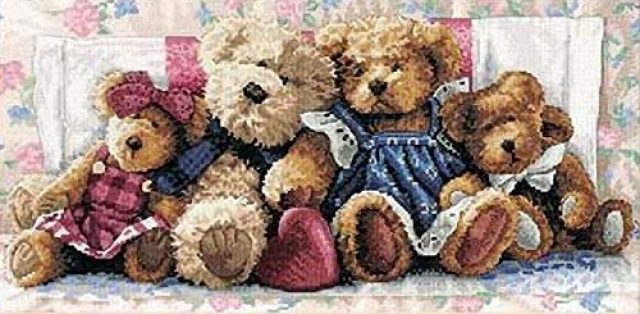 18″ x 9″ final size
14 count Aida fabric
presorted cotton floss
One of the more advanced counted Dimensions kits, this cross stitch package offers a unique pastel pattern with all required accessories.
This pattern is bright without being gaudy or too hard on the eyes thanks to its soft pink, blue and light brown hues. The image shows four teddy bears in dresses and bows sitting on a flowery sofa. When finished, the picture measures at 18 by 9 inches. The size and theme are most effective in a nursery or child's room.
---
FAQ
What is floss in cross stitch?
In cross stitching, floss refers to the thread you use for actual stitching. It's a 6-strand type of thread designed to be divided into parts when needed, depending on the form of stitching and the pattern required for any particular project.
What does cross stitch in 2 strands mean?
Most cross stitch kits include presorted collections of cotton threads designed for a specific pattern. This, however, touches every form of cross stitching, stamped, counted, or freeform, since most cotton threads used for this type of embroidery consist of multiple strands.
Usually, cross stitching mouline floss has 6 strands per thread, so when the instructions direct you to use 2 strands it means that you should separate 2 strands away from the 6-strand thread. Then you thread the newly created 2-strand line through your needle, tie it off at one end into a knot to prevent the string from slipping away and start stitching.
How do you print a cross stitch pattern?
If you can't find the print you want among the pre-packaged kits, there are ways to make your own pattern.
Of course, you need to choose the image first. It can come from any magazine or you can find it online and print it out. You can also look for a pattern on cross stitching blogs or in printed catalogues as well as draw one yourself if you are quite good at that.
Once you have your printed image, you need a sheet of grid paper that matches the image or even bigger in size so that it can cover it from corner to corner.
Use any form of transparent surface that can be lit from behind such as a lightbox, a window during a bright day, or even a glass coffee table with a table lamp set underneath.
Place the printed image on top of the surface but under the grid paper. Try to make the free space around the centrepiece more or less even on every side.
With the light shining through both layers, it's time to outline the pattern from the print onto the grid paper. Trace all of the details as well or leave some of them out, it's all up to you.
After the image has been transferred onto the graph paper, you need to give it color. There is no right or wrong way to do it, so you can stick to the source colors or come up with your own palette. To chart out the colors, use color pencils (pens and markers work fine as well) to fill in the grid squares of the pattern with criss-cross shapes. Though be careful to distinguish between a normal full cross stitch and other types such as half stitch or backstitch.
However, if you are interested in transferring an image onto the fabric itself, you will need special iron-on paper. The desired pattern should be printed onto this paper and then transferred onto the washed Aida cloth with a hot iron.
What do you need for cross stitch?
Different types of embroidery demand different sets of tools and accessories. As of the more accessible forms of this craft, cross stitching isn't very demanding when it comes to supplies. Naturally, you can buy complete kits that already have everything you need.
However, if you are buying the items separately, you can choose more freely between the types of fabric and threads.
For an average cross stitch project, you will need an embroidery needle, 11-26 count Aida fabric of any color, 6-count cotton threads, and an embroidery hoop. Other tools such as scissors, needle threaders, thread cutters, pattern drawing sets can come in handy as well.