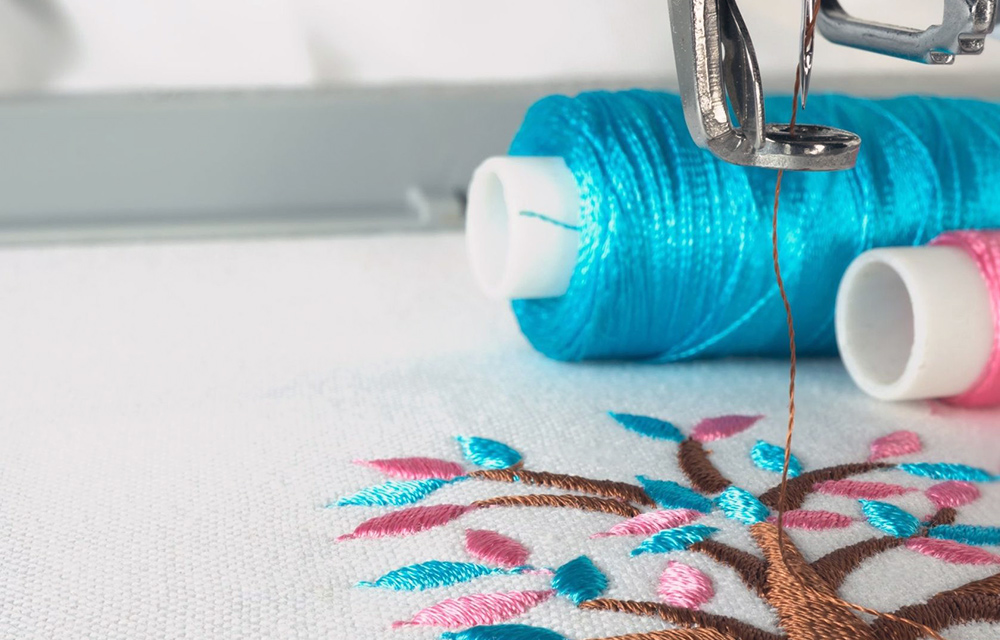 A monogram is a motif made by overlapping or combining two or more letters to form one symbol. Monograms are often made by combining initials of an individual or a company, used as recognizable symbols or logos.
Monogramming and embroidery are popular tools to personalize products or create a unique style in clothing, household items, crafts. Using these two techniques, you can implement your vision and imagination into real objects of everyday life.
Reviews of the best monogram, embroidery, and sewing machines for beginners
Brother Embroidery Machine PE800

Show more images
Brother PE800 Embroidery Machine, 138 Built-in Designs, 5" x 7" Hoop Area, Large 3.2" LCD Touchscreen, USB Port, 11 Font...
138 Built-in designs: Featuring 138 built-in embroidery designs including scrollwork, florals and quilt patterns, the PE800 has numerous options to allow your creativity to flourish 11 Built-in ...

Made by: Brother, Available: In stock
Review
Brother PE800 embroidery machine is the best choice for those who are searching for an outstanding embroidery machine with a huge number of features.
You have a possibility to edit the design such as mirror-image, rotate, increase/decrease the size of the design and preview it before the final stitching on a large color LCD touchscreen.
To decorate your items the machine offers virtually unlimited embroidery designs: 138 built-in embroidery designs, including 11 lettering fonts, frame designs, and border designs. You can also connect the machine to the computer or through the USB port transfer embroidery designs of your choice downloaded from the internet.
Its large embroidery area is super brightly illuminated with the built-in LED lights. With Brother PE800 you can complete your embroidery project really fast – its stitching speed is 650 stitches per minute.
Positive
Large Color LCD Touchscreen
Edit, preview embroidery designs before stitching
Virtually unlimited embroidery designs with lots of built-in designs
Easy, versatile, fast, good for home embroiderers
Brother Sewing Machine SE600
Review
You will be able to do all kinds of jobs with this combined and computerized sewing machine.
Brother SE600 comes with 103 built-in stitches, 80 built-in embroidery designs, and 6 lettering fonts to decorate your crafting item.
This sewing machine has a big colored touchscreen, where you can edit and preview the design. Isn't that cool?
For your embroidery projects, you are sure to enjoy a large 4×4 embroidery work area brightly illuminated with LED lights to comfortably handle the fabric and work on it.
If you ask yourself a question: Is it good for a first time user? Yes, definitely. It's simple and easy to operate – even the beginners who haven't touched an embroidery machine before can set up the machine and start with their first embroidery project.
Positive
Double function – Sewing and Embroidery
Comfy Colored LCD touchscreen to edit and preview designs
Portable and easy to store
Review
Janome JW8100 is a feature-rich, very well designed computerized sewing machine. It is a perfect match for those who are bored with old mechanical sewing machines. This machine comes with a wide variety of stitches. Its top speed is 1000 stitches per minute. It is made up of good quality metal, it's stable and durable. The digital screen displays the stitch you've chosen.​ Janome computerized features make your sewing experience luxurious.
Positive
This machine is easy to thread that saves your time
Perfect fit for beginners – very user-friendly, easy to operate
It doesn't shiver much
It's very quiet even at its top speed
Brother CS7000i Computerized Sewing Machine

Review
I don't recommend purchasing a super expensive sewing machine with hundreds of stitch types and weird extra functions, but I do recommend getting a machine that can grow with you. Brother CS7000i is a machine that will make you want to sew.
Positive
Great for both sewing and quilting
Fast – maximum sewing speed of 850 stitches per minute
It is a great option for all kinds of users, either you're an amateur or a pro
SINGER Heavy Duty 4423 Sewing Machine
Review
With its heavy-duty metal frame and powerful motor SINGER Heavy Duty 4423 Sewing Machine is a real workhorse. It's an excellent machine for high speed and quality stitches. ​This particular heavy duty model has 23 Built-In Stitches, besides that, 12 decorative stitches. It has a strong motor to deal with multi-layer and heavy fabrics from denim to canvas.
If you want consistent results every time for your projects this model might be the best option and you'll be proud to say you've made it yourself.
Positive
Easy portability
Low price
Easy maintenance
Works smoothly on multi-layer and heavy fabrics
Monogramming and Embroidery are 2 popular decorative techniques. Let's have a precise look at both to feel the difference.
Embroidery vs Monogramming
What is the difference between an embroidery machine and a monogram machine?
Yes, we can use both embroidery and monogramming to personalize and customize the designs on clothes and accessories, but they are not exactly the same.
Of course, now in the age of new technologies, automatization and digitalization Embroidery has changed its face and you can find a huge variety of embroidery machines of various capacity, size and options.
Monograms are only tiny patterns like initials or a logo comparing to embroidery machines, which can create sophisticated and larger designs. With an embroidery machine, you have a much wider and versatile range of options whereas the monogram machine offers you more directed and limited possibilities.
So, what is monogramming? Basically, monogramming is combining the initials to identify a particular person or family. It is a wonderful way to add some personalization to gifts and make them cute, especially wedding gifts.
On the one hand, embroidery is more complicated than monogramming and it can satisfy any images of blue-sky thinking and create any design. It has no limitations, but at the same time, it requires some stitching skills. Embroidery has a broader scope as a form of craftsmanship.
On the other hand, monograms are perfect if you want to show your ownership or for branding your products. Embroidery will actively participate in the process of designing and creating your products, customizing them and making them original and unique.
No doubt, embroidery can boast of greater versatility and popularity, wider scope and more frequent application, flexibility, and creativity in contrast to monogramming.
Taking into account your various business purposes or personal needs you should choose either a monogram or an embroidery machine to meet your needs best, but remember that these 2 techniques can be combined easily to receive a maximum effect for your business.
How much do monogram machines cost?
Are you thinking of buying a monogram machine?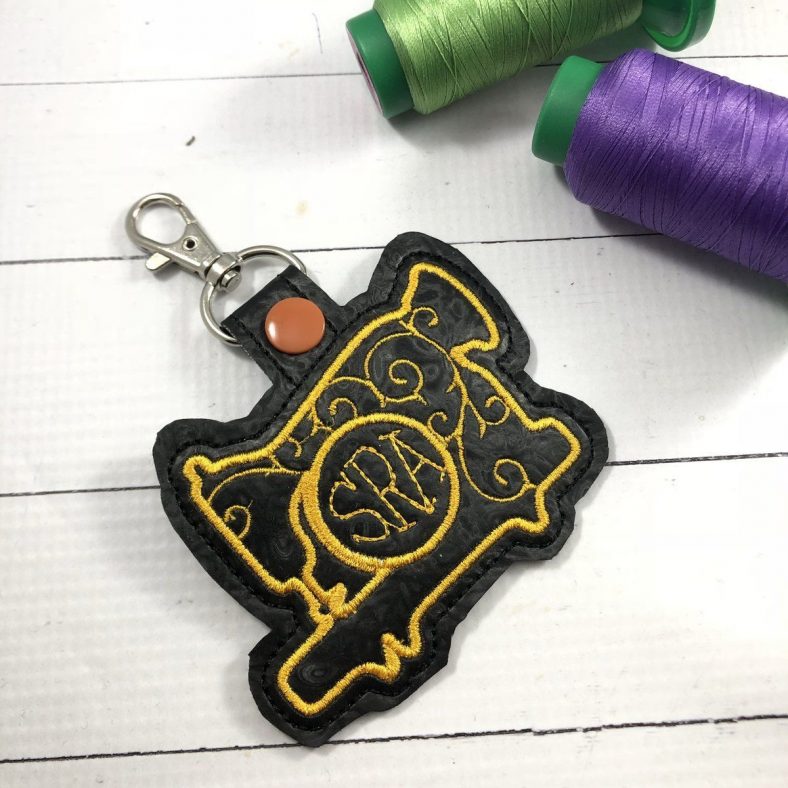 To answer the question about the price we should clearly understand that as always there are different categories of products suitable for different groups of people.
Entry-level monogram machines
The cheapest with the simplest combination of options monogram machines still don't cost 1 penny. You'll need to pay $250 to $400 for a basic monogram machine with a 4″ x 4″ embroidery area and 20 to 50 built-in patterns.
Middle-range monogram machines
A model with 50 to 100 built-in patterns (plus even more designs are available for download) and an embroidery area of about 5″ x 7″, will set you back $400 to $600.
High-end monogram machines
On a high-end of the market monogram machine, you will need to spend from $600 up to $1,000. Can you imagine that for this money you receive a larger embroidery area — up to 8″ x 12″ — and 100 to 300 built-in embroidery patterns?
Most premium class models offer you a possibility to design your own embroidery patterns and connect your machine straight to a computer or using a USB drive.
What is the best cheap monogram machine?
Brother Sewing and Emboidery Machine SE600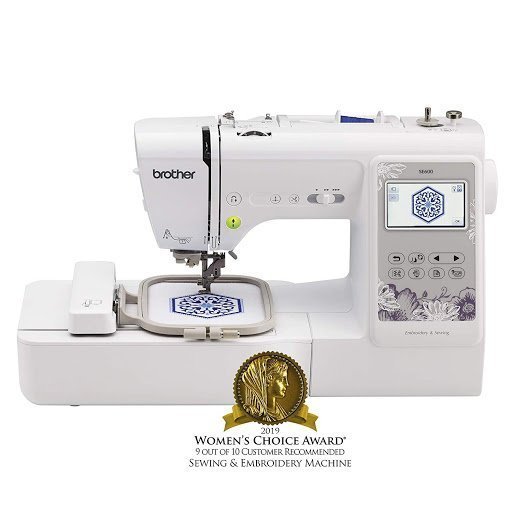 Brother SE600 comes with 103 built-in stitches, 80 built-in embroidery designs, and 6 lettering fonts to decorate your crafting item.

This sewing machine has a big colored touchscreen, where you can edit and preview the design.

For your embroidery projects, you are sure to enjoy a large 4×4 embroidery work area brightly illuminated with LED lights to comfortably handle the fabric and work on it.

You will be able to do all kinds of jobs with this combined and computerized sewing machine for a small price.
How do you monogram fabric?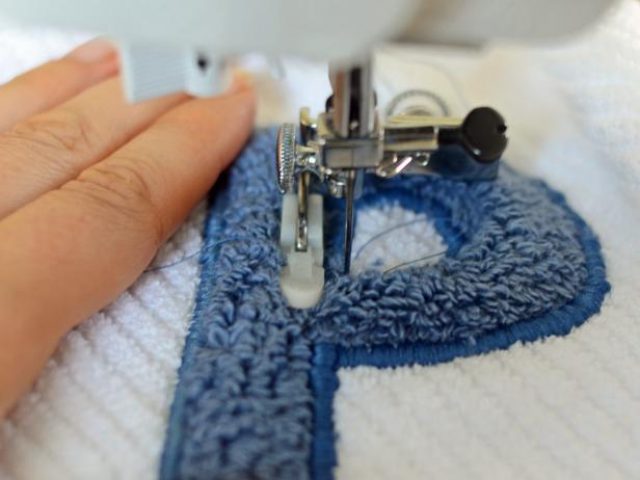 Monograms are beautiful and decorative designs – a combination of two or more letters, most often a person's initials, which represent a person or a company. You can monogram a plush towel or handy tote bag, or anything else that you would like to decorate.
Embroidering a Monogram – 5 simple steps:
Set up your monogram machine. Plug in and choose a comfortable working place for you to move your project around freely. Using the settings, program your machine for the size and shape, you are planning to monogram.

If you don't possess a monogram machine but are extremely willing to monogram, it's not a big deal. Most modern sewing and embroidery machines have an embroidery function with integrated advanced electronics to embroider some built-in designs, including monogram motifs.
Choose where to place the monogram. Using tailor's chalk or any fabric marking tool mark the center point of your future monogram. You should make 2 lines: vertical and horizontal going through the center point of your future design. This way you will be able to attach your embroidery hoop in the correct position. Don't forget that you need some space around your planned design, which should be located straight in the center.
Place your machine's embroidery hoop onto your fabric. Check if the center lines you drew on your fabric coincide with the center marks on your machine's embroidery hoop and the machine will embroider your monogram in the right place. Place a piece of stabilizer under your fabric inside the hoop. Stabilizer supports your fabric, makes it sturdy enough to withstand machine embroidery during the process of sewing. You don't need to worry when your monogram is done, you can easily cut the stabilizer, wash, or tear it away (it depends on the type of stabilizer you use)!
Set the hoop and start your machine. Snap the machine's embroidery hoop, so that it could move freely as the machine moves it during embroidering. Be attentive when attaching the hoop to the machine and follow all the machine's instructions. As you have placed the hoop, start the program and enjoy the process!
Detach the hoop from the machine and take your fabric out. Trim away any excess thread. Remove any excess stabilizer from the back of your fabric. Congratulations! Your monogram is ready!
How do you monogram with Cricut?
A huge number of people are interested in monograms and who wouldn't? Monograms are ideal to personalize your crafts and make DIYs. The easiest way to do it is to use your Cricut and make them fun, fast, and original. Have you ever tried Cricut to monogram? If not, don't worry. Let's start with the easiest monogram – the traditional script monogram.
To start your work, click on the text icon on the left menu. It opens a text box and you can type your first letter. Then, go to the top menu and click the font drop-down menu. Choose the font you like best.
Move to the top of the layers menu on the right and click duplicate your first letter, which is still selected, two times. This way you'll get your next two letters ready.
Double click one of your duplicates to open the text box. Change the letter to the second letter in your initials. Repeat with the second duplicate and change it to your last initial.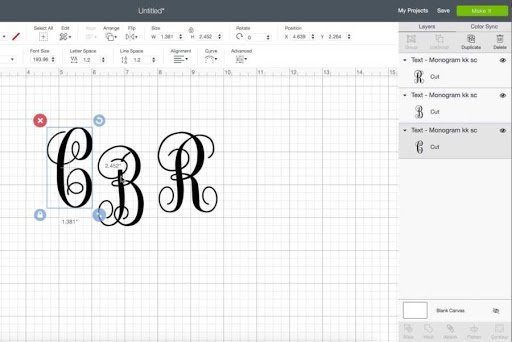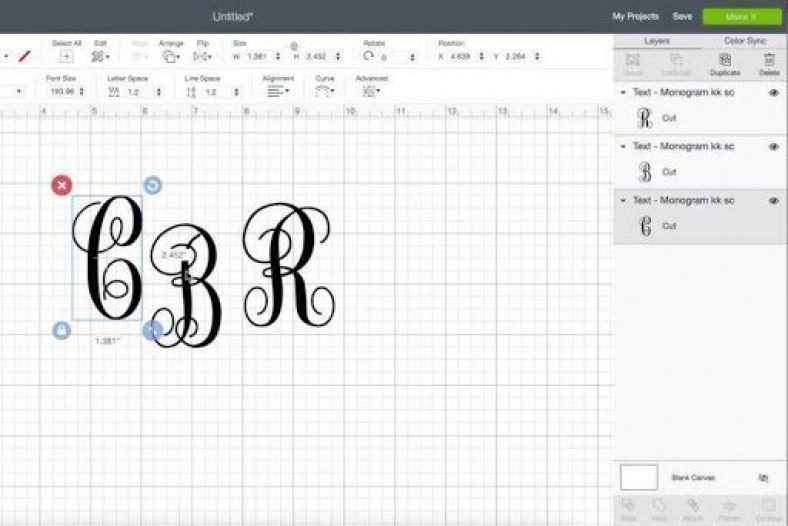 Now arrange and resize the three letters for your monogram. Duplicating the letters you get all your letters of the same size. So we just need to make the center initial bigger.
For the center initial click on the arrow on the bottom right corner and size it a bit bigger than the other two initials.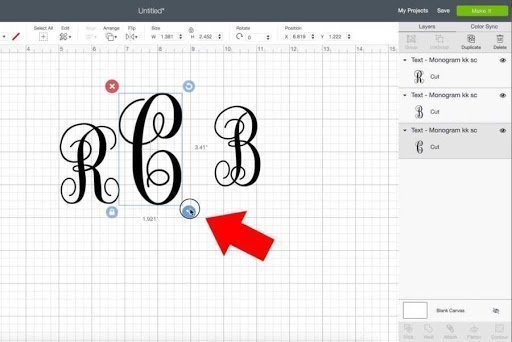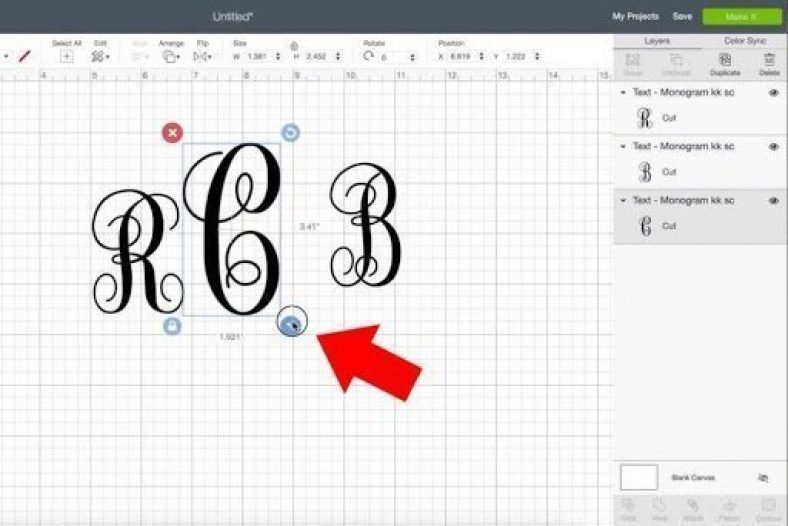 The next step is to click and drag your initials closer for them to touch and even overlap each other.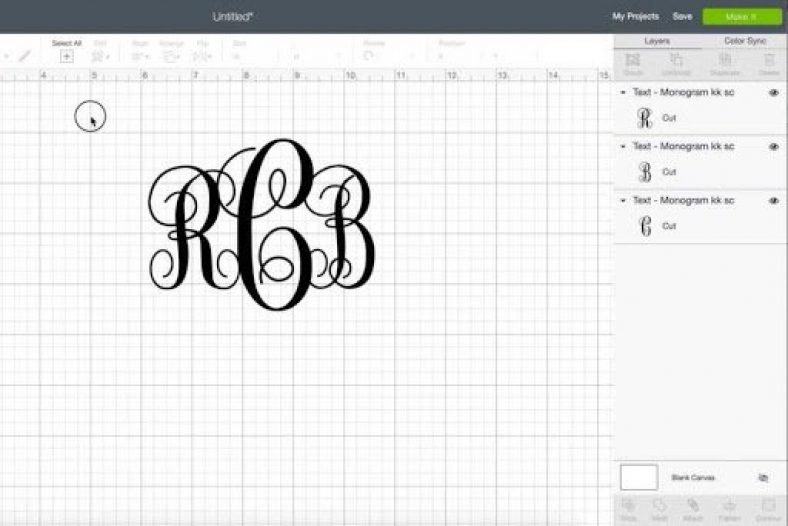 Then you should select all three of your initials, go up to the top menu and click on align vertically from the drop-down menu.
The final step is to weld all of your monogram initials together so they cut as one. Click the weld button on the bottom right of the layers menu.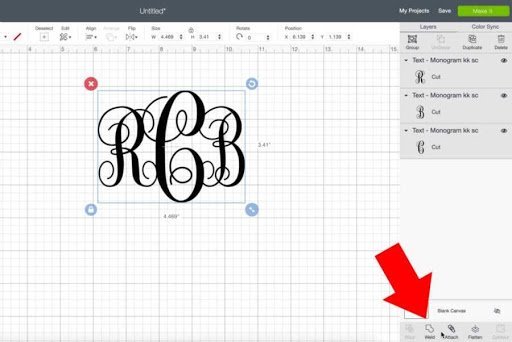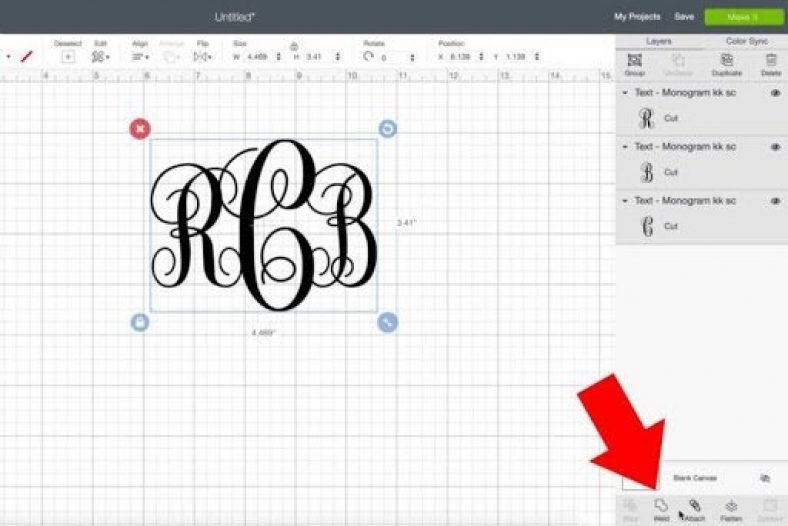 Now you can resize the whole monogram together to the size your project requires and then click the make it button to have it cut! The job is done. So simple!
What is the best monogram machine to start a business?
For those who are planning to start a business, there are lots of opinions but this model might be the most suitable – easy, reliable, trusted and with endless possibilities for your crafts.
Brother PE800 Sewing Machine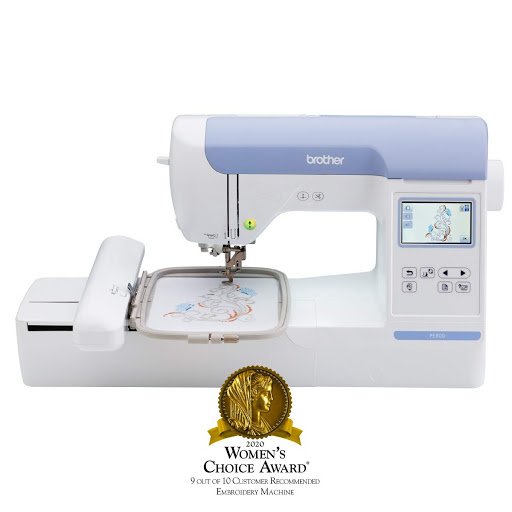 138 built-in embroidery designs.

The USB port for computer connectivity and memory stick.

11 embroidery fonts

Automatic Needle Threader.

Large Color LCD Touchscreen.

Edit, preview embroidery designs before stitching.