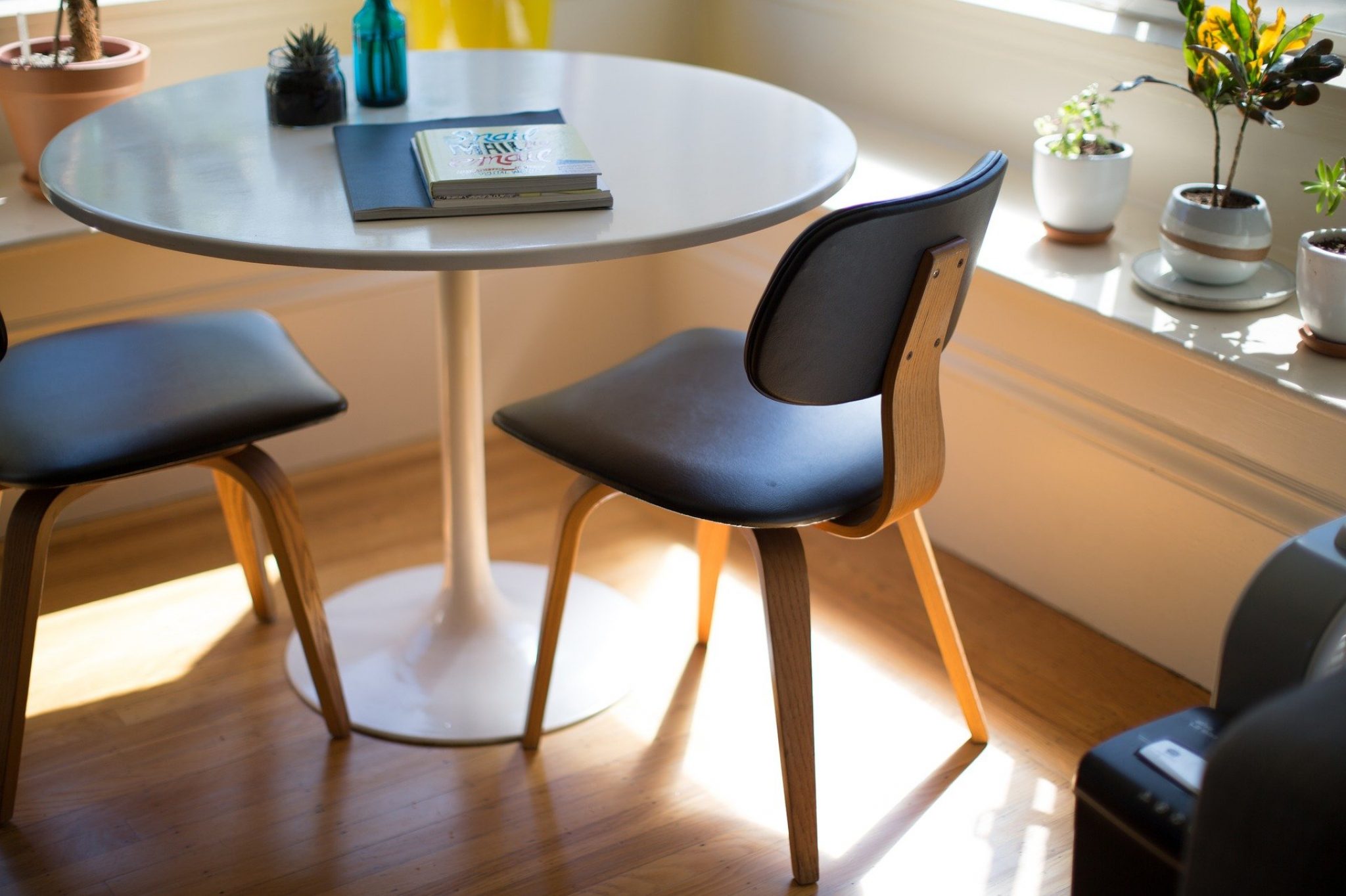 Whether you are a sewing enthusiast or a seasoned professional, having a proper chair is essential. And though I am in the first category, I know that this type of craft needs precision, and some projects can make you sit for hours. So, it is highly important to have a comfortable seat to avoid fatigue and pain in your back and neck.
A sewing chair is not a special type of furniture. Yet, not every regular chair is suitable for sewing. Sitting on a wrong chair can affect your posture and result in annoying back and neck pains. A sewing chair is all about ergonomics, providing proper support for your spine and keeping your whole body aligned.
I used to sit on an ordinary kitchen chair when using my sewing machine. But once I started having problems with my back, I realized I need to think of changing my chair. I've tried a few top-selling models, and now I am ready to share my opinion to help you find the best sewing chair to fit your needs.
How to Pick a Sewing Chair
Choosing a sewing chair doesn't seem difficult. In practice, however, it might appear pretty confusing, given the number of models available on the market. To make this task easier for you, I've made a brief list of key points to consider when buying a sewing chair.
Dimensions
Sewing chairs come in a whole variety of sizes, ranging from compact to bulk models. In this concern, the seat size and backrest height are the most important characteristics to check. The seat should be large enough for you to sit comfortably, without both your hips hanging over the edges and having too much of space to wiggle. Meanwhile, the backrest height should be sufficient for providing effective support to your back and ensuring a correct posture.
It's notable that the chair weight also matters. Lightweight chairs are definitely easier to move around, yet they might lack durability and have a lower weight capacity. Heavier models, on the other hand, are sturdier and can withstand a bigger load.
Body Support
A sewing chair should not only be comfortable but also supportive, allowing you to sit on it for a long time. Thus, a good lumbar and back support is a must. The backrest should be padded and ergonomically shaped to follow your natural body shape and support your spine in a proper position. This will help prevent muscle strain and back pain.
The padding is also important. If the seat is too firm, prolonged sitting might cause numbness and discomfort to your hips, making you constantly change your body position and, thereby, distracting you from your projects. The best option is a soft, yet resilient seat padding that will keep its shape well.
Some chairs also have armrests. If you go for such a model, the armrests should be thick-padded to ensure both convenience and comfort. Though the armless design is better for sewing, if you still prefer having extra arm support, I recommend selecting models with the armrests closer to the backrest of the seat.
Adjustability
Adjustable seat height is one of the most helpful features offered by sewing chair models. It will help you adjust the seat height to perfectly fit your body for maximum comfort during work. Some more elaborate models also provide armrest height and recline adjustment as well as variable backrest recline to cater to any personal preferences and needs.
Design
Overall, a sewing chair should be stable and durable to withstand extensive daily use and high loads. Most models feature casters for easy transportation and swivel seats, which provide excellent mobility.
Top 5 Sewing Chairs
Arrow Sewing Cabinets 808-7000B

Show more images
Arrow 7000B Wood Sewing and Craft Chair with Under Seat Storage, Print Upholstery Fabric by Riley Blake, Oak with Black...
Chair Stands: 30" Tall/Seat Height is 20" Tall; Seat Cushion: 18" wide x 16" deep; Holds/Weight: 250 pounds; The chair ships in 1 box, Shipping Weight: 23 lbs; Color: Fabric: Black, Wood: Oak
Available:
In stock
Review
When it comes to furniture, I'd rather have quality and simplicity to a sophisticated design and and chnological frills. If it sounds like you too, the Arrow Sewing Cabinets 808-7000B sewing chair will definitely catch your fancy.
At first glance, this model strongly resembles an ordinary wooden back-stool you can often come across in province or rustic-style kitchens and dining rooms. This chair also has an all-wooden construction made of highly strong and durable birchwood with a weight capacity of up to 250 lbs. Measuring 18.5" x 18", the seat rests on four sturdy legs that provide solid and stable support. Meanwhile, four casters make the chair mobile and let you easily move from your sewing machine to your accessory or craft table. Notably, casters easily roll over any surface, whether it's a hardwood floor, low-pile carpet or sewing mat.
The backrest is pretty wide and provides reliable lumbar support to relieve back pain and maintain a healthy posture even when you have to sit for hours on end. Both the seat and the backrest are padded for maximum comfort. Beneath the seat, you'll find a spacious storage compartment to keep your sewing accessories.
The light-oak wooden design provides an authentic look to the chair and ideally matches the multi-colored backrest and seat covered with fancy patterns. So, the Arrow Sewing Cabinets 808-7000B sewing chair will add a touch of brightness and revive any sewing room interior.
Pros
Durable strongly-build construction and well-thought-out design
Soft-padded 5" x 18" comfortable seat
A backrest for efficient back support
Dense upholstery for intensive use
Four durable casters for mobility on any surface
Arrow 7011B Wood Sewing and Craft Chair
Review
For me, it was pretty hard to choose between the Arrow sewing chair and this model. Though they look very similar, they are still different in design and style details.
The Arrow Sewing Cabinets 808-7011B sewing chair will catch your eye by a sleek white design that features unique bright multi-colored upholstery with a dark background. Lovely scallops add a special charm to this model and give it a kind of vintage look. Wooden furniture works great for craft rooms, so, if you have a separate premise to set up your sewing room and want to create some special atmosphere in it with the gauze of antiquity and tradition, this model from Arrow Sewing Cabinets will definitely add a one-of-a-kind flair and beauty to your workspace.
The cute appearance aside, the Arrow Sewing Cabinets 808-7011B is a very sturdy and convenient sewing chair. The 18.5" wide and 18" deep seat provides a generous area that will fit most adults. Though the backrest is not height-adjustable, it is properly positioned to ensure the correct spine and back support. The padding on the seat and backrest will let you sit in comfort for extended periods of time. The upholstery is heavy-duty cotton resistant to tear and wear, and the cushioning is a flexible material that will hold its shape for long. Four casters will help you conveniently move around your crafting area, and a roomy storage compartment in the seat is a nice option to keep your threads, needles, scissors, and other sewing tools close at hand.
Pros
Ample seat suitable for all body sizes
Thick padded seat and back
Adjustable seat height
360-degree swivel
Flash Furniture Mid-Back Black Mesh Swivel Ergonomic Task Office Chair
Review
The biggest benefit of the Flash Furniture BL-X-5M-BK-GG chair is the ultimate adjustability that makes it suitable for home, office, and crafts, including sewing and quilting. To let you lounge in maximum comfort whatever you do, this model boasts adjustable seats and armrests. Thus, by using a pneumatic switch under the seat, you can raise and lower the seat to perfectly fit your height. A tilt tension knob in the front of the seat is meant to reduce or increase the force necessary to rock or lock in the desired seat recline. The armrests stand out for the flip-up design allowing you to use the chair as an armless model whenever you want.
Created for ergonomic seating, the Flash Furniture BL-X-5M-BK-GG has a sizeable seat (25.5" x 24.5") and a tall backrest (20"x17"), both contoured to simulate the human body curve and provide precise support. A soft padded seat has a waterfall design to minimize the strain and improve blood circulation in your legs. Meanwhile, the framed backrest with integrated lumbar support fully embraces your back and even neck to relieve the stress in your back muscles and provide exceptional comfort. Besides, the back is made of mesh for proper air circulation.
Pros
Comfortable leather-upholstered seat to fit any body type
Robust nylon five-legged base
Five heavy-duty dual casters
Mesh backrest for air circulation
Soft padded seat and armrests
360-degree swivel
Boss Office Products Perfect Posture Delux Fabric Task Chair without Arms in Black
Review
The first thing I immediately liked about this chair is its reasonable price and the value it offers for the buck. For less than 100$, you get a functional and supportive model that can serve both as a craft chair and an office chair. The Boss Office Products B315-BK chair sports thick cushioned seat and backrest. Filled with resilient foam, they ensure maximum comfort and won't sag or lose shape even after long-term use. The cover fabric is a heavy-duty cloth that will perfectly resist intensive daily use.
Measuring 17.5" in width and 16.5" in depth, the seat size is rather at the lower end as compared to other models. Yet it still offers enough sitting area for adults with both slimmer and beefier hips. At the same time, the waterfall seat design is intended to take off the pressure of your legs to prevent swelling and fatigue after long sewing sessions. The seat height can be adjusted from 18.5" to 23.5". Besides, you can use the same single-purpose leveler to customize the depth of the backrest to sit in an ergonomic position. The lumbar support, however, is not adjustable, and you cannot change the backrest tilt. On the other hand, though, such design will force you to sit up straight, thus minimizing the risk of back pain.
I'd be remiss not to mention that this chair is a cinch to assemble. You'll be able to put it together in mere minutes without any tools. A star-shaped base rests on five rugged casters that have a hooded two-wheel design for maximum agility and smooth gliding over any type of surface.
Pros
Ample seat suitable for all body
Thick padded seat and back
Adjustable seat height
360-degree swivel
Amazon Basics Low-Back Computer Task Office Desk Chair with Swivel Casters
Review
Initially designed and marketed as an office chair, the AmazonBasics GF-60044 rolling chair is greatly appreciated by seamstresses and sewing enthusiasts, and for good reason. Not only does it maintain your body in a comfortable position, but it also provides an excellent convenience for all types of sewing projects. And it's hard to disagree with that I can say.
Heavily padded and contoured seat and backrest ensure firm, yet cushioned, ergonomic support for long sewing hours. A spacious seat is 24" deep and 19.2" wide to easily accommodate a person of any size. By using a control handle under the seat, you can raise or lower the seat to fit any table height. This way, you will always sit straight with your spine properly aligned and won't have to slouch when working. Those of you who like rocking back and forth in a chair will appreciate the seat tilt function controlled by the same handle. Besides, you can even adjust the recline tension.
Supported by a robust five-leg nylon base, this AmazonBasics GF-60044 chair provides enhanced stability, which is essential sewing. At the same time, a 360-degree swivel seat adds multitasking ability, and sturdy nylon casters let you slide around smoothly and effortlessly.

Pros
Ample seat suitable for all body
Thick padded seat and back
Adjustable seat height
360-degree swivel
Conclusion
Summing up, the right sewing chair can help you expand your sewing experience without compromising your health. So, if you tend to sew a lot, take some time to find an ergonomic and convenient sewing chair that will fit both your sewing needs and your budget. If comfort and extraordinary design are the priorities, sewing chairs from Arrow Cabinets may work out for you. And for those who seek good value for money, opt for the Boss Office Products B315-BK chair.