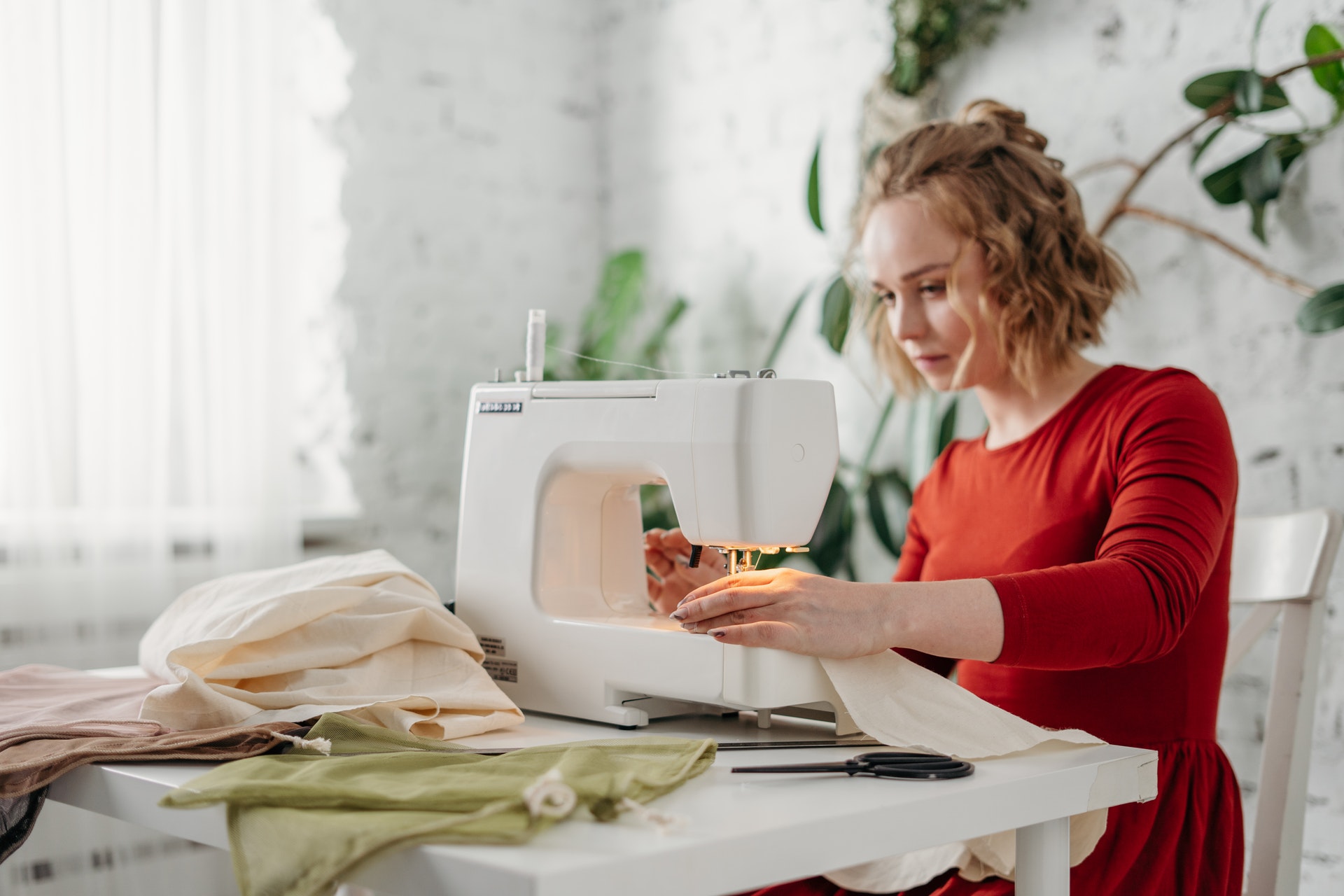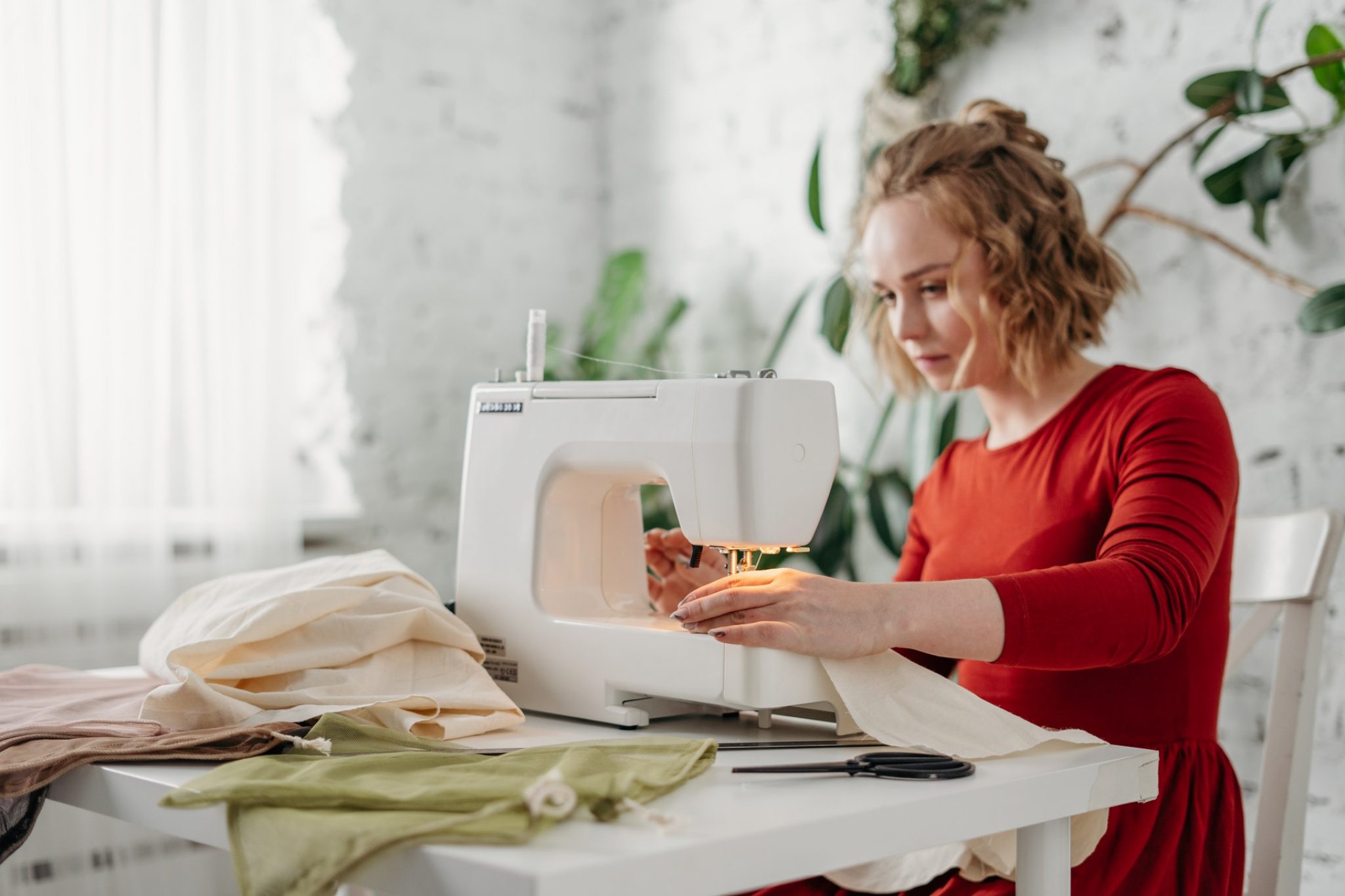 Most current sewing machines are designed to support a wide range of creative projects. Whether it's done for your own creative outlet or for the purposes of a home-run business, modern quilting and embroidery is more pleasant and efficient with the help of an automatic sewing machine.
Though there are plenty of quilting-only machines on offer, it wouldn't make much sense to spend a large sum on such a specialty item if you only plan to quilt as a part of your hobby. Today's leading industry brands equip their sewing machines with a range of quilting and embroidery functions, making them a much more sensible purchase that you could utilize for multi-purpose craft projects.
Things to Consider
Modern combination sewing machines tend to offer similar sets of features and key functions, with main differences coming down to the expansiveness of presets and design manipulation.
Which machine is the best choice for your personal use depends on your sewing preferences as well as what you plan to work with on a more regular basis.
As such, those who want to focus primarily on embroidery should consider sewing machines with extended embroidery design packages and full-color LCD screens that give you more freedom when editing and compiling an embroidery.
Quilting enthusiasts might want to look at models with upgraded stitch collections and wide tables that add more space to your work area which is necessary for handling a quilt.
The construction of a machine — whether heavy duty or portable — depends on how much mobility you require for your work and whether it outweighs your need for heavy duty projects. Working with tough fabrics at faster speeds generally asks for sturdier frames.
Review of the Best Sewing Machines for Quilting and Embroidery
1
SINGER Quantum Stylist 9960 Computerized Portable Sewing Machine
Product
Specification
Photos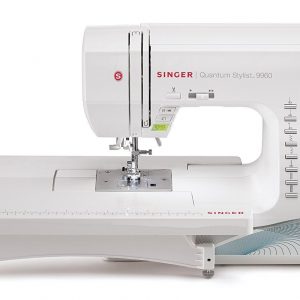 Number of built-in stitches: 600
Maximum speed: 850 spm
Dimensions: W 8.25" x H 12" x D 17"
Item ...
Features

Number of built-in stitches: 600
Maximum speed: 850 spm
Dimensions: W 8.25" x H 12" x D 17"
Item weight: 18.2 lbs

Review
The SINGER Quantum Stylist™ 9960 is a computerized sewing machine with portable configuration and a heavy duty metal frame.
Featuring an extensive preset package, this sewing machine expands your potential projects beyond basic sewing by including 600 built-in stitches that allow you to tackle decorative sewing, lettering, and buttonhole stitching with greater ease.
In addition to its built-in stitches, the machine's memory holds 5 alphabets for various lettering and monogramming work. All fonts can be customized by size and style to suit different apparel designs.
You may find all available stitches displayed on the front panel which can be accessed with a simple touch of a button. There is also the option of quick selection to eight most used stitches displayed at the top so you don't have to flip through every style.
As for buttonhole stitching, the machine has been upgraded with a one-step buttonhole feature that automatically sews on buttonholes of any size. There are 13 main stylesfor one-step buttonhole stitching, covering most common industry designs.
Another useful automated feature is the machine's electronic twin needle utilized with non-straight stitches. In order for the twin needle to clear the presser foot during the main sewing action, the stitch has to be decreased in width, and this model can do it automatically without manual involvement.
The main needle is programmable, meaning that you can customize the stopping position for every project. You may pause the needle when it's down in the fabric, making it an extremely useful function for applique and topstitching work.
By offering up to 25 needle positions, this Singer sewing machine lets you adjust the active needle to suit various techniques such as edge stitching, zipper application, topstitching, and piping insertion.
Regular stitch width is also adjustable from left to right, allowing you to create a narrower stitch path when working with smaller items. The stitch length can be adjusted prior to stitching for added sewing flexibility. Once you customize the distance between stitches, you can apply the machine with different stitch techniques such as applique and basting.
Any stitch you might select also comes with self-adjusting thread tension. When the stitch is selected, the machine adjusts the tension for the thread automatically, determining the way the stitch is applied with more efficiency.
For the greater ease of movement, the machine's arm comes with a built-in needle threader that pulls the thread through the needle automatically whenever you need to change threads, making the entire process more efficient.
Another time-saving function is the built-in thread cutter that trims the bobbin thread and top thread automatically. To initiate it, you only need to touch a single button marked as Thread Trimmer and skip having to draw up the bobbin thread altogether.
Finishing a stitch also comes faster with this machine due to the addition of the neat tie-off button. Once the button is pressed, the machine ties off the stitch and stops the sewing process. This function can be pre-programmed so that it is initiated automatically with every stitch in future projects.
The reverse setting on this model is activated with a touch button instead of a lever, giving you easier access to the function whenever you need to close a stitch or prevent thread from unraveling which is particularly important for complex projects that require hands-on approach.
Unlike most standard sewing and embroidery machines, this model comes with a drop feed instead of a permanently fixed feed. This is done to accommodate your button stitching and free-motion sewing projects, especially quilting, since this work usually requires smooth surface.
The bobbin compartment comes with a transparent cover that gives you a clear view of your thread supply, making sure you are always aware of how much bobbin thread you have left at all times. The bobbin itself can be easily dropped inside and requires minimal effort for spool changes.
This is a heavy duty sewing machine with an impressive speed range, reaching a maximum of 850 stitches per minute. The speed it adjustable and can be selected mechanically between stitches.
As a computerized model, this Singer comes with an LCD screen that can be controlled electronically via the dial located underneath. The display allows you to select stitches and edit their settings, namely stitch length and width. Additionally, the mirror imaging feature lets you invert any preview of a stitch design whenever you might need a clearer understanding of a pattern.
The sewing machine is supplied with brand accessories, including a quilting bar, a seam ripper, a lint brush, 2 screwdrivers, spool caps, and a seam guide. One of the most useful additions to this bundle is the extra wide extension table that expands your working area, making this machine an ideal choice for quilting and embroidery of larger items.
PROS:
Large collection of stitches

Style editing and preview

Wide extension table

See-through bobbin cover

Self-adjusting twin needle

Automatic cutter and threader
2
Brother Project Runway CS5055PRW Electric Sewing Machine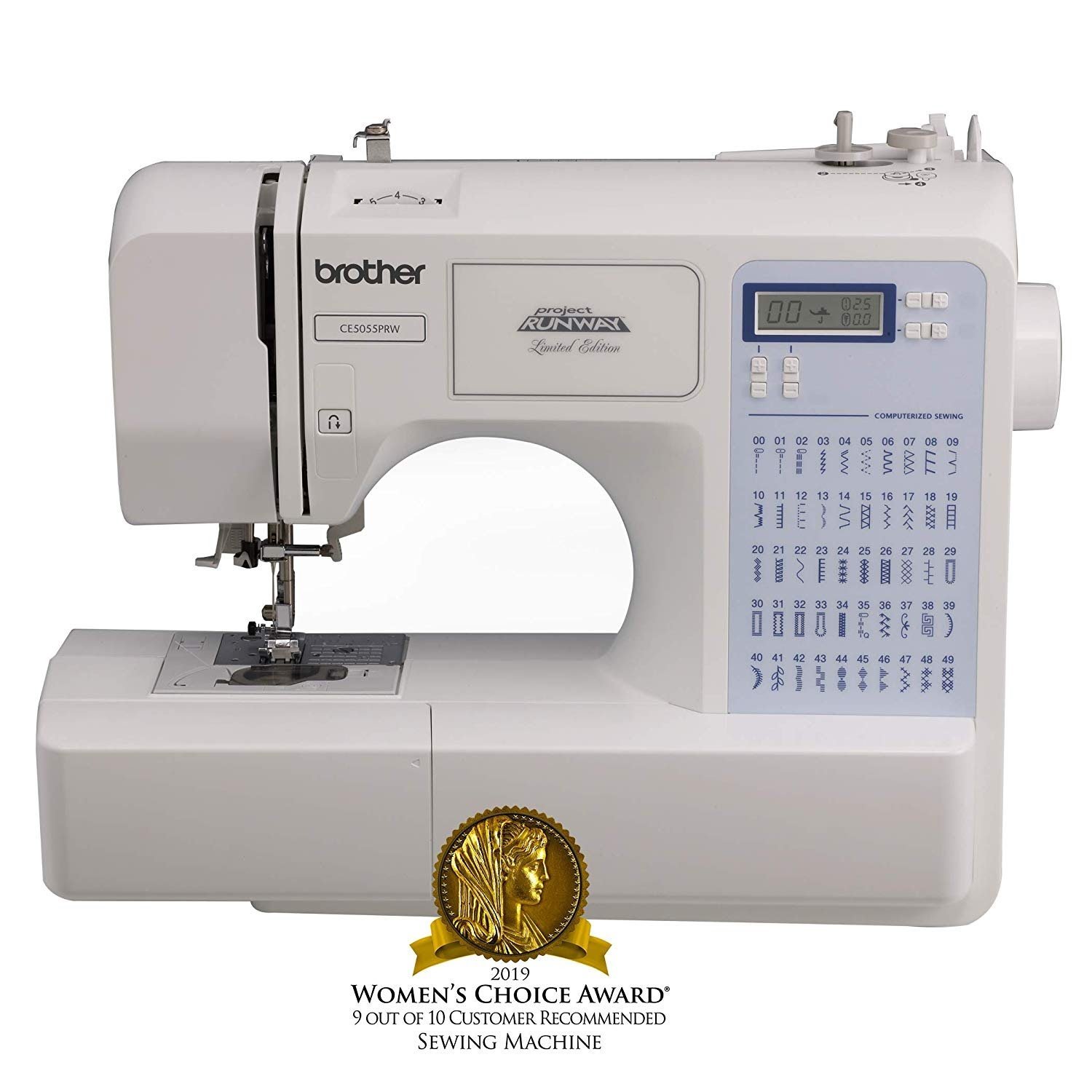 Product
Specification
Photos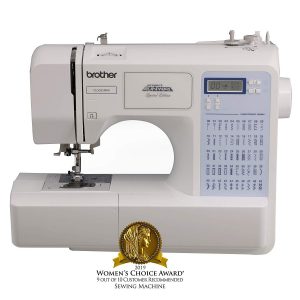 Number of built-in stitches: 50
Maximum speed: 850 spm
Dimensions: W 10.625" x H 15.5" x D 19.375"
...
Features

Number of built-in stitches: 50
Maximum speed: 850 spm
Dimensions: W 10.625" x H 15.5" x D 19.375"
Item weight: 14.3 lbs

Review
The Brother Project Runway™ CS5055PRW is an electric sewing machine with automatic threading and LCD screen preview.
Designed for home sewing and embroidery work, this limited edition Brother machine offers 50 built-in stitches that accommodate a range of sewing techniques. On top of the wide stitch selection, the presets include 5 one-step buttonhole styles with automatic size adjustment for your convenience.
All stitches are displayed on the chart located on the front panel of the machine, including apparel construction stitches, decorative stitches, and quilting stitches. Those meant for garment construction include zigzag, blind hem, stretch and overcasting stitches, while quilting stitches offer such functions as feather stitching and mock hand quilting.
The sewing process itself is made easier by the inclusion of the advanced needle threading system that prepares the machine's needle automatically whenever you need to change the thread between projects or for single application.
In addition, the Quick-Set™ bobbin design provides faster switching between reels, and the increased winding speed saves you more time between bobbin changes. One of the standout structural features of this model is the horizontal spool pin that stabilizes the feeding of the thread during sewing, making the feeding of speciality threads more consistent.
The work area around the needle is illuminated with LED lights for complete visibility during sewing, while the machine's free arm mode lets you perform intricate work on cuffs, sleeves, and shirt or trouser hems.
The machine supports various forms of quilting, namely free-motion quilting made possible by its drop feed system with 7-point dogs. The feed dogs support fabrics of various size and density, from denim and tweed to gossamer and other sheer materials.
Located on the right side of the machine, the bright LCD screen displays the stitch collection of quilting and heirloom stitches, allowing you to preview each pattern before sewing. When a stitch is selected, all important information concerning it is displayed on the screen, including length and width of the stitch as well as the foot that should be used with it.
This model comes with a set of accessories that include bobbins, needle stets, and other tools, including a collection of presser feet. The kit also includes a soft cover to help you keep your machine dust-free.
PROS:
7 accessory presser feet

Automatic threader

Bright LED lighting

Sufficient stitch package

5 buttonhole styles
3
Brother HC1850 Computerized Sewing and Quilting Machine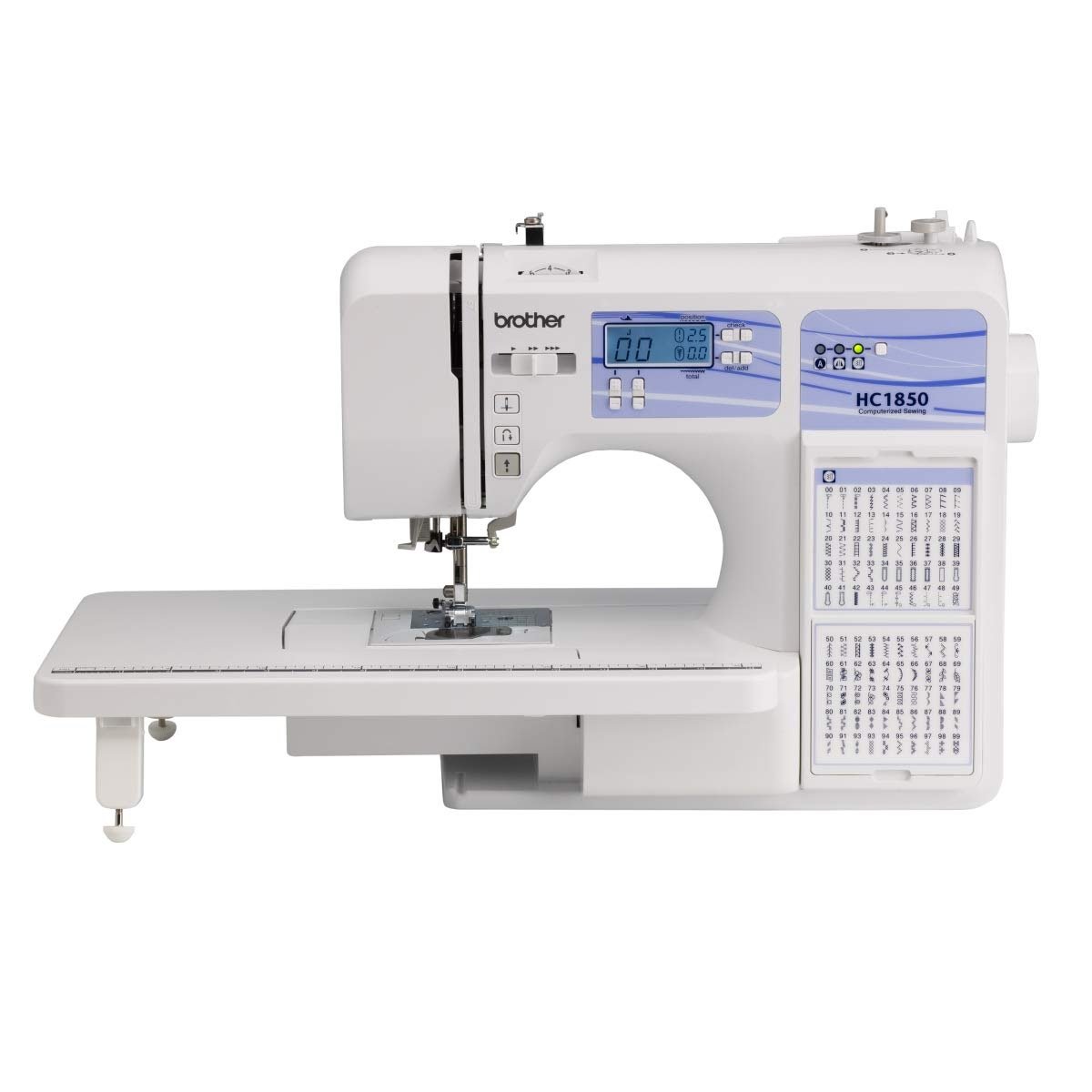 Product
Specification
Photos
Number of built-in stitches: 130
Maximum speed: 850 spm
Dimensions: W 10.625" x H 15.5" x D 19.375"
Item weight: 14.3 lbs ...
Features

Number of built-in stitches: 130
Maximum speed: 850 spm
Dimensions: W 10.625" x H 15.5" x D 19.375"
Item weight: 14.3 lbs

Review
The Brother HC1850 is a sewing machine designed for quilting and monogramming work. This model comes with a lightweight construction and portable design for extra mobility.
This computerized sewing machine features 130 built-in stitches, both for utility and decorative purposes as well as quilting and heirloom sewing, all of which are displayed on the right-side stitch chart for quick reference.
There are also 8 buttonhole styles provided by the one-step buttonhole function. Each buttonhole is stitched automatically once you select the style on the dial.
Moreover, the style collection includes 1 built-in font for basic lettering and monogramming such as sewing initials and decorating accessories. The bobbin is positioned horizontally and can be dropped in with ease due to its quick-set up design.
Among the machine's efficient automated functions you may find the advanced threading system the most immediately useful. The mechanism is activated with a simple touch of a button and leads any type of thread through the needle's eye, saving you the time and hassle of doing it manually.
All stitches, fonts, and button styles can be selected with the help of the LCD display located in the middle of the front panel. The screen is backlit and offers push-button controls for easier setup.
In addition, the machine is equipped with onboard controls to give you even more oversight over the sewing process and allowing you to set the needle position, start or stop sewing, or initiate reverse stitching when you need to secure a seam.
As a machine designed specifically for embroidery and quilting work, this model features drop feed dogs that can be lowered to create ideal conditions for free-motion quilting. The machine also comes with a wide and detachable table able to accommodate quilting projects and sewing of larger items.
Brother includes various sewing items with this machine's kit like an accessory pouch with a needle set, four bobbins, a seam ripper, a cleaning brush, and a screwdriver.
PROS:
8 extra presser feet

Wide table for extending work area

Free motion sewing support

Automatic threader

Font panel stitch chart
4
Brother CS6000i Computerized Sewing and Quilting Machine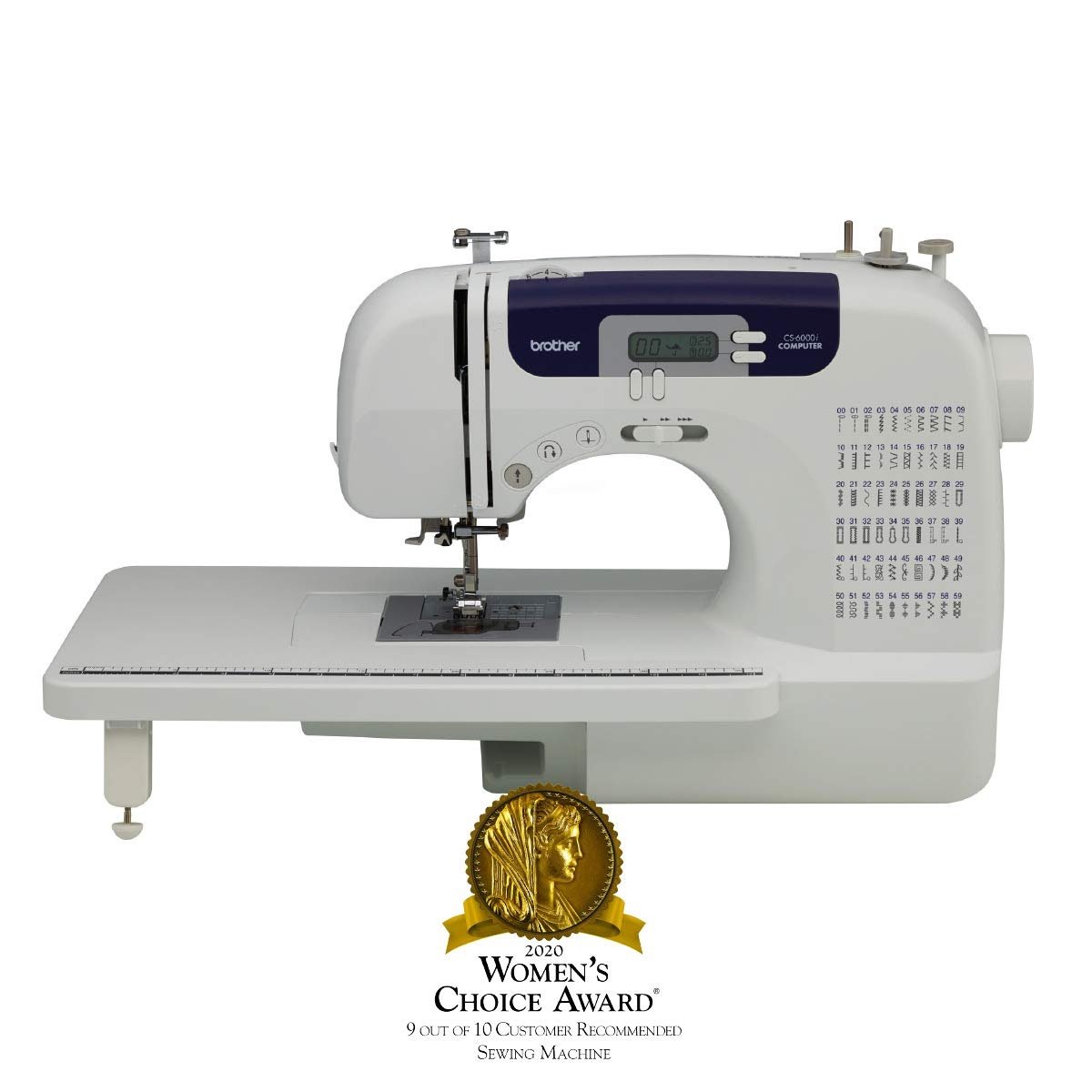 Product
Specification
Photos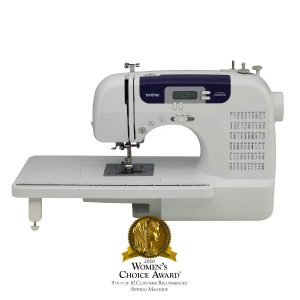 Number of built-in stitches: 60
Maximum speed: 850 spm
Dimensions: W 11.4" x H 16.1" x D 6.7"
Item weight: 13 lbs
Features

Number of built-in stitches: 60
Maximum speed: 850 spm
Dimensions: W 11.4" x H 16.1" x D 6.7"
Item weight: 13 lbs

Review
The Brother CS6000i is a computerized sewing machine with a wide work desk and a selection of quilting functions. This model is both affordable and reliable, while its portable design makes it easy to handle without compromising its fast-speed sewing functions.
The stitch selection of this automatic sewing machine comprises 60 built-in styles for various sewing techniques, from decorative stitching and utility application to quilting and buttonhole processing.
For embroidering buttonholes as well as adjusting them by size, the machine offers 9 buttonhole styles that allow you to attach buttons of different designs in one easy step.
The sewing system includes the time-saving automatic threader, a quick set bobbin with horizontal allocation, and an easy bobbin winder that makes the thread change even more effortless.
Adjustable sewing speed can be set up electronically with the help of push-button controls located on the front panel. Other features available on the console are reverse sewing and needle positioning, with the latter drawing the needle up or down whenever you need to stop or resume stitching.
All your quilting needs can be satisfied with the machine's automatic drop feed function that lowers the bed's 6 dog points whenever you need the work area to be ready for free-motion quilting.
In addition, the built-in free arm creates necessary work space for sewing or embroidery cuffs, hems, sleeves, and collars. The entire needle area is illuminated with LED lights so you can work at any time of day.
All stitch information can be accessed through the machine's LCD display that responds to push-buttons with mode and shift key used for option selection.
The accessory kit includes various sewing supplies, a hard cover case, and 9 presser feet, specifically the buttonhole foot, overcasting foot, monogramming foot, zipper foot, zigzag foot, blindstich foot, button fitting foot, walking Foot, spring action, and quilting foot.
And finally, the large wide table supplied with the machine can be attached to the work area whenever you need to work on oversized items or require more space for quilting and embroidering.
PROS:
Extended work table

9 presser feet

Free arm function

Drop feed with 6 points

Automatic threader
5
Janome Memory Craft 14000 Sewing and Embroidery Machine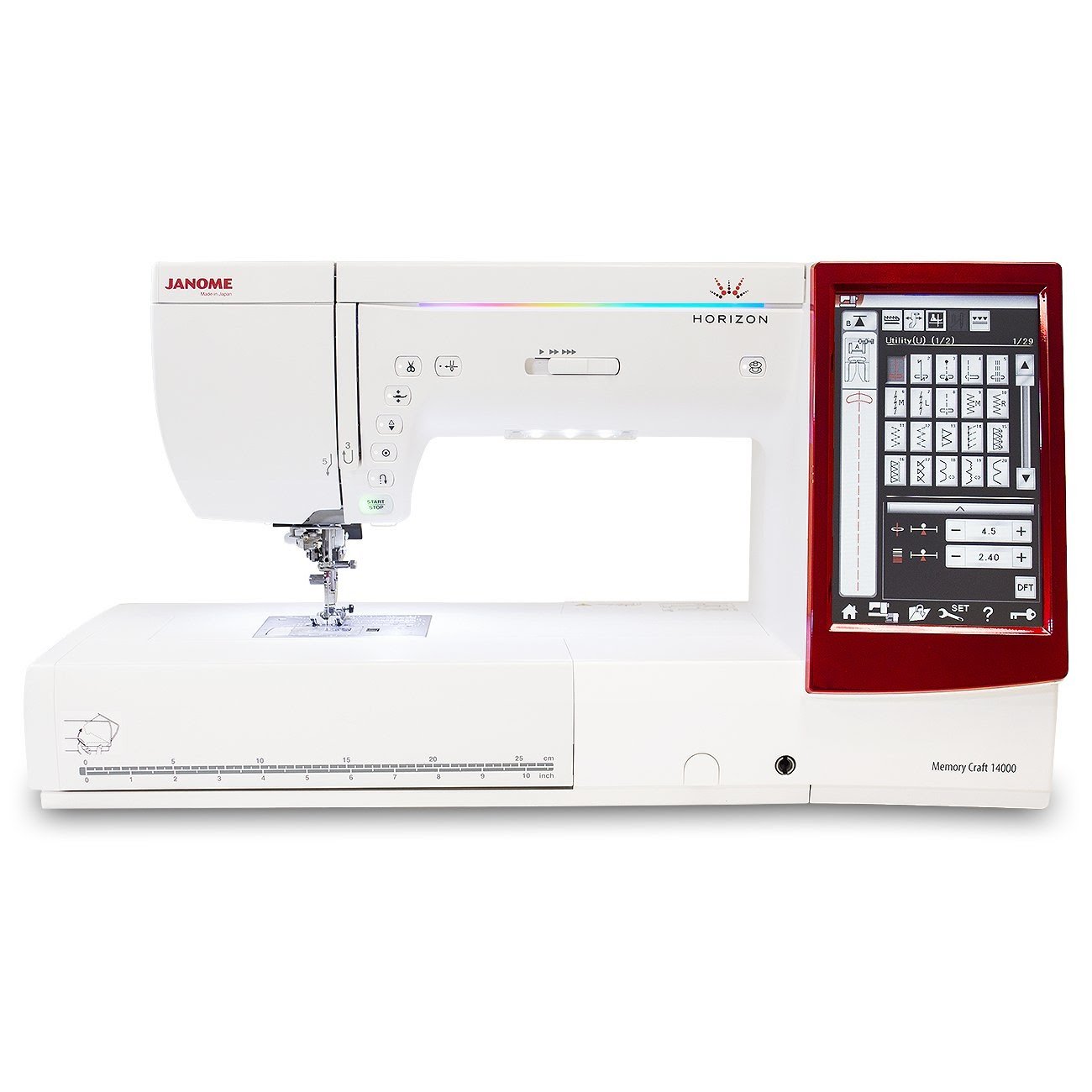 Product
Specification
Photos
Number of built-in stitches: 400
Number of built-in designs: 350
Maximum speed: 1000 spm
Dimensions: ...
| | |
| --- | --- |
| Dimensions | 25.98 x 22.01 x 21.81 inches |
| Weight | 25 pounds |

Review
The Janome Horizon Memory Craft 14000 is a computerized sewing machine for embroidery and quilting with design preview and built-in memory storage.
This high efficiency sewing machine by Janome offers a wide selection of applicable designs for quilting, sewing, embroidering, and other decorative stitching.
There are 350 built-in embroidery designs and 400 stitches, giving you plenty of room to experiment and be more creative with your projects. In addition, the one-step buttonhole feature comes with 13 styles to suit different button sizes.
Another decorative feature comes in the form of the font collection, amounting to 11 fonts with Latin alphabet characters applicable for 2 and 3 letter monogramming.
The machine's improved AcuFeed Flex™ system consists of 7 dog points providing a firmer grip on any type of fabric during the sewing process. The glide of fabric, however, remains smooth and effortless while being sufficiently accurate.
Other performance enhancements include the automatic thread cutter with memory function, adjustable hoop positioning and adjustable embroidering speed, all of which give you the desired tools to personalize each project.
For quilting you may apply specialized pressure feet supplied with the kit, such as zig zag and free-motion quilting feet that come with adjustment for satin stitching. Supported thread brands include Janome, Guterman, Sulky, Madeira, Mettler, Robison, and Anton.
Located on the right side of the front panel, large LCD touch screen showcases all available designs in full color and lets you preview your selections before stitching. The onboard computer also provides a unique Stitch Composer program that lets you customize and create your own styles and designs.
Moreover, the machine supports real time PC connection with Horizon Link Suite that helps you import more designs to accommodate your personal style.
PROS:
Bright LED lighting with 10 white lamps in 5 locations

Efficient linear motion embroidery system

Easy reverse button

Automatic needle threader

Embossed stainless steel bed
6
Brother SE600 Computerized Sewing and Embroidery Machine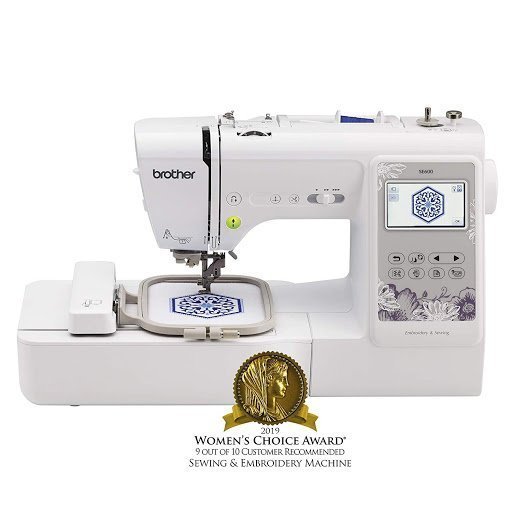 Product
Specification
Photos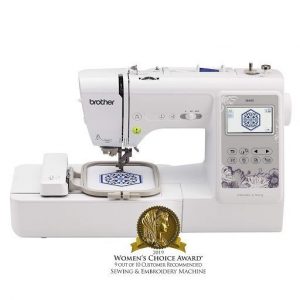 Number of designs: 80
Number of fonts: 6
Maximum speed: 710 spm
Dimensions: W 21.2" x H 16.5" x D ...
| | |
| --- | --- |
| Dimensions | 21.18 x 15.51 x 16.54 inches |
| Weight | 11.82 pounds |

Review
The Brother SE600 is a computerized two-in-one sewing machine designed for various projects including embroidery and quilting.
This multi-purpose sewing and embroidery machine comes with an extensive collection of presets, including 103 built-in stitches that offer both utility and decorative types, 6 lettering fonts, and 80 embroidery designs with bright floral patterns, frames, and holiday themed images.
All fonts can be further customized by size and style. You can edit your lettering design to be in uppercase or lowercase, vary in size between small, medium or large, and include numeric characters and other symbols.
The machine is capable of expanding your creative options with its built-in USB port and larger storage capacity. If you need a more personalized approach, simply import other fonts, designs, or stitches and save your custom styles to be available for future projects.
The access to the machine's built-in designs as well as your personal additions is provided by the large Sew Smart LCD touch screen display with full color preview. You may sort through and edit all designs in great detail, including customization of individual thread colors and adjustment of lettering position.
Other features that help ease the sewing experience include the automatic needle threader and cutter, accessory storage, adjustable needle position, quick set bobbin, and a large embroidery field.
The embroidery work area consists of a 4″ x 4″ hoop, embroidery arm and embroidery foot, while the process itself is made more efficient with the inclusion of an automatic feed thread cutter and dedicated speed adjustment.
Quilting projects are also much more comfortable to undertake with the help of the drop feed feature that hides the feed's 7 dog points and provides a smooth surface for free-motion sewing.
PROS:
Full-color LCD display

USB port and built-in memory

Large work table

Lettering and monogramming support

Drop feed feature
7
Brother SE1900 Sewing and Embroidery Machine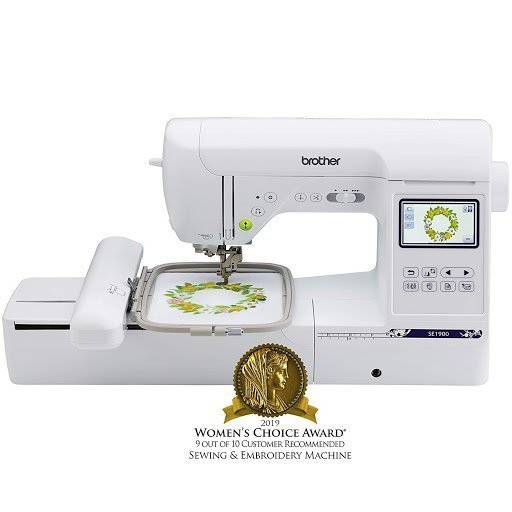 Product
Specification
Photos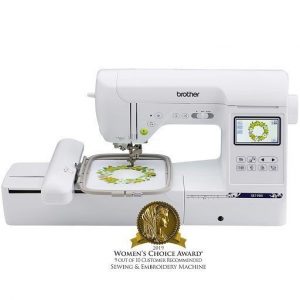 Number of designs: 138
Number of fonts: 11
Maximum speed: 850 spm
Dimensions: W 13.43" x H 11.54" x D ...
| | |
| --- | --- |
| Dimensions | 23.19 x 13.43 x 11.54 inches |
| Weight | 22 pounds |
Review
The Brother SE1900 is a versatile sewing machine for embroidery and decorative stitching with a full color display and large work area.
This combination machine is supplied with a wide range of built-in features able to suit various sewing techniques and craft projects.
Featuring 240 built-in stitches, the machine offers a selection of utility and decorative stitches as well as 10 buttonhole styles that come with the one-step buttonhole function. Stitches can be selected with the dial located under the main LCD display.
In addition to the extensive stitch collection, the onboard computer stores 138 built-in embroidery presets among which you may find different floral, holiday and kids designs to suit a variety of projects. There are also 10 beautiful frame shapes with 14 stitch patterns for giving existing designs a more complete look.
Another creative addition to the machine's catalogue is the built-in embroidery fonts. Out of 11 fonts in total, there are 7 Latin alphabet fonts, 3 Japanese fonts, and 1 Cyrillic font to serve all your lettering needs. The built-in editor allows you to resize and stylize any font as well as change its color palette.
Whether you undertake a basic sewing or a more complex embroidery project, the machine provides an array of functional features such as its advanced needle threading system, upper thread and bobbin sensors, 5″ x 7″ embroidery field, and quick-change presser feet.
The machine's drop feed option allows you to engage in worry-free free-motion sewing suitable for quilting and embroidery projects.
All designs and presets can be viewed in full color on the large Sew Smart LCD touch screen display. It also features an editing program with the added My Custom Stitch option for creating and saving your custom designs and stitch styles.
The machine is equipped with a USB port for importing more designs and fonts in case your future projects need some fresh inspiration. All new options can be saved on the machine's storage, then customized and previewed before sewing.
PROS:
Built-in memory and USB port

Full color LCD display

Drop feed function

11 fonts for lettering and monogramming

Large hoop area



8
Brother SE600 Computerized Sewing and Embroidery Machine Bundle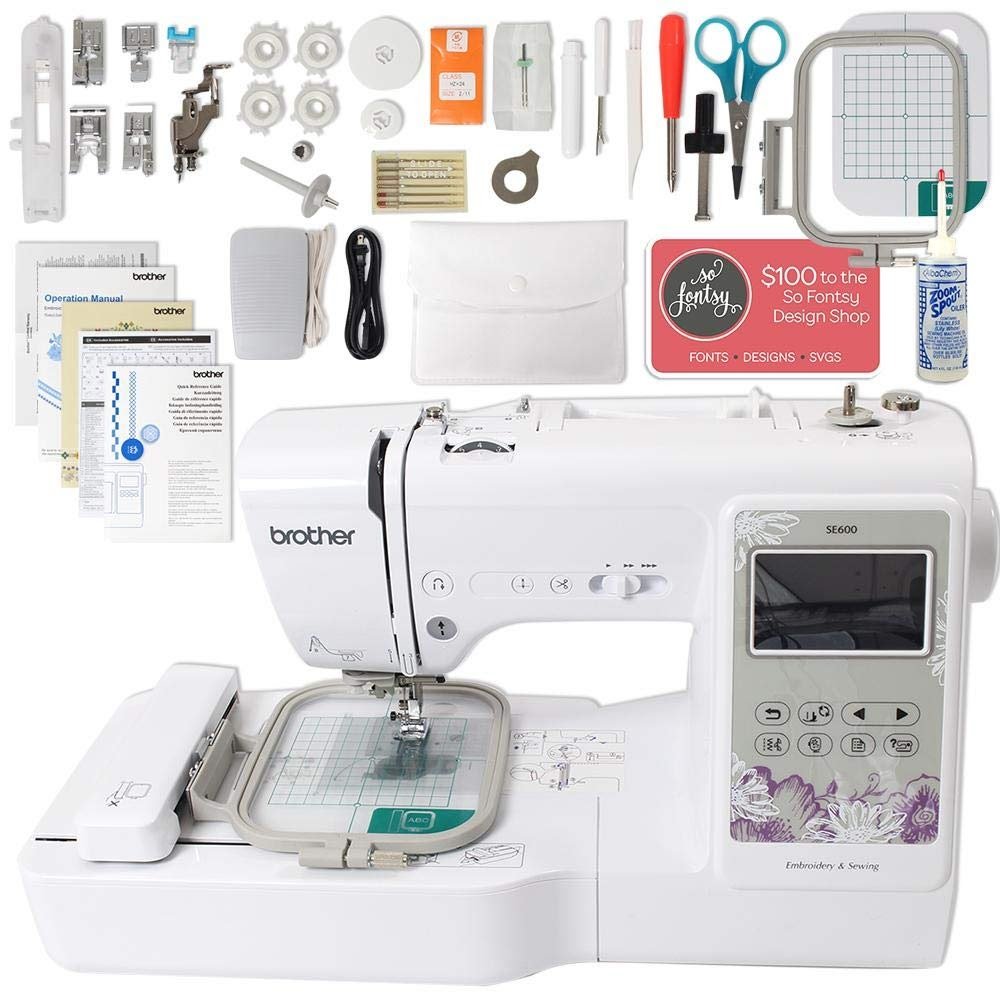 Review
The Brother SE600 Bundle is an extended package consisting of the Brother SE600 sewing machine itself and a collection of sewing accessories for quilting and embroidery.
In addition to the brand new Brother combination machine, this package offers an array of useful sewing supplies and craft tools.
The machine's kit offers 7 quick-change presser feet for various sewing actions, including a buttonhole foot, zipper foot, overcasting foot, blindstiеch foot, monogramming foot, zigzag foot, embroidery foot, button sewing foot.
Most notably, the spring action zigzag foot comes with a slightly extended foot design for a more consistent fabric processing. To match it, the 7-point feed dogs are also slightly longer, making sure all fabric is smoothly guided during sewing.
The 80 built-in embroidery designs also come with an extra bundle of $100 worth in additional styles, considerably expanding your creative options. The machine's built-in editor also features extra software packages that allow you to edit each design more intricately.
Other functional accessories include a dust cover, an accessory bag, a collection of spools and bobbins, a seam ripper, scissors, 2 screwdrivers, a large embroidery frame set, sewing machine oil, and more.
PROS:
Money-saving bundle option

Discount quilting supplies

Additional sewing tools and accessories

Software updates

Exclusive embroidery designs
In Conclusion
How do you finish a quilt with embroidery?
Whether you are using pre-designed quilt block packages or blocks of your own creation, the final steps of sewing a quilt are pretty much the same across the board. It involves the final embroidery stage followed by the application of binding which is best done with the help of your sewing or quilting machine.
In quilting, "binding" usually refers to a long narrow piece of fabric meant to cover outer raw edges of the quilt. At the same time, the binding strip holds the quilt top in order to bat and back the sides together. Binding should be done only after you have joined all blocks and trimmed the edges.
There are many helpful step-by-step guides on how to finish a quilt, some of which go into every detail of the process to give you more clarity on how to handle each stage of embroidering and binding.
What is the best sewing machine for quilting and embroidery?
One of the best sewing machines in the mid-market range is Brother CS6000i with computerized editing features and a vast array of quilting functions. It goes up for a rather comfortable price and fulfills all necessary quilting functions required for a home setup.
What is the difference between sewing and quilting?
Sewing usually entails one basic function: stitching pieces of fabric together to create apparel, accessories, decorative items, or crafts. The most common type of stitch in sewing is the straight stitch used in most basic sewing projects.
Naturally, sewing includes other forms of stitching, covering decoration, mending, garment construction, and more. For instance, the chain stitch is used to keep knit material together without interfering with its stretching properties and the overcast stitch is used to process the ragged edges of the fabric to prevent them from unraveling.
Quilting is a form of sewing that involves stitching two layers of fabric together with a layer of batting placed between them. Basic hand quilting stitches are quilter's knot and running stitch. The quilter's knot is used for starting and ending a stitch in order to prevent unravelling. The running stitch is used for handmade designs.
What is the difference between a quilting machine and an embroidery machine?
While many automatic sewing machines can be used for various quilting projects with the right accessories and machine construction, they are primarily manufactured to serve as sewing machines first. Quilting machines are designed specifically for supplying you with all necessary functions. That includes wider work tables, substantial design packages, drop feed dogs, arms with multiple needles, and more.
What is QAYG in quilting?
QAYG is an abbreviation for quilt-as-you-go, a quilting technique for beginners that simplifies the process by changing some traditional steps. This technique allows you to connect the pieces together one by one, so that when all of the pieces are joined you only need to bind the entire piece.
Can you use a regular sewing machine for quilting?
Most sewing machines that come with quilting features are suitable for quilting projects, but a dedicated quilting machine offers extended options designed to make quilting easier and more accessible. This includes special editing features, built-in designs, and other additions such as quick-set quilting feet.
What is in the hoop embroidery?
In the Hoop (or ITH) embroidery describes the creation of an item on the embroidery machine. When something is made with ITH embroidery, it means the entire or most of the item is created on the embroidery machine as a 3D object instead of being simply decorated.
Once the machine finishes the design, you will normally need to close a small seam at the end manually, whether by sewing or glueing it shut.
In the hoop designs are available on most machines regardless of the work area size. You can find ITH designs for both 4×4 hoops and large industrial hoops.
Can you quilt with an embroidery machine?
Embroidery machines can be used for quilting as long as they support free-motion sewing. Some minor issues can arise during the process, with the most common hindrance being the extended sewing time as it could be more difficult to hoop the quilt fabric and position the entire item into the embroidery machine.
Do you need a quilting machine to quilt?
Some sewing machines offer both embroidery and quilting functions, namely mid-range and top end Brother combination machines and Janome embroidery machines. You can use sophisticated combination models such as these for all your quilting projects.