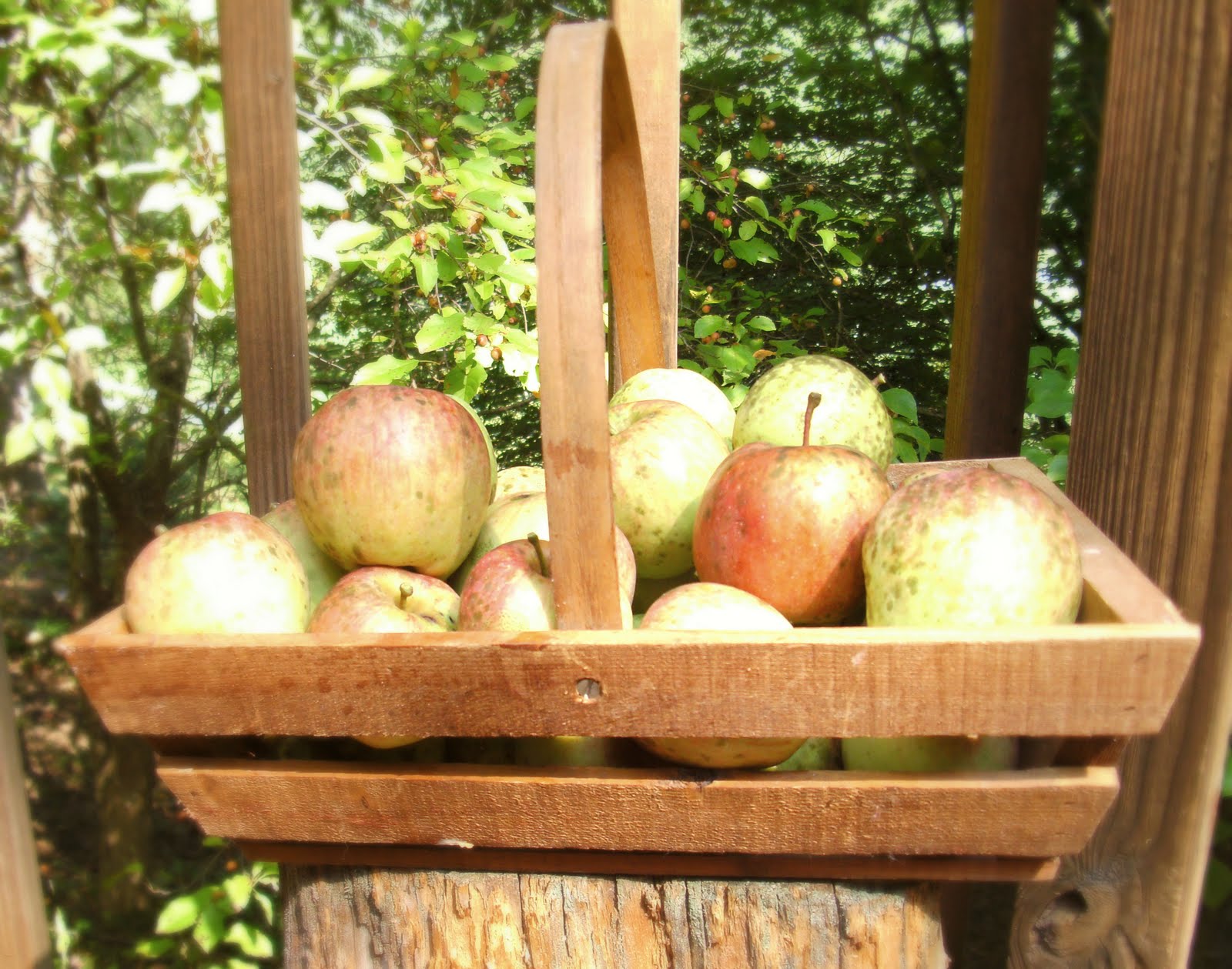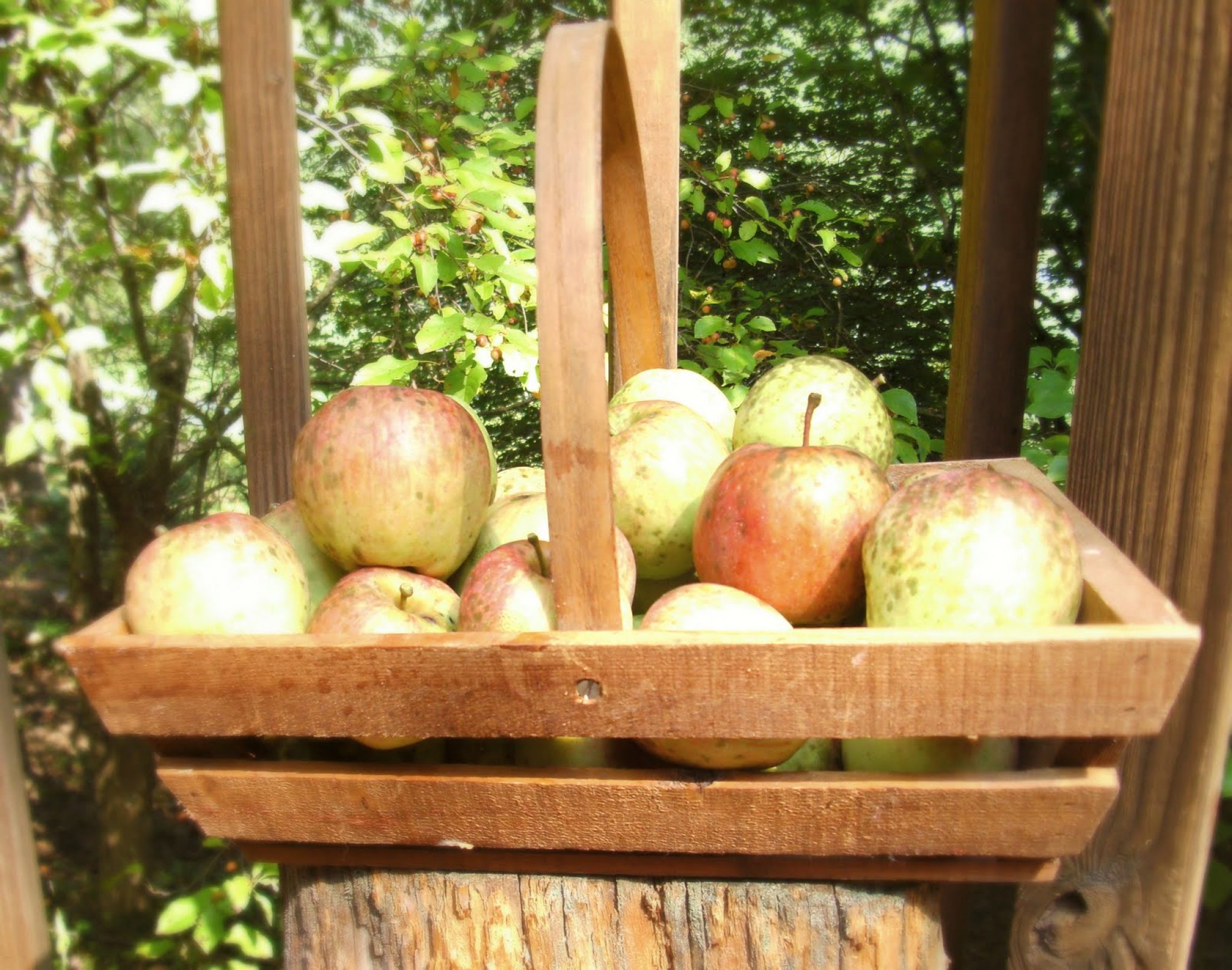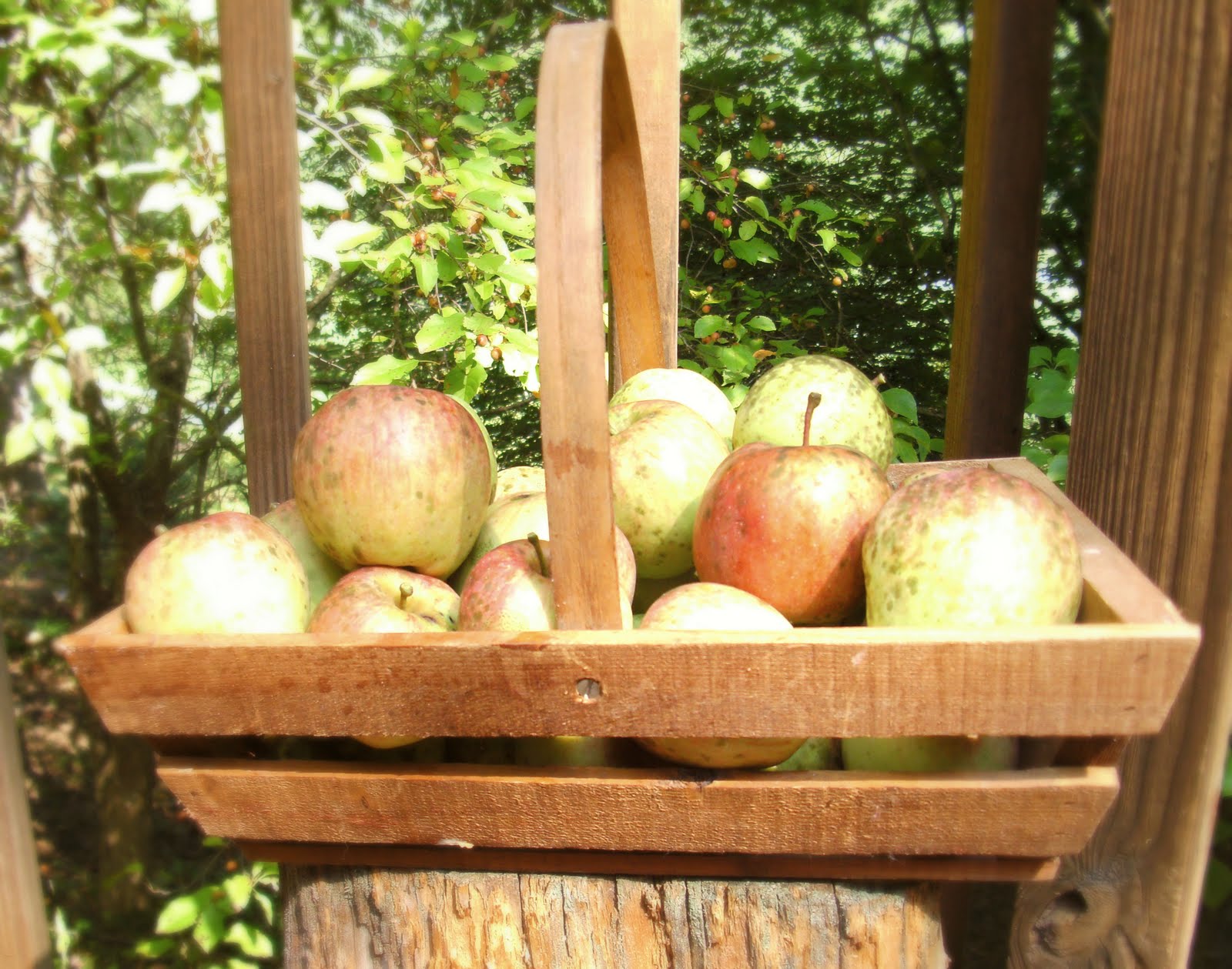 It's the first of September and so I feel I can comfortably say HAPPY FALL!!!!
(I know for my Florida readers that is a bit of a stretch 😉
So, in celebration of fall I am sharing my Backyard Apple Butter recipe.  This recipe is easy and delicious and pretty close to fool proof.  With the rather large crop of backyard apples we harvested last week, I needed to find a great apple butter recipe.  After looking around at several recipes, my mom and I came up with one of our own – kind of a mixture of several different ones.  You make it in the crockpot all day so the most time-consuming part is peeling and cutting up the apples.  Here's what you will need…
3 quarts of apples – peeled, cored, and diced
fresh lemon juice
3 cups of sugar
1 cup of apple cider
1 1/2 tsp cinnamon
5-6 whole cloves in a bag
freshly ground nutmeg – to taste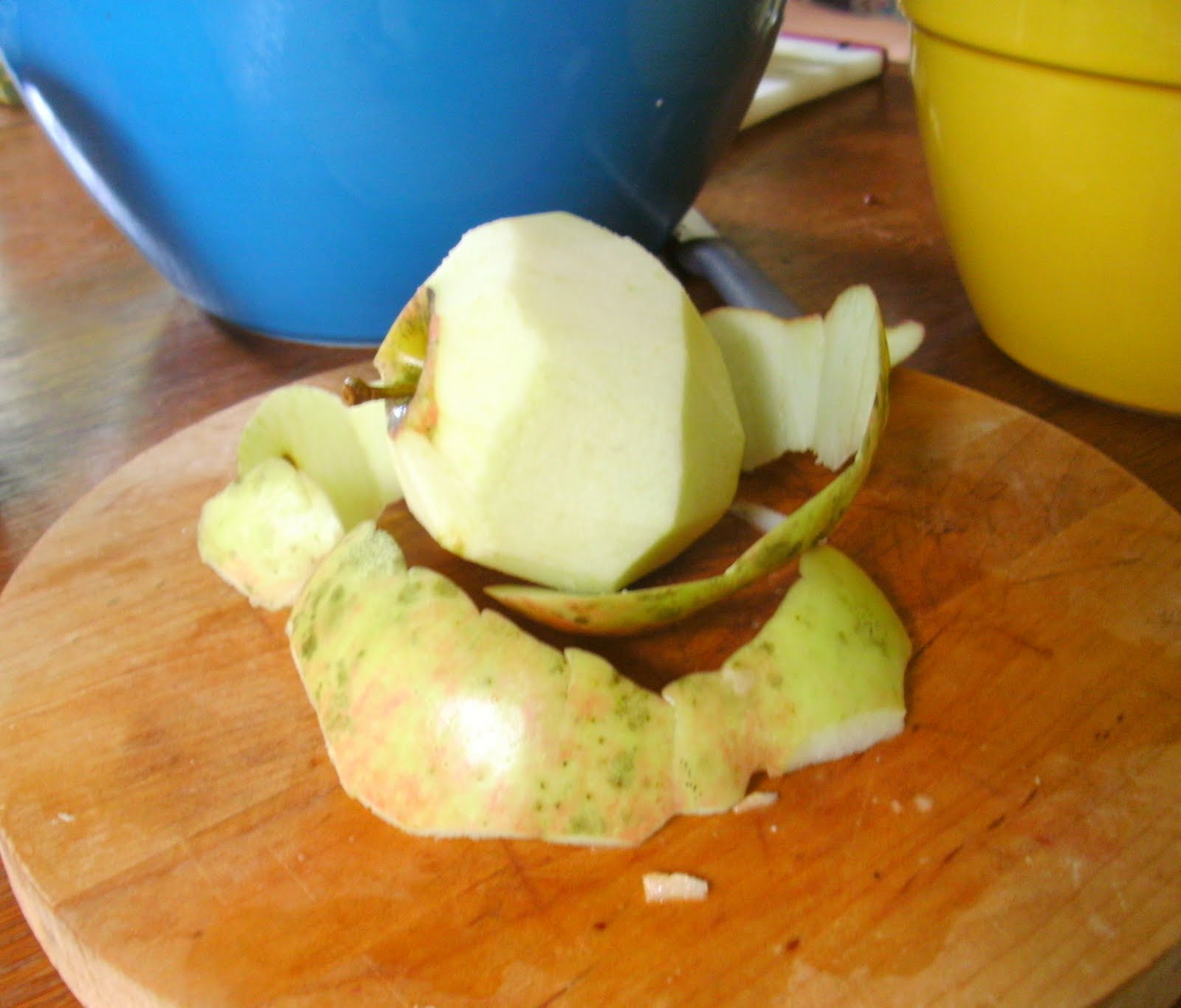 Begin by peeling and cutting up the apples into about 1 inch pieces. Grab a cup of coffee and invite a friend over (or smile sweetly at your husband) – because this process takes a little time.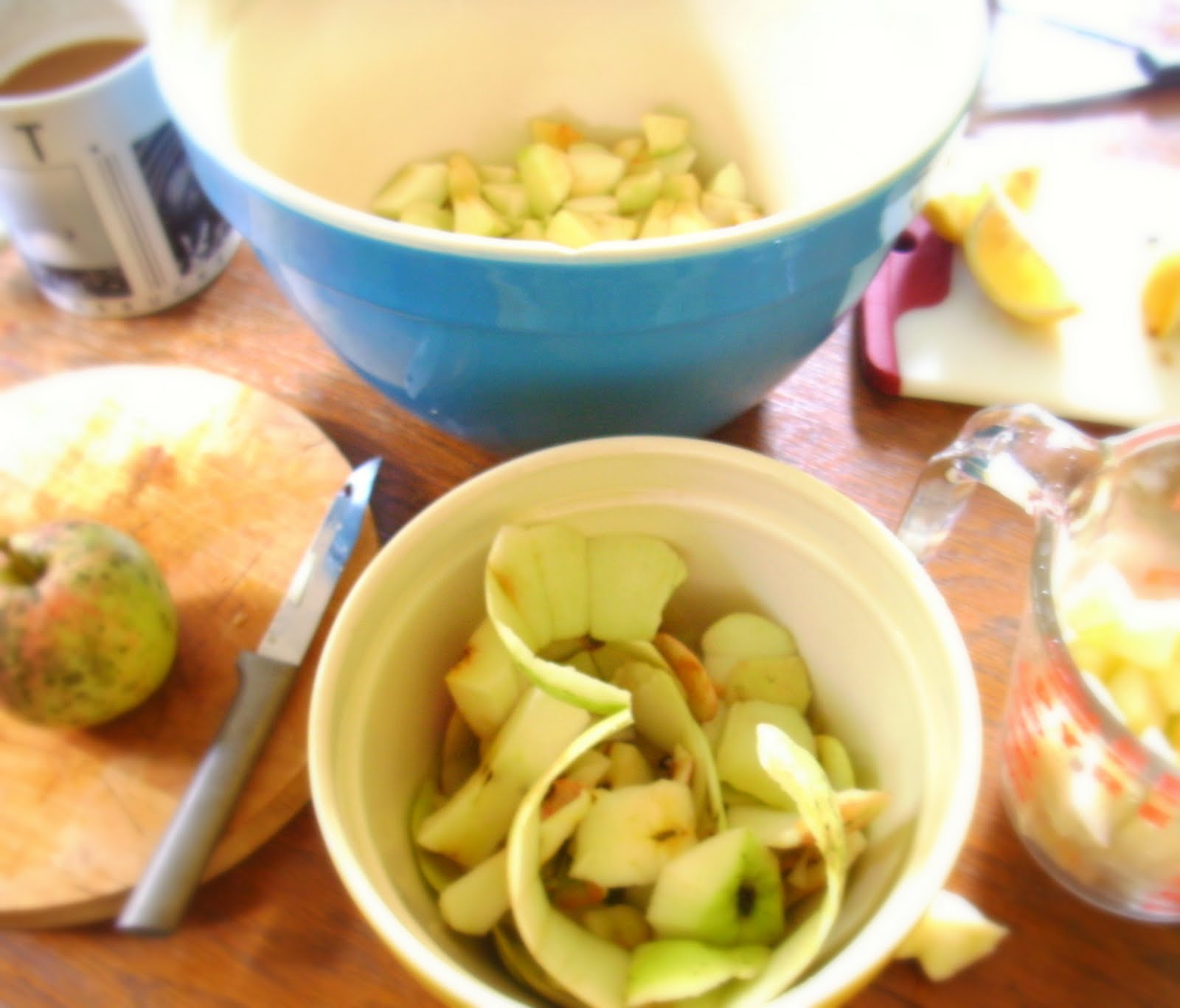 Occasionally squeeze fresh lemon juice over the apple pieces to keep them from getting brown and mushy.
Once you have about 3 quarts of apples,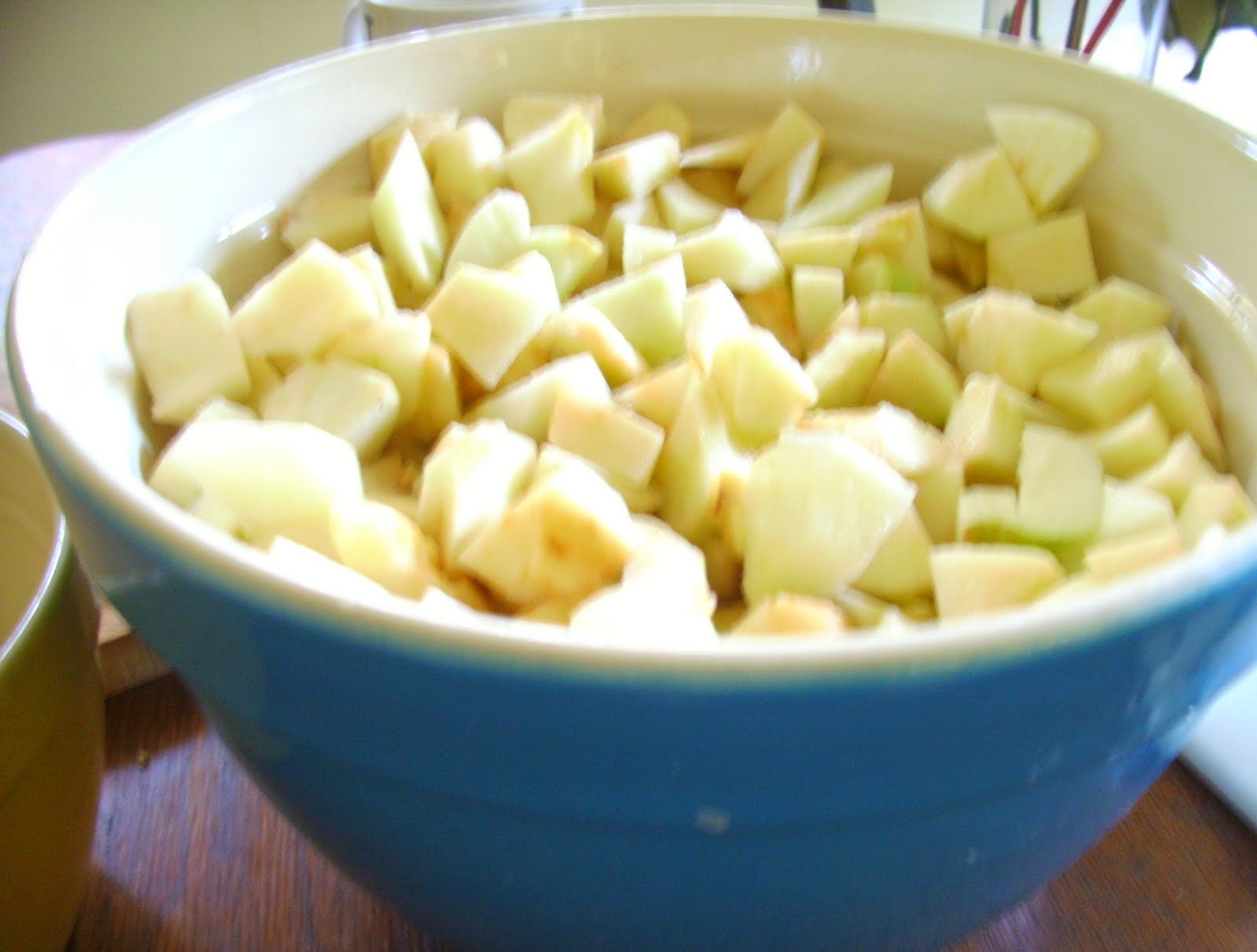 pour the apple cider into the crockpot and turn it on high.
Add the sugar, cinnamon, nutmeg, and the bag of cloves (I used muslin to make the bag)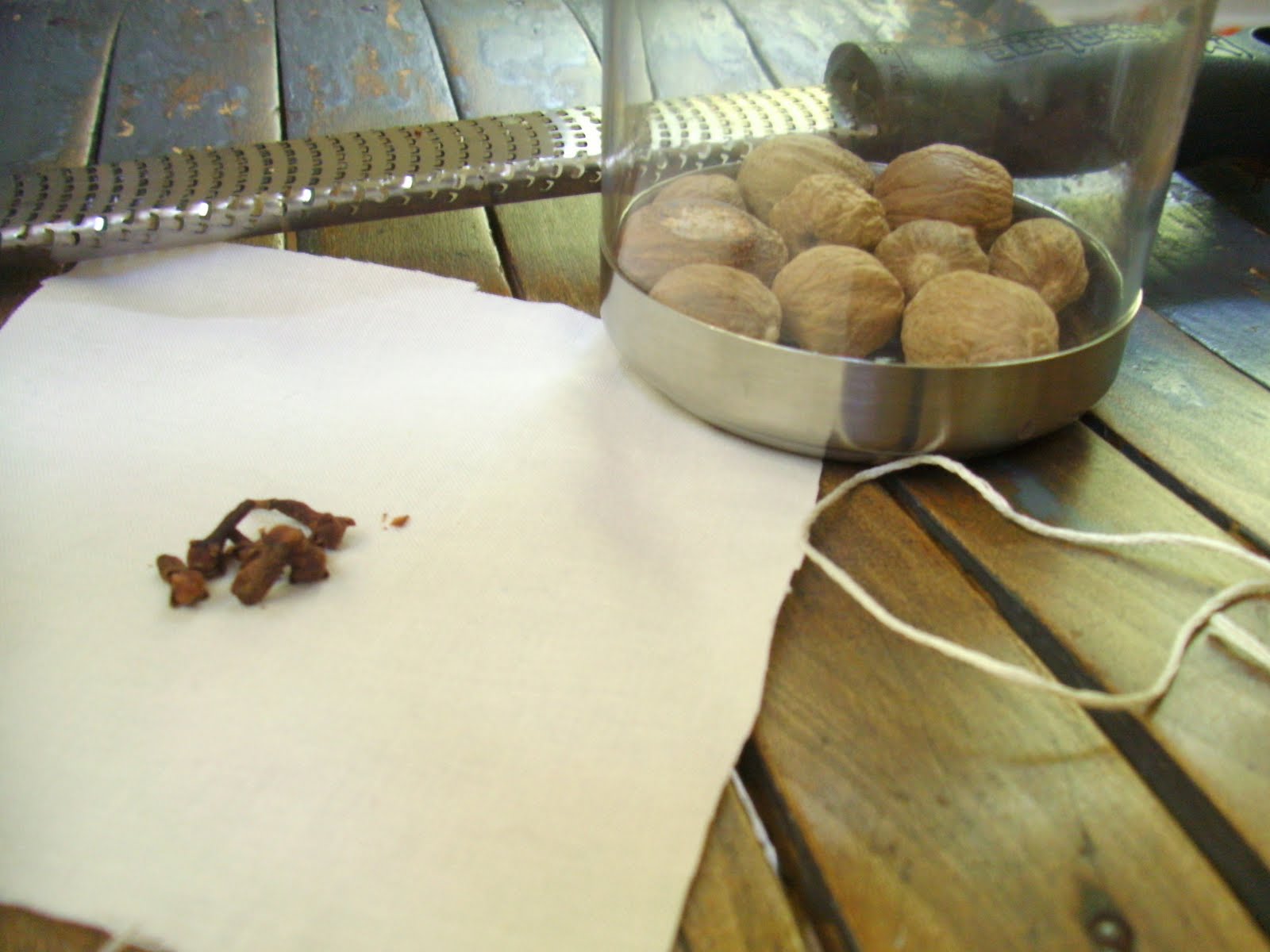 Stir this well and let it cook on high for 2 hrs.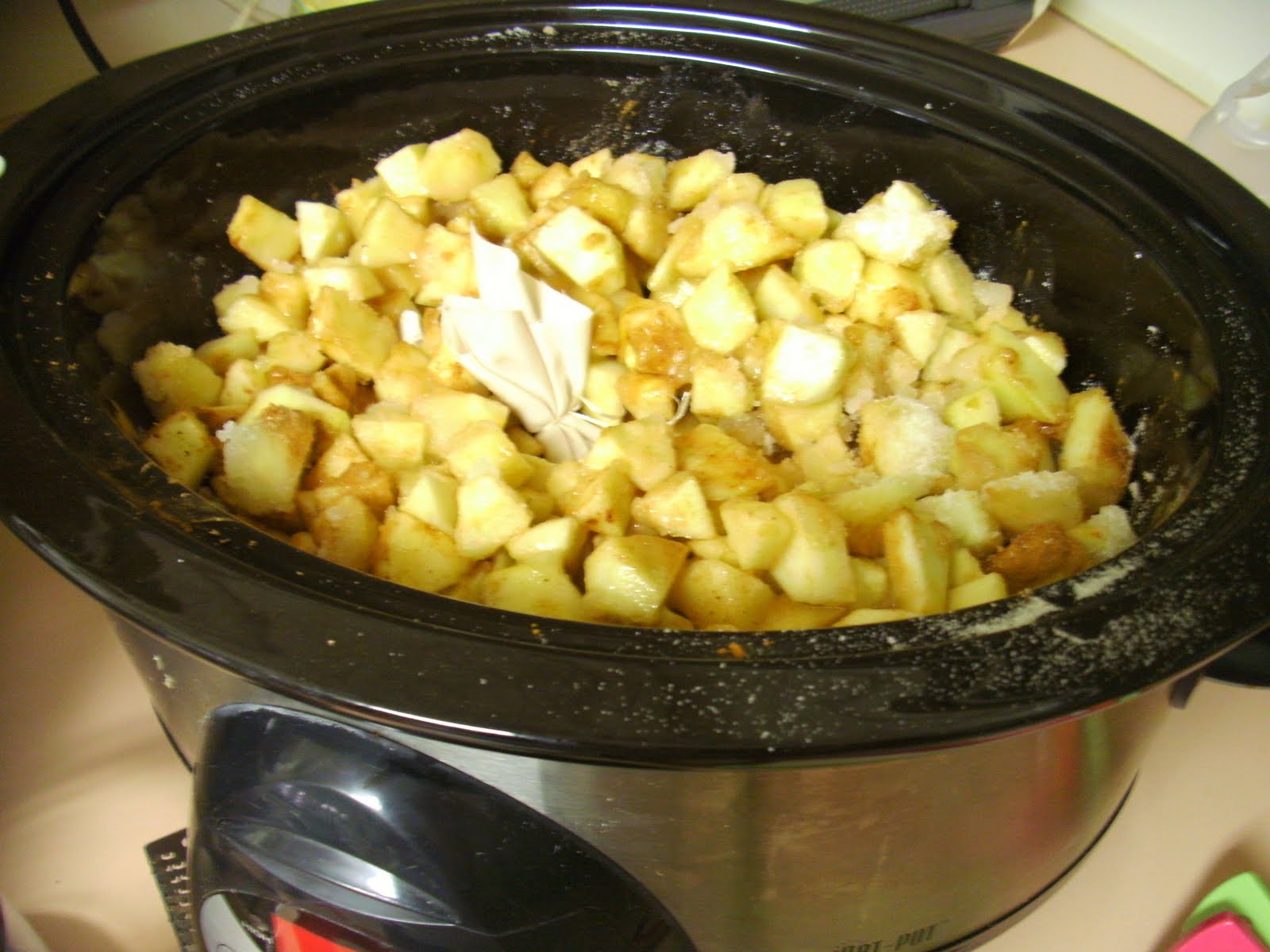 After 2 hrs, turn it down to low for 5 hrs.
Then, remove the lid and let it simmer on "keep warm" or a VERY low setting for 2-3 hrs.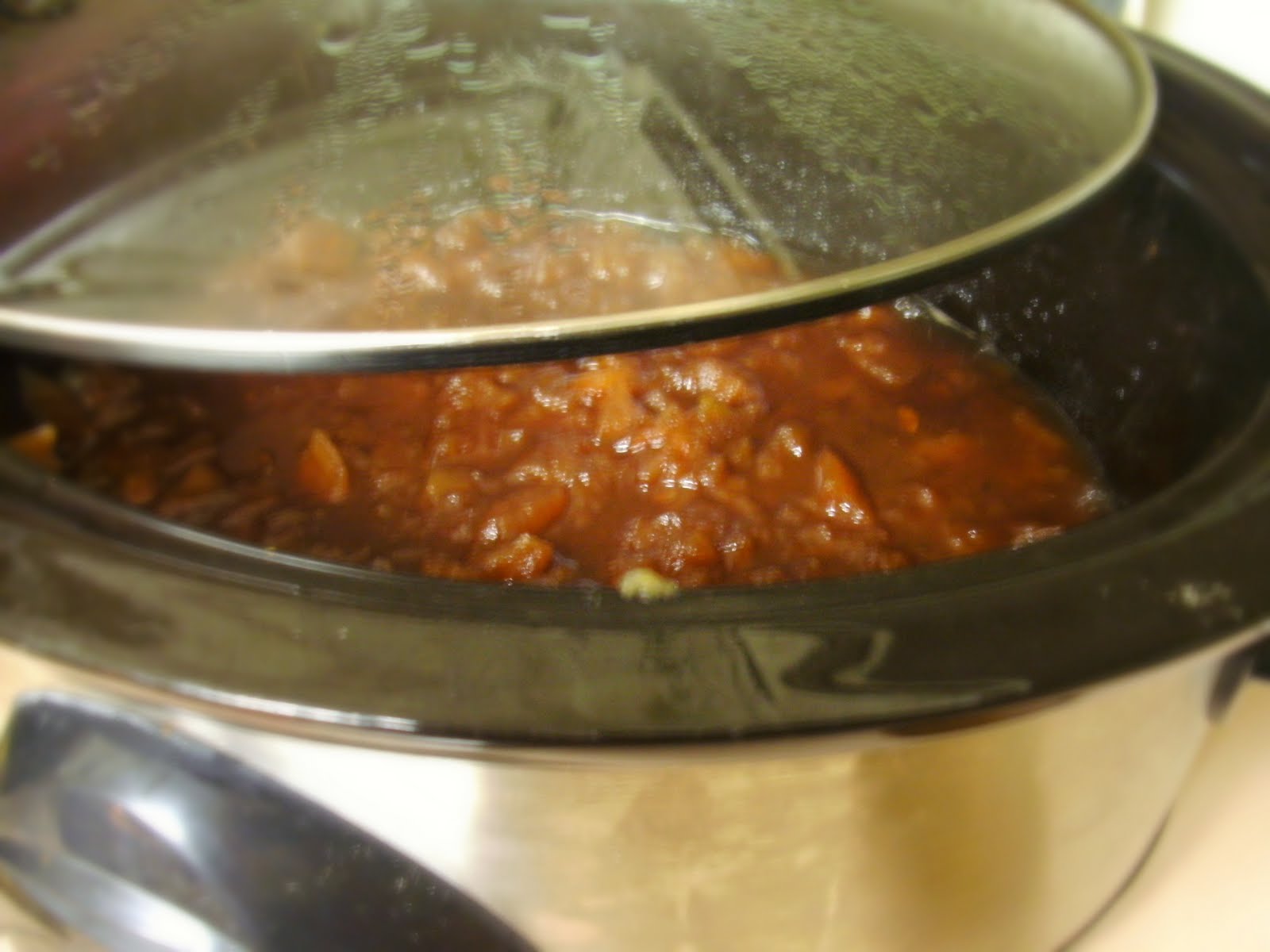 REMOVE the clove bag, using tongs, and using an immersion blender,
blend the apples until they are lovely and thick and sticky.
(so…I forgot to remove the clove bag the first batch, and blended it up with my apples…whoops.  I think I'll keep that batch and just try to notice fabric pieces on my toast and pick them off – lol).
If you don't have an immersion blender (they are GREAT by the way) you can ladle small amounts of the hot apples into a blender and blend it up (leaving the lid vented just a little for the steam).  Once the apples have been blended into butter, boil about 2 inches of water in a pot and put your lids in to sterilize.  Fill the sink with HOT HOT water and place your jars in the water.  Spoon the apple butter into the hot jars.  Wipe the rim with a clean paper towel and place the lid on – screw into place.  Turn the jars upside down for about 30 minutes – then back to right side up.  Let them sit overnight to finish curing.  There you have it!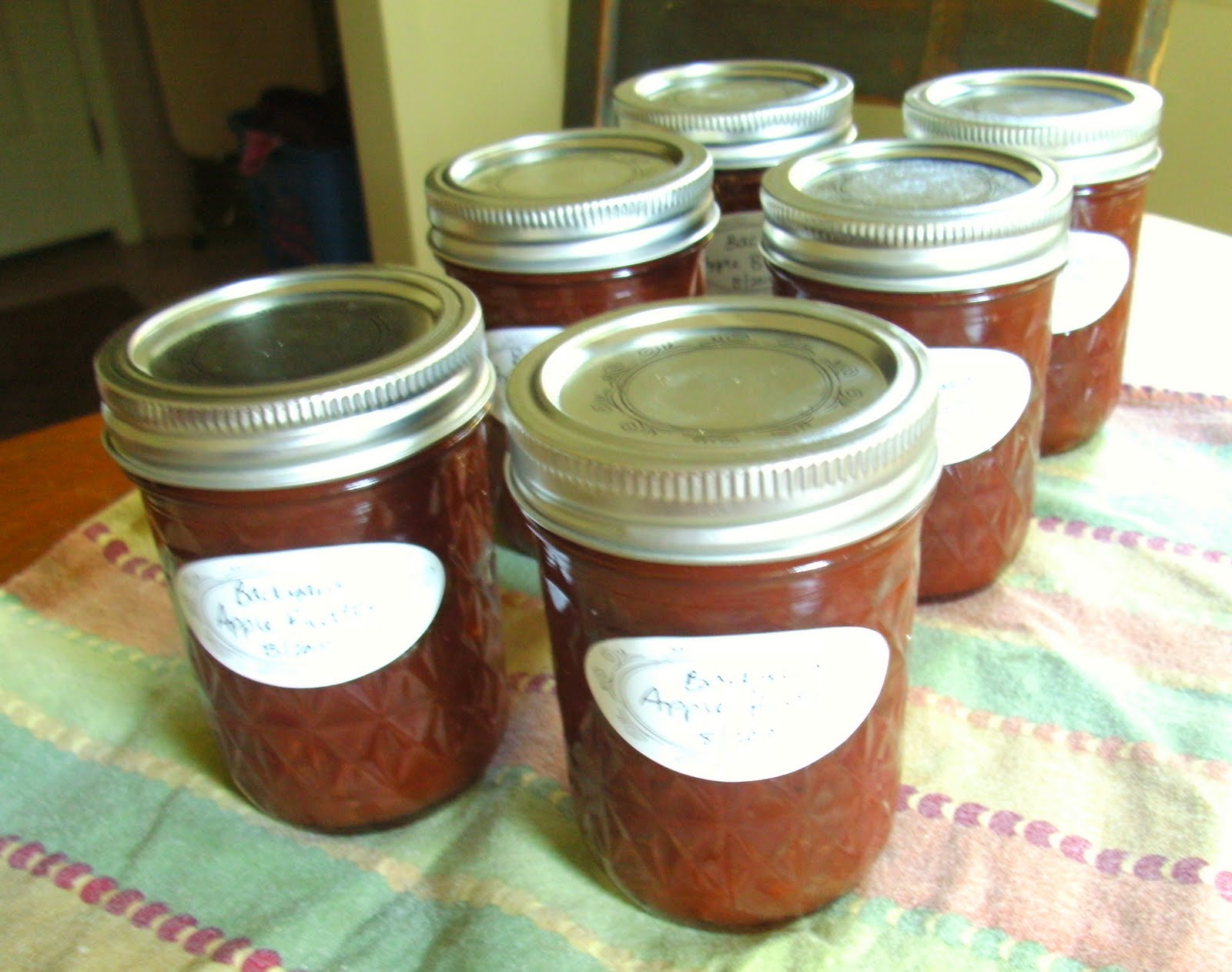 Yummy homemade apple butter!  Give it away as a gift, or drizzle it onto your oatmeal or toast.  Happy fall!