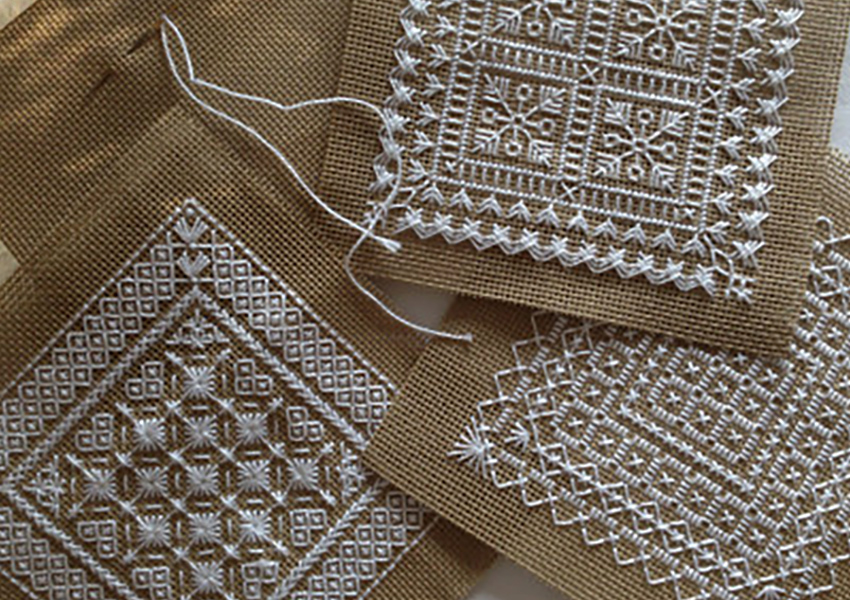 If you've been looking for a small project that you can tuck in your handbag to bring along on trips or errands, these little needlepoint doodles are perfect. They're small, easy to tote with you and fun to stitch. I made 3 of the 4 different designs while on two 5-hour flights, with my supplies tucked into a small, clear zippered makeup case – always easier to get my tiny little embroidery scissors through security this way!
I've made four different needlepoint patterns, each of them featuring a different square motif using a variety of counted needlepoint stitches, as an exercise in stitch experimentation. Each of them helped me pass the time, along with a glass of bourbon, as I sat glued to my seat.
Needlepoint Supplies Needed
The only supplies needed are squares of brown, 14-count mono canvas about 8×8 inches each, DMC 115 5-BLANC Pearl Cotton Thread, White, Size 5 and DMC 1767-24 Tapestry Hand Needles, 6-Pack, Size 24. Be sure to tape off the edges of the canvas so it doesn't fray, and to prevent the thread from snagging on the rough edges.
If you can't get brown 14-mesh canvas in your area, Zweigart Deluxe Mono Orange Line Needlepoint Canvas, 14 Mesh, White 18″ X 20″ is a good substitution – then you can use any thread color you choose. I've included a handy link in this paragraph and above to the same type of canvas that I used.
How to Needlepoint?
The squares can be used in a variety of ways. Frame them, use them as a panel on the top of a box lid, stitch them into pin cushions or pillows, or finish them as ornaments. I'd LOVE to see what you do with them!