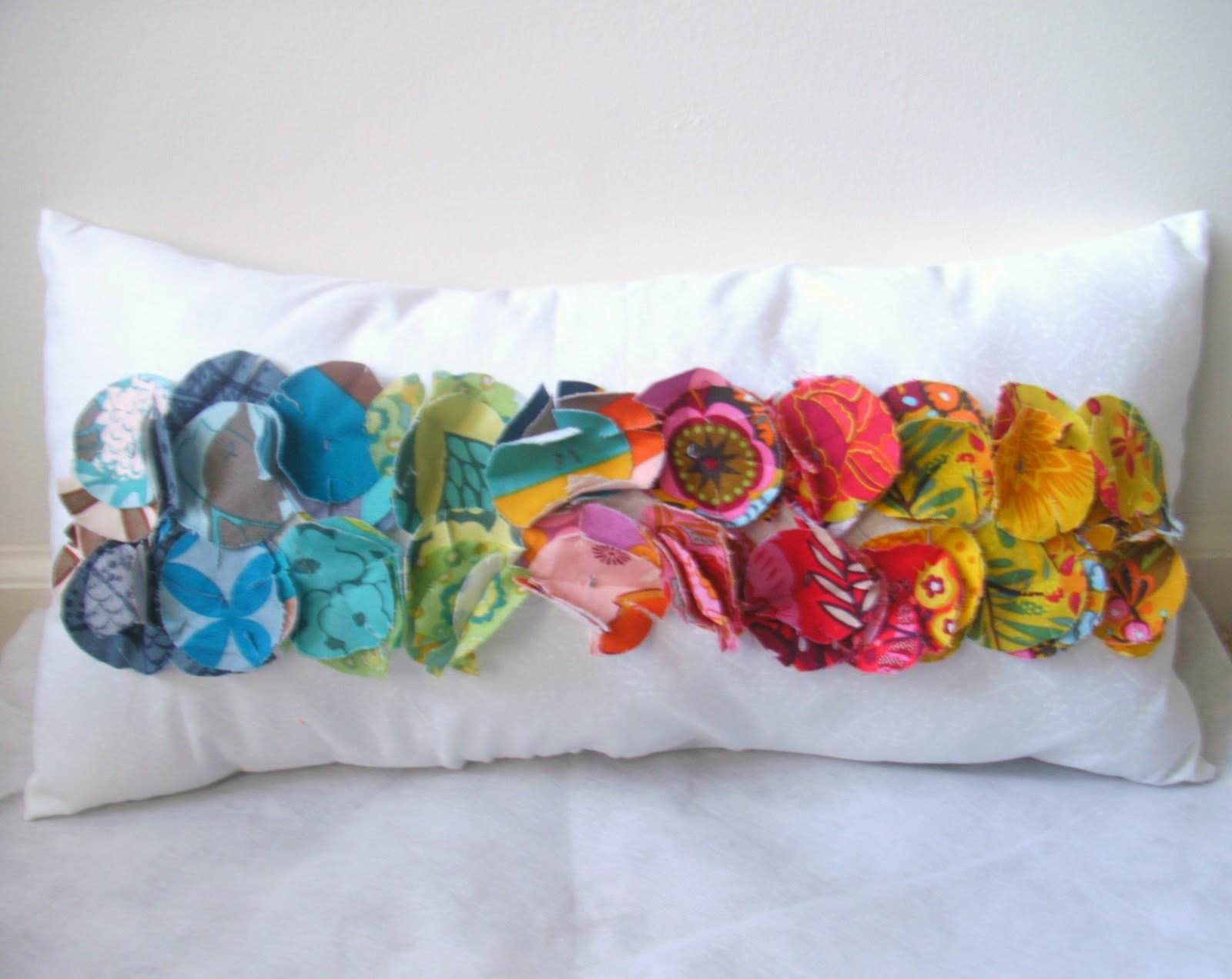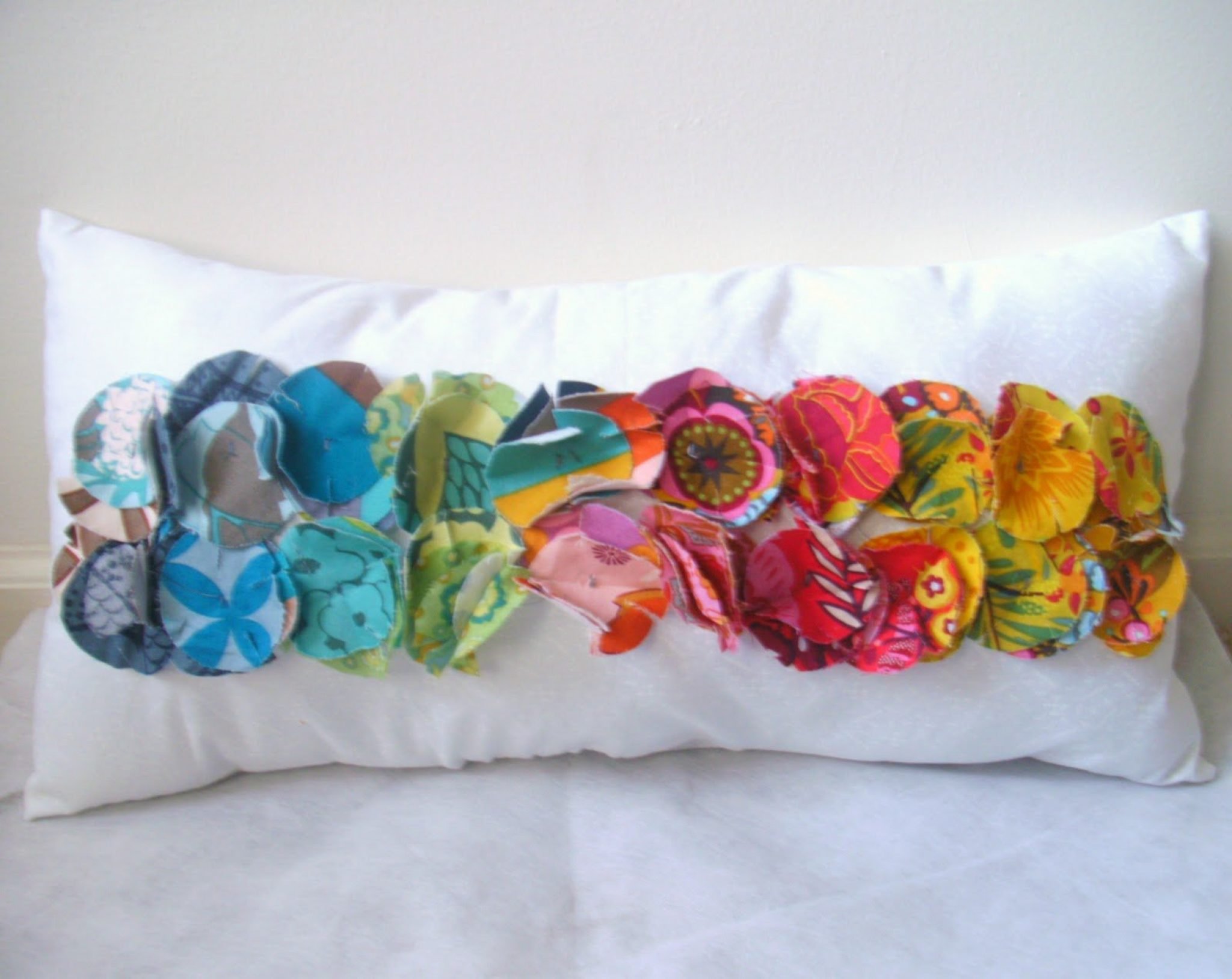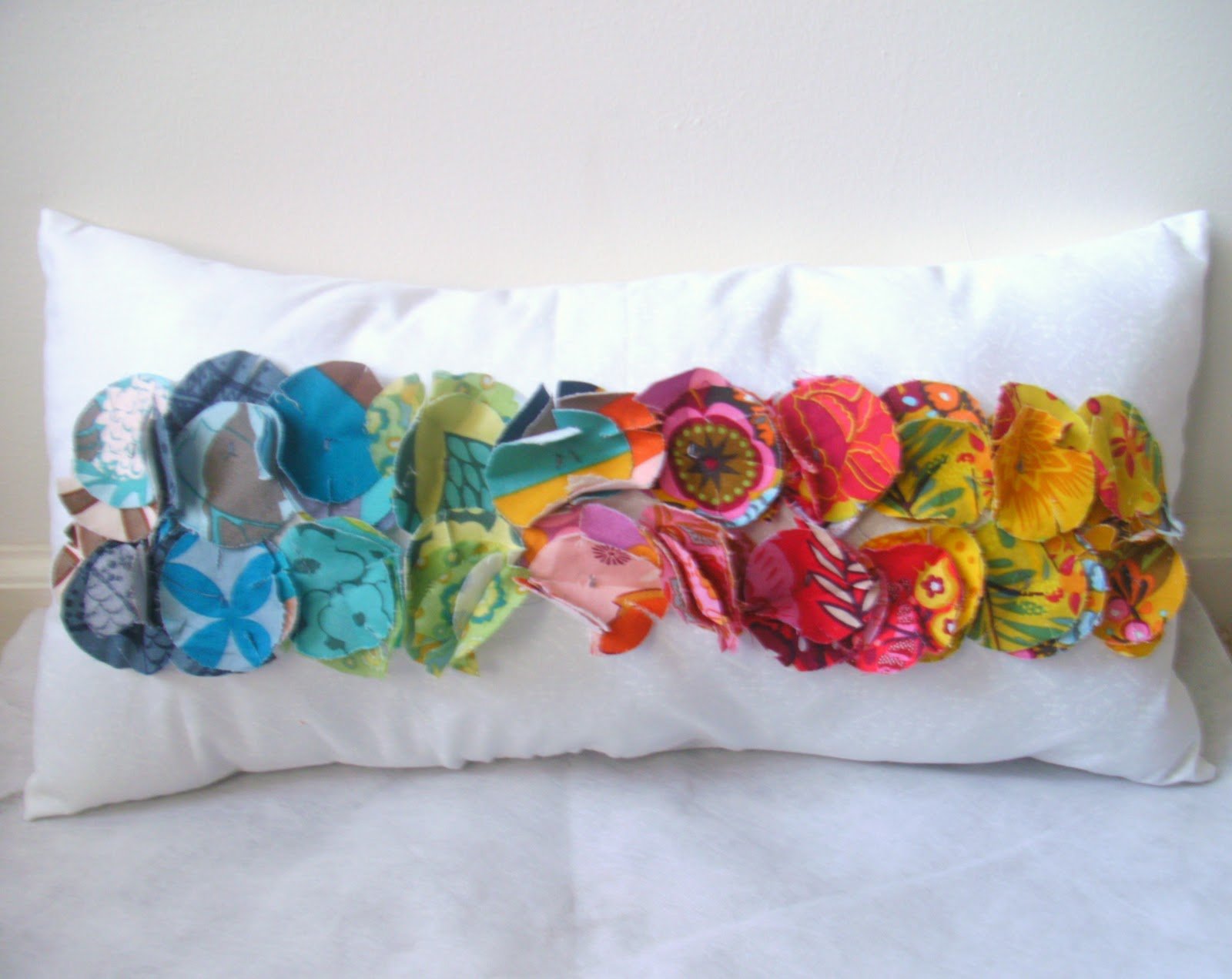 I was inspired by this pillow cover from West Elm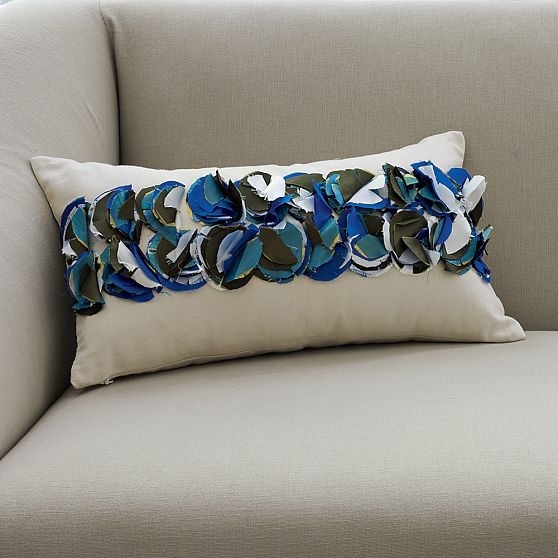 Of course, you know me, I had to spice it up a little with color.  As you also know I have a small love affair with Anna Maria Horner's designs, and I have made many projects using her fabrics.  Since her patterns are so colorful, I thought it would be cool to use only her fabric scraps.  Plus – the majority of our bedroom quilt and window treatments is made from her stuff so it matches our room.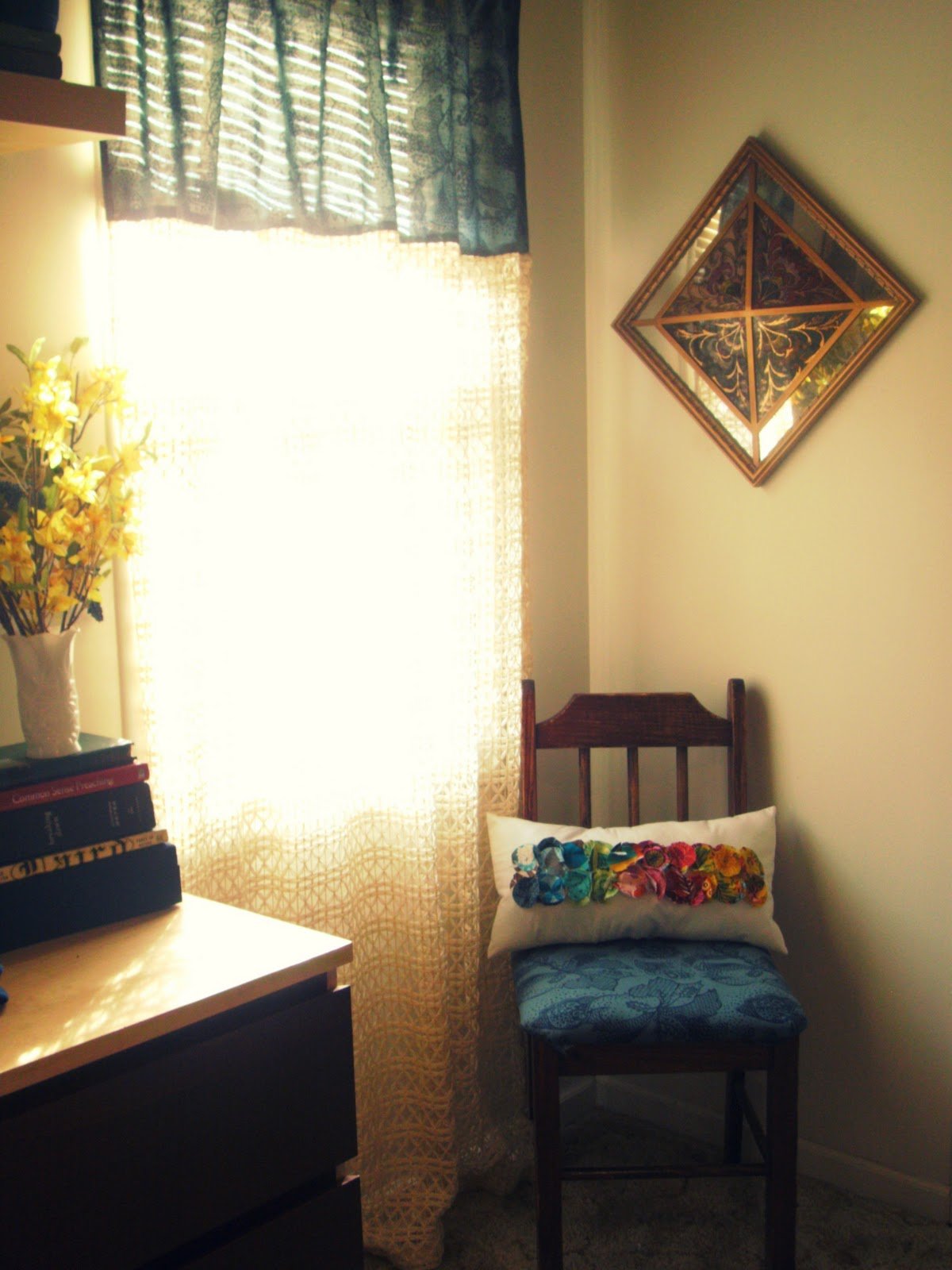 Would you like to make one?
Here's how:
Supplies:
2 pieces of white fabric 12″x21″
various scraps of fabric in whatever color palate you choose
sewing machine/thread
scissors
water soluble pen
yardstick
polyfil or pillow form
Step 1:  Cut out 60 2″ circles.  The West Elm one has 80 I think, but I got tired of cutting circles and stopped at 60 🙂  I think it helps to find a circle to trace – I used one of Charlotte's tiny tea cups.

Step 2:  Once you have your circles cut out

– arrange them in stacks of three, making two rows of ten stacks.
 
Don't stack them right on top of each other –  you want the bottom two layers to peek out.
Pin them to the pillow top in these rows – but put them close together – so that they are overlapping.  That will make the embellishment look full.  My first try I pinned (and sewed) them on like this:

Didn't look so good.  Got out the ripper.
Pinned them on again like this:

Yes that's much better.
Step 3:  Once they are pinned on, use a stationary tacking stitch on your machine to tack the center of each stack.  This simply means use your zig-zag stitch, but decrease the length of the stitch so that the stitch just goes back and forth.  I didn't even bother to cut the thread between stacks as I was going.

After they were all tacked, I snipped the threads.
Step 4:  Cut small little slits into the edges of the circles, about 1/2″ apart.  This will help them fluff up.  Once you have cut them, hold your iron over the circles and steam them – using your hand to "ruffle" the circles.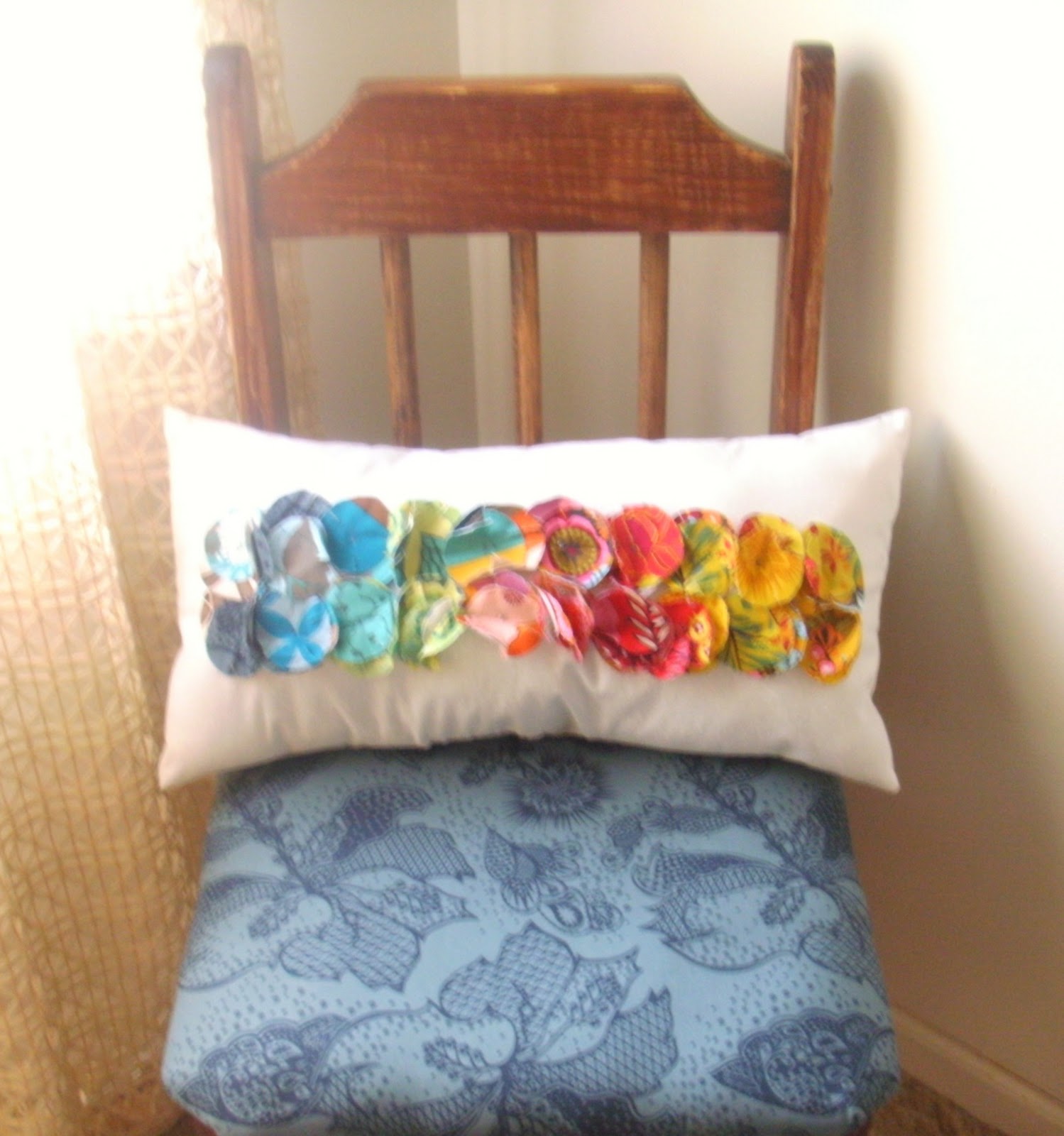 have a lovely day – and go make your home lovely too!
jessica