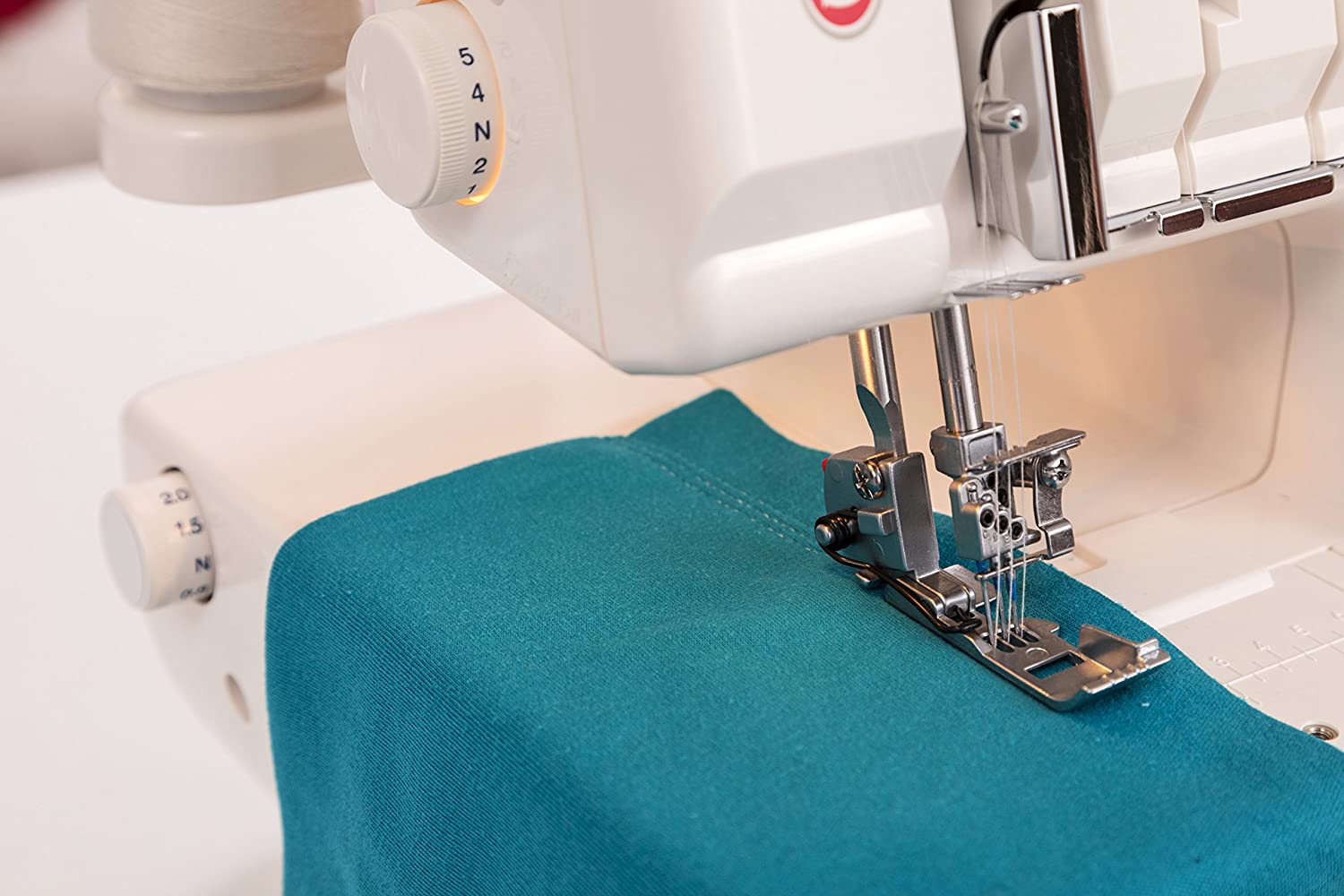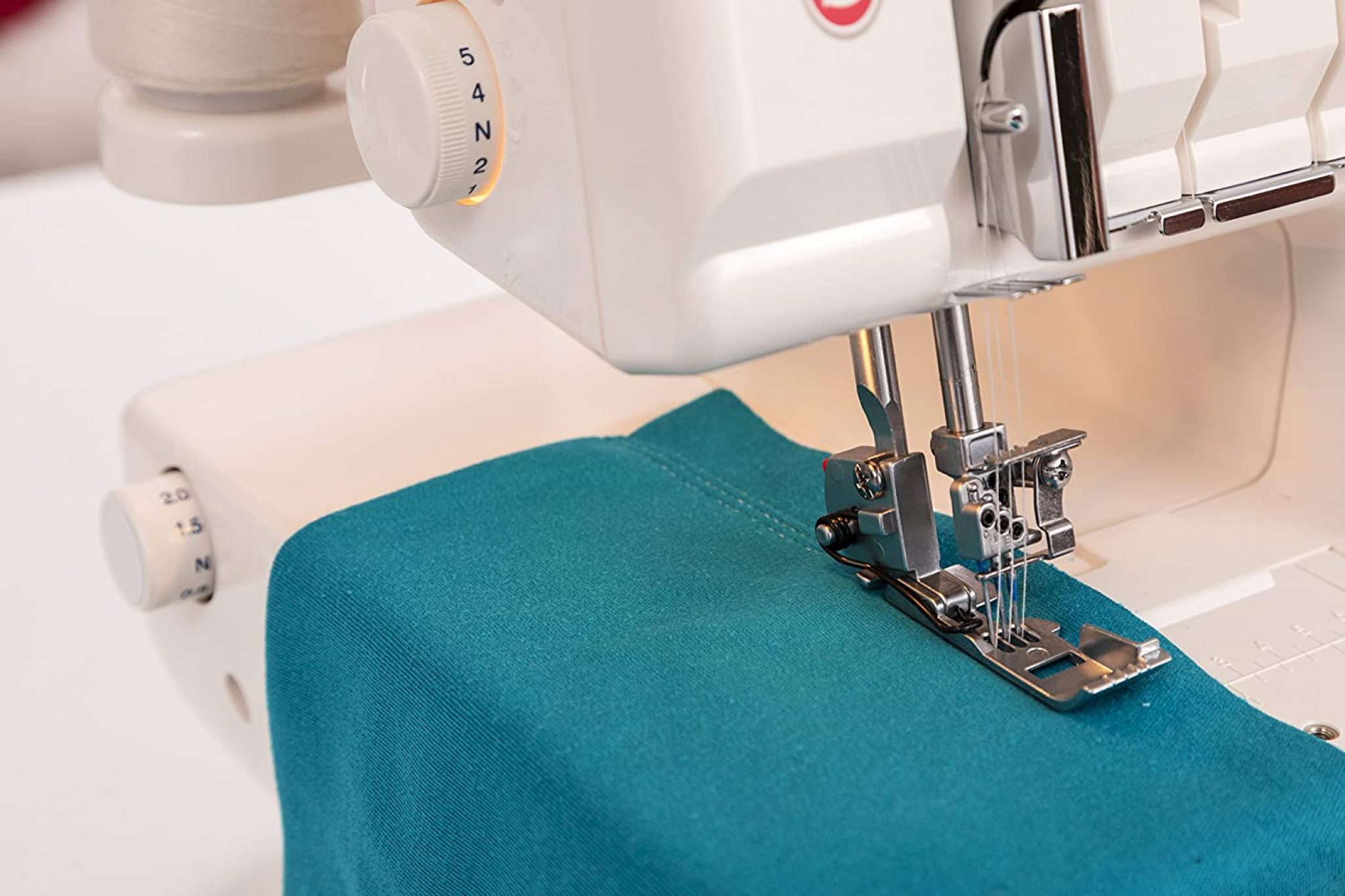 A serger sewing machine (also referred to as an overlocker or serger) is a kind of sewing machine that incorporates several threads to sew fabric while wrapping the working yarn around the raw edges at the same time. You can use it while constructing or finishing your fabric design. You can choose the model with two and even eight threads. Everything depends on the final product you are expecting to make and the stitch you've chosen for your work.
Each serger comes with additional tools in the box, such as screwdrivers, thread nets, and oil. Don't confuse the oil that comes with the serger with the one included in the standard machine kit.
The main difference between the overlocker and the regular sewing machine is that aside from binding the fabric together, the serger cuts it simultaneously. Also, these two devices have different necks. The overlocker has a short neck while the sewing machine employs a longer one. When you incorporate a serger into your workflow, you can work with jersey knits, swimwear fabric, and even sweater knits.
Which Aspects to Consider when Shopping for a Serger
Material
Before choosing the most effective serger for my projects, I've conducted thorough research to get value for money. One of the essential factors to consider before making a purchase is the material the device is made of. To enjoy a long time of smooth operation, you will need to pick a sturdy machine. First off, it is necessary to pay attention to the mechanical parts inside. The construction should be metal rather than plastic.
Although most entry-level sergers are made of high-quality plastic, you can't rely on such construction when heavily using a machine. It will come out of order soon, and you will need to spend even more money on its repair. That is why you're better off picking an overlocker that incorporates metal parts inside.
Speed
Since the serger is mainly used for professional purposes to trim away seam allowances and cover raw edges using an overcast stitch, you will need to buy the one that produces at least 1,100 stitches per minute. Thus, it can do more serging in less time. Many professionals prefer the models with custom sewing speed to press on the pedal and manipulate it by foot.
List of Top-Tier Serger Sewing Machines
Review of the Best Serger Sewing Machines
Brother Coverstitch Serger 2340CV – Best Overall

Show more images
Brother Coverstitch Serger, 2340CV, Sturdy Metal Frame, 1,100 Stitches Per Minute, Trim Trap, Included Snap-on Presser Feet
METAL FRAME: The Brother 2340CV is a sturdy cover stitch-dedicated serger made with a metal frame and internal parts. The 2 needle 2-3-4 cover stitch functions are great for working with stretch ...
Made by: Brother, Available:
In stock
Review
If you are on the lookout for a powerful overlocker with Coverstitch, Brother Coverstitch Serger 2340CV will be a perfect option to consider. Along with 2, 3, and 4 thread stitching, you can make the best use of chain stitching and simple-to-follow lay-in threading. To fine-tune the desired stitch length, you will need to turn the width adjustment knob until the looper threads position across the fabric's edge.
This serger offers a trouble-free operation due to durable metal frame and internal metal components, though the outer part has a plastic design. A pleasant bonus for the user is a standard foot, gathering foot, and first-class blind stitch included in the box.
The 2340CV boasts top-tier performance. Along with a tri-cover chain stitching capability, it employs color-coded threading for easy manipulations with fabrics. Although this model is slightly inferior to its rivals in terms of maximum speed, with 1,100 stitches per minute, you can perform a good deal of serging in a short time.
Is it necessary to purchase extra feet for this model, or is it possible to use it out of the box? The 2340CV comes with the standard foot to work with the majority of garments. If you are going to do specialized stitching, you can consider getting an additional foot. I recommend figuring out the capabilities of the machine first and then buying extra feet.
Does this machine come with tutorials? Brother Coverstitch Serger 2340CV includes a DVD in the kit. But you can head over to the official Brother website or search for user guidelines on YouTube if you feel like you need more information.
Features:
1,100 stitches per minute
2, 3, and 4 thread overlock
Custom fabric feed
Ability to create chain stitches
Wavy stitching for creative professionals
Who this is for: Whether you are an inspired seamstress or a professional running a business, you can make the most of this machine's capabilities. If you are all about coverstitch machine usage, this product might be a decent option to pay attention to.
Why I like it: Brother Coverstitch Serger 2340CV is designed to take your coverstitch experience to a whole new level. It doesn't eat fabric but produces a professional-looking finish. Moreover, the feeder skips stitches so that you can enjoy smooth and accurate operation.
Being produced by a reputable manufacturer, Brother Coverstitch Serger 2340CV has an excellent price-performance ratio. With its Rich functionality, lots of accessories in the kit, and the ability to run the machine right out of the box, it is probably the best tool to improve your coverstitch skills.
Positive
Very durable machine
Can work with different types of fabric
Incorporates advanced technologies 
Comes with various accessories 
SINGER ProFinish 14CG754 – Best Serger for Beginners
Review
SINGER ProFinish 14CG754 offers a slew of stitching options, including four integrated rolled hems to deliver eye-catching edge finishes. Tweaking the stitch parameters on your overlocker moves the cutting blade so that you can ensure stitches wrap right at the fabric edge. This machine includes two sets of feed dogs under the presser foot to move the fabric through the serger. The color-coded lay-in threading makes 14CG754 a user-friendly device for both enthusiasts and professionals.
The distinctive feature of this serger is built-in LED lighting. Apart from being safe and cool, it delivers bright illumination while complementing the machine's overall design.
This model offers 2-3-4 thread serging to ensure a wide selection of stitch options for all types of fabrics without producing distortion. The optional free arm functionality considerably facilitates the work with sleeves and cuffs. If you want to explore all boundaries of your creativity, you can make the best use of innovative flat-locking and easily rolled hems. It is also possible to customize the tension based on a particular weight of a thread.
If it comes to technical performance, SINGER ProFinish 14CG754 isn't inferior to its contenders. While offering a maximum speed of 1,300 spm, this overlocker is a rather power-efficient machine. With its internal metal elements, it delivers a high durability level even under heavy workloads.
Does ProFinish 14CG754 include a toolbox in the kit? Unfortunately, it doesn't come with a toolbox, but such accessories as a screwdriver, tweezers, and needles are included.
Is it suitable for heavy fabrics? Although ProFinish 14CG754 is ideal for advanced sewing purposes, it is advisable to work with lighter weights rather than heavy materials.
Features:
Differential feed customization options
2, 3, and 4 thread overlock
Integrated rolled hem
LED illumination
Who this is for: Due to a user-focused construction and easy operation, SINGER ProFinish 14CG754 is a decent option to compete for the title of the "most effective serger for novice users."
Nevertheless, if you are technologically inclined, you will benefit from using this model by achieving professional results. Small businesses and outsourcers can take advantage of 14CG754. However, it might not be a good option for heavy fabrics.
Why I like it: SINGER ProFinish 14CG754 has broad functionality and a decent number of customizable options, making it a universal solution for professional sewists and amateurs. This model deserves attention for its durable metal frame, LED illumination, and integrated stitches.
Overall, ProFinish 14CG754 lives up to my expectations due to the extensive number of features and advanced technologies it incorporates. Interchangeable upper knife, robust materials, and customizable speed have everything to meet the needs of even the most demanding users. You can get even more creative with such features as an extra high presser foot elevator and free arm.
Positive
Color-coded technologies to streamline threading
High level of durability
Suitable for different types of fabric
Sturdy metal frame
A high-speed operation for professional results
Brother 1034D Serger – Best Seger with
Review
Brother 1034D Serger is one of the most popular overlockers incorporating a 3/4 lay-in with a lower looper threading system. It comes with 3 and 4 thread stitches variations. It is possible to sew narrow, rolled, blind hem or flatlock stitches (the latter requires additional presser feet sold separately). The serger has a convertible cabinet that supports flat or free arm work.
Being an ideal option for any sewing department, Brother 1034D Serger can work with an extensive number of fabrics, including formal wear, linen, and stretch fabrics. Also, you can use it to create ruffles and decorative edges of different forms.
Being made of metal and plastic materials, the construction is robust enough to handle heavy usage. It has earned a spot as a top contender in the over-crowded shopping scene due to a well-elaborated construction.
Brother 1034D Serger has an excellent technical performance. Aside from differential feed, you can make the most of the maximum stitching speed of 1,300 spm. It allows you to achieve a better finish, especially if you use stretch or thin fabrics. With snap-on presser feet, you can quickly jump to each stitch you want without any hassle. This model also employs an instructional videotape, which significantly streamlines the serging process. The 1034D does not comply with international electronic codes. Warranty void outside the United States.
Does the 1034D offer easy threading? Yes. The threading process becomes a breeze due to the color-coded threading technology and the lower looper threading innovation.
Features:
22 stitching options
Interchangeable creative feet
3, 4 thread overlock
Narrow and rolled hem
Ribbon lock stitches
Who this is for: Brother 1034D is mainly used to give a first-class finish to fabrics. It cuts and finishes the edges in one single step. You can use this machine either at home or in professional overlock departments. This model will be a great find if you are into sewing and want to create top-tier projects.
Why I like it: Brother 1034D is my pick for the best overall serger due to the rich array of tools it offers, reliable materials, and broad functionality. Aside from offering up to 1,300 stitches per minute, it provides a double-point thread tension control dial to produce the thread path smoothly. The machine employs standard sewing machine needles and is entirely safe.
Interchangeable free arm, stitch width adjustments, removable fabric feed, robust metal frame – this is just a glimpse of what Brother 1034D offers. It comes with a long-lasting manufacturer guarantee and provides full support to its users. This overlocker deserves praise for the powerful functionality and high-end technologies it includes.
Positive
Integrated snap-on presser feet
Sturdy materials
Video tutorial and user manual are included in the kit
Works with various kinds of fabric
SINGER Professional 14T968DC – Best Professional Serger
Review
SINGER Professional 14T968DC caters to the needs of experienced professionals and delivers first-class results. It has numerous advantages such as 2-3-4-5 thread capability, four integrated rolled hems, tension auto adjustments, Rolled Hem sewing mode, and a rich array of stitch options. With this serger, you can work on the most complex projects and spend much less time.
Aside from an appealing and top-notch design, the machine boasts first-class durability. Its components are made of high-quality metal, and it comes with a full accessory kit. The performance of the 14T968DC impresses even the experts. 1,300 stitches per minute allow you to do serging, trimming, and overcasting simultaneously.
Does SINGER | Professional 14T968DC work with heavy fabrics? This serger is mainly intended for home purposes rather than a large sewing factory. It can sew multiple layers of denim but will hardly handle 4-5 layers of upholstery. The 14T968DC doesn't offer a custom presser foot pressure, so overly thick textile will elevate the presser foot high enough to relieve tension.
Can this model fit the home sewing studio?
Since the 14T968DC has rather small dimensions of 13.50 x 10.30 x 11.00 inches, it will perfectly suit a table. It is a relatively space-saving machine that leaves you much space for your creativity.
Features:
1,300 stitches per minute
2, 3, and 4 thread overlock
Color-coded threading
Numerous stitches
Who this is for: The 14T968DC caters to the needs of home-based professionals and freelancers that want to achieve professional results and produce numerous projects in less time.
Why I like it: With the extensive set of features, user-centered functionality, and easy-to-follow manual, the 14T968DC is considered one of the top performers on the market. Various sewing options allow you to create projects of any complexity.
A great quality-price ratio, impressive feature set, and flexibility make SINGER Professional 14T968DC an appealing option on the modern market. Even if you are a beginner, you can use a heavy load of support to figure out the machine's capabilities in no time.
Positive
Durable construction
Easy set-up
Offers brand-new technologies
Allows for creative freedom
Juki MO-80CB Free-Arm Serger Overlock Machine – Best Portable Serger
Review
If you are looking for a machine with basic features and want to get the best affordable serger, Juki MO-80CB offers an excellent monetary value. It incorporates a changeable presser foot, customizable sewing speed, replicable blade, secured needles, dials with numbers, removable seam gauge, tools for cleaning, on-board thread cutter, and even more.
But the distinctive feature of the MO-80CB is its portability. While measuring only 11 x 12.5 x 14 inches, it gives you much space for accessories. Despite its compact design, it produces a decent amount of power. With 1,300 spm, you can complete large projects without much effort.
Is the MO-80CB suitable for beginners?
Juki MO-80CB caters to the needs of home professionals. A well-elaborated user manual is included in the kit, so you can make the most of it and improve your skills. Also, there are numerous tutorials on YouTube designed for different categories of users.
Does the MO-80CB require special needles?
It is possible to use regular needles when working with this serger. Although it doesn't have a screwdriver to unscrew the needles, it has a small tool for this. You can use such needle type as ELx705 Size #14/90, #12/90.
Features:
On-board thread cutter
1,300 stitches per minute
Feed adjustments
A slew of stitches
Who this is for: If you want to save your desktop space but have a powerful machine at hand, the MO-80CB is an excellent option. Hobbyists and creative professionals can choose this machine to complement their home sewing studio.
Why I like it: A powerful yet portable machine is an excellent solution to express your sewing talent. Being packed with broad functionality, it is relatively affordable. Once your device is geared with all these features and tools, you might achieve an effective user experience.
Juki MO-80CB is a well-equipped machine that will serve the needs of both enthusiasts and experts. The perfect combination of power and stitches set opens new horizons for your creativity. The kit is complemented by an informative manual that allows you to figure out the machine's functionality quickly.
Positive
Compact design
Excellent combination of features
Robust product
Decent amount of power
FAQ
What Is a Serger Machine Used For?
A serger is designed to trim the seam and close the seam allowance or fabric edge within the thread, all in one go. Using a serger, you can work with stretchy fabrics, create sheer and lightweight projects, home decor items, etc.
What Is the Difference between a Serger and a Coverstitch Machine?
Unlike a serger, which usually comes with two loopers, a coverstitch machine incorporates a single looper to thread. Also, an overlocker comes with two cutting knives to cut uneven textile, while a coverstitch device can't boast such a benefit.
What Is the Best Serger with Coverstitch?
Brother Coverstitch Serger 2340CV is considered a reliable and robust serger with Coverstitch. It employs numerous features, is rather powerful and intuitive to use. Moreover, the 2340CV produces professional-looking results.
How to Hem with a Serger Machine?
A serger will come in handy in the hemming process. It is a completely automatic process that implies sewing two pieces of fabric together with a neat edge. Moreover, the machine will trim the edges during the sewing, which gives even better results. While using a coordinating thread, you can hide the serged hem. Also, it is possible to select a contrasting thread to make the seam stand out. Start with setting your serger for overlock stitch (depends on the kind of hemming you choose). Trim the fabric to the desired length. Don't put the material into the serger and sew some stitches. After that, you can place a fabric into a serger and switch a chain of stitches.
What Is the Most Reliable Brand of an Overlock Sewing Machine?
All models reviewed above are reliable enough to handle home overlocking tasks.