Hey friends - two things:
first - my husband is graduating with his Doctorate in Audiology on April 29th (
finally!!!
) Of course we are going to throw him a big party. In case you're unfamiliar with the term, Audiology is the profession of hearing and balance. So I wanted to do some things at the party that were related to that, but not tacky. So can you think of any ear...hearing...balance things? Cake ideas, decor, favors? He's graduating from the University of Florida so I have that to work with too - I would love to have your input.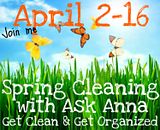 second - today is the first day of Spring Cleaning over at Ask Anna...go check it out. It's a two week long linky party and if you link up every completed cleaning project you are entered to win a prize! I don't know about you, but I always need motivation to clean. So that's what I'm thinking about today.
xo
jessica